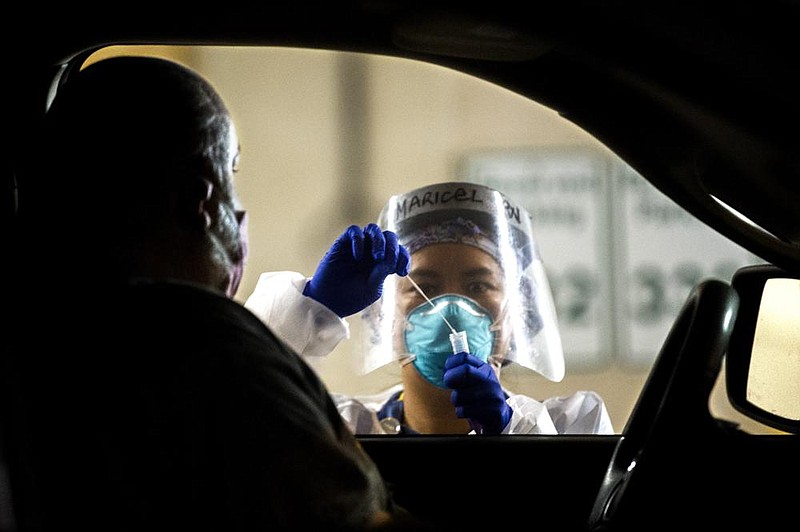 A nurse conducts a coronavirus test in August at the UAMS drive-thru screening site in Little Rock. More photos at arkansasonline.com/819test/. (Arkansas Democrat-Gazette/Stephen Swofford) - Photo by Stephen Swofford
The number of covid-19 patients in intensive care units, as well as the tally of active cases and the number of coronavirus patients on ventilators, hit all-time highs Thursday after 2,238 new cases were reported, according to data from the Arkansas Department of Health.
As of Thursday, there were 361 patients in intensive care units as the number of available beds in critical care units dipped to a low of 68 — even as hospitals are creating and staffing additional intensive care beds around the state.
The number of active covid-19 cases in the state jumped by 421 to 16,998, the highest tally since the pandemic reached Arkansas in March.
There were 146 patients on ventilators, up by three from the previous day, also creating a daily record.
The number of new cases reported Thursday — 2,238 — is the second-highest increase in the state since the pandemic began, and only the second time the state has added more than 2,000 cases in one day. The record was set Oct. 13, with 2,312 new coronavirus cases.
The cumulative total of covid-19 cases in the state is now at 139,855, though 120,545 of those are considered recovered. The state's tally of deaths linked to the coronavirus rose by 22 to 2,297.
Covid-19 hospitalizations dropped by two to 899, a day after setting a record at 901.
"I will be addressing the high number of new cases in a Friday news conference," Gov. Asa Hutchinson said Thursday on Twitter. "Today we implemented the first recommendation of the COVID-19 Winter Task Force, and I will address hospital capacity tomorrow."
Earlier Thursday, Hutchinson announced that Arkansas businesses licensed to sell and allow consumption of alcohol on their premises must close by 11 p.m.
The Health Department directive, which covers restaurants, bars and private clubs with on-premise permits, will take effect Friday and will continue through Jan. 31.
Read Friday's Northwest Arkansas Democrat-Gazette for full details.
This story was originally published at 2:44 p.m.
Sponsor Content
Comments