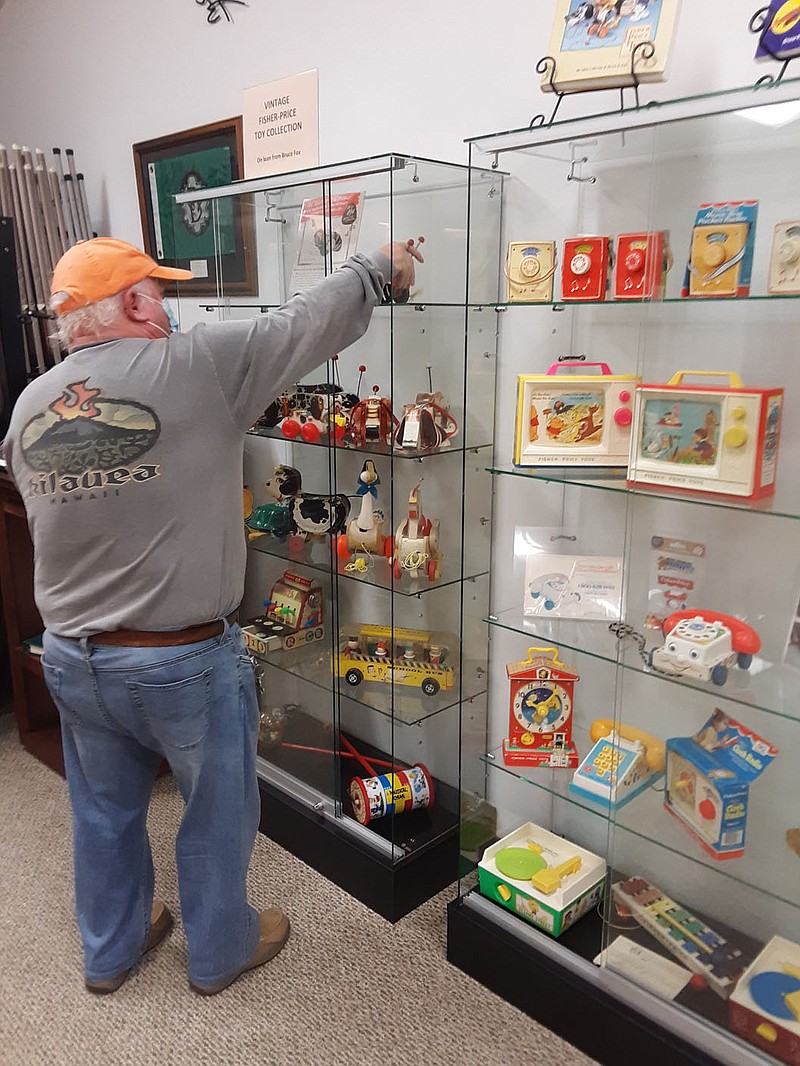 The Bella Vista Historical Museum reopened Oct. 31, having been closed since mid-March due to covid-19 concerns. That afternoon, Bruce Fox, who is retired from the Fisher-Price toy company, set up a new display of more toys from his personal collection, available for viewing through the end of December. Museum hours are 1-5 p.m. Saturday and Sunday. (Courtesy Photo)
Northwest Arkansas is blessed with a large number of nonprofit agencies that, together, meet just about every need. These organizations are supported by the generosity of the community.
Starting today and for the next few weeks -- in keeping with a holiday tradition -- the Northwest Arkansas Democrat-Gazette will share "wish lists" from local charitable organizations. Even in this unusual holiday season, we hope to give you, our readers, opportunities to play Santa and give something back to those who spend all year giving.
And if you're one of those nonprofits, whether you produce theater, serve those with disabilities, fight for healthier Arkansans or showcase art, let us help your organization spread the word by sending your wish list to [email protected] Wish lists will continue through Jan. 7 in the Our Town section.
---
Bella Vista Historical Museum
What we do: The Bella Vista Historical Museum, under the auspices of the Bella Vista Historical Society, collects, preserves and exhibits materials and artifacts focused on the 100-plus years since Lake Bella Vista was built in 1915, followed by the opening of its summer resort in 1917, and leading to today's Bella Vista, which was incorporated as a city in 2007.
Address: 1885 Bella Vista Way in Bella Vista
Website: bellavistamuseum.org
Contact: Xyta Lucas, Bella Vista Historical Society president, (479) 855-2335
Wish list: Financial donations are welcome to help with additional fencing around the Settler's Cabin. The Settler's Cabin is currently the most popular exhibit at the Bella Vista Historical Museum, according to Lucas. It was built around 1912 in what became The Highlands of Bella Vista, later used as an art studio and donated to the museum in 2018. It is now fully furnished, thanks to donations and the work of volunteer Carol Phillips.
---
Museum of Native American History
What We Do: MONAH's mission is to acquire, preserve and study Native American artifacts and to educate future generations about the lives of the First Americans.
Address: 202 S.W. "O" St. in Bentonville
Website: www.monah.us
Contact: Charlotte Buchanan-Yale, director, at (479) 273-2456 or email [email protected]
Wishlist: "Our wish is to invite visitors from around the globe to explore and time travel through our new virtual presence on our website," Buchanan-Yale says. "From artifacts to animation, experience indigenous cultural leaders making history today with educational events and news. MONAH is a private museum, and since the pandemic, we have had to reinvent ourselves virtually. Our admission and events have always been free, and now through our website, there are opportunities to support us through membership and our online trading post."
-- Carin Schoppmeyer
Nonprofit agencies of all kinds are invited to send Christmas wish lists to [email protected]
Sponsor Content
Comments