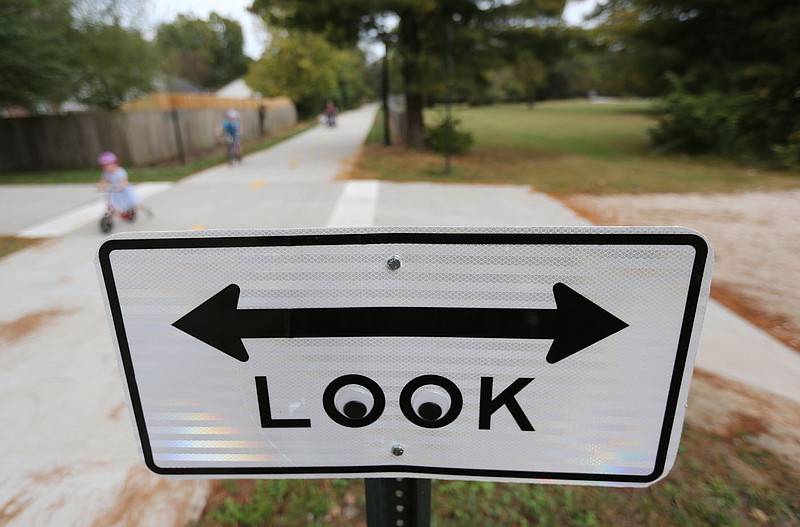 Signage before a private drive is visible Thursday, October 8, 2020, on a new section of trail just south of Sweetbriar Park in Fayetteville. A number of projects related to parks and trails in the city are continuing despite operational budget cuts because of the covid-19 pandemic. Niokaska Creek Trail was unveiled to the public Monday, and stretches from Gulley Park to Sweetbriar Park and connects to Mud Creek Trail to the north. Check out nwaonline.com/201011Daily/ and nwadg.com/photos for a photo gallery.(NWA Democrat-Gazette/David Gottschalk)
SPRINGFIELD, MO. -- The Missouri Department of Conservation invites people to go on scavenger hunts throughout November on trails at the Springfield Conservation Nature Center.
Each Tuesday in November, people of all ages can walk and search for nature-oriented items along the trails. The morning scavenger hunts will be from 9 to 11 a.m., and the afternoon hunts will be 3 to 5 p.m. Registration is available at mdc.mo.gov/SouthwestEvents and then going to the appropriate event.
On the day of the scavenger hunts, a station will be set up on the sidewalk near the nature center's entrance with everything participants will need. Walkers should dress for the weather and plan to spend one to two hours on the trail. A small prize will be given to all who complete the hunt.
Participants are asked to socially distance and wear a mask. The nature center is at 4601 South Nature Center Way.
Sponsor Content
Comments