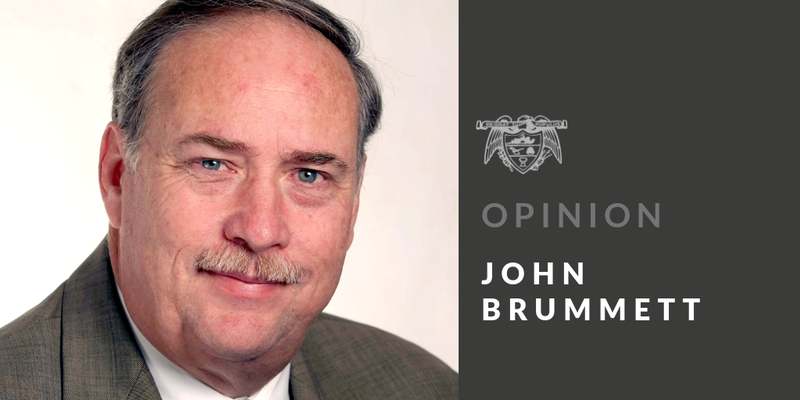 Donald Trump contests the outcome of the presidential race.
Republican office-holders cower in the corner and remain silent during his hissy fit because they think only of their own political futures and fear the vengefulness of Trump's supporters.
Those supporters profess certainty that Trump is being cheated because Trump says so and they tell each other so inside their echo chamber.
A newspaper near and dear to us publishes a headline that says Joe Biden has been "called victor" in the race. That seems to suggest some sort of dubiousness. The more customary phrasing is that the guy getting significantly more votes, both popularly and electorally, won the contest--bigly.
Typically, what you call a guy in Biden's position is president-elect.
"Count the legal votes," say Trump's enablers.
That's what hardworking poll workers have been doing for days, burdened by uninformed attacks on their integrity and uncommon mounds of mailed ballots rising mostly on account of the virus.
Biden, at this writing, had received 4.5 million more votes than Trump. He had 50.7 percent to Trump's 47.7. And, for a change, the electoral college was in a position to let the American people have their way. It gave Biden what likely will come to 306 electoral votes, well more than the 270 required.
So, here's some modern American political context:
In 1960, John F. Kennedy got 49.72 percent of the vote and Richard Nixon 49.55 percent, a margin of a little more than 110,000 votes. Kennedy received 303 electoral votes. Nixon opted against a fight over voter integrity issues in Illinois. And they didn't just call Kennedy the victor. They swore him in as president.
In 1968, Nixon got a mere 500,000 more votes than Hubert Humphrey, winning 43.4 to 42.7 percent, and accumulating 301 electoral votes. Nixon proceeded to the presidency without Humphrey's stomping his feet and wailing that he was being robbed of what was rightfully his.
In 1976, Jimmy Carter got a mere 1.7 million more votes than Gerald Ford, winning the popular vote by 50.1 to 48 percent and getting 297 electoral votes. Ford didn't like it much, but he didn't lock himself in the White House.
In 2000, George W. Bush got 50.4 million votes and Al Gore got 50.9 million, but the electoral college went to Bush on 271 votes because the U.S. Supreme Court said so, and Gore said graciously that we as Americans must accept the vital rule of law.
In 2004, Bush got 62 million votes to John Kerry's 59 million, an advantage of 50.7 to 48.3 percent, and a decisive 286 electoral votes. There was no squabbling about whether the clear narrow winner was the clear narrow winner.
For that matter, Trump got promptly conceded to in 2016 by Hillary Clinton, who received 2.8 million more votes. She lost in decisive states like Pennsylvania, Michigan and Wisconsin by far fewer votes than Trump lost those states this time to Biden. Yet Trump proceeded directly to his poorly attended inauguration.
So, with the context of all that, I tell you again that Biden has 75.4 million votes while the chronic whiner has 70.9 million, a 50.7-47.7 margin, bigger in both numerical and percentage terms than any of those just listed, producing 306 electoral votes.
Joe's win is a landslide comparatively.
Yet Trump says this is all going to get thrown out.
He has one argument that is remotely ripe for wending its way to the Republican U.S. Supreme Court. It's that Pennsylvania exceeded its legal authority when it accepted and counted absentee ballots that were postmarked by the election date but received up to three days afterward.
Trump says that's fraud--counting postmarked ballots the way the IRS cashes your tax payment postmarked on the due date but arriving after the deadline.
Mainly it's four things--human procrastination, choppy mail service, an arduous ballot-verification process and democracy.
Anyway, there aren't enough of those votes to change Biden's lead in Pennsylvania which, at this writing, is 46,000 votes.
Trump's position is akin to Clemson petitioning the NCAA not to count any points accumulated by Notre Dame after the end of regulation play Saturday night.
Otherwise, Trump's argument is nothing but rumors and conspiracy theories, all of which he has a perfect right to try to substantiate to a court's satisfaction.
But he'll need to substantiate enough of them to change tens of thousands of votes in three states to reverse outcomes in Pennsylvania, Georgia and Arizona.
His lawyers have set up a hot line for people to call and report corruption, which is like Clemson asking people to report any penalties on Notre Dame that they saw but the officials didn't call.
Trump's lawyers open-endedly plead for some kind of evidence to support their clients' fantasy, a flight upon which he, knowing he was beaten, embarked even before a vote was cast.
--–––––v–––––--
John Brummett, whose column appears regularly in the Arkansas Democrat-Gazette, is a member of the Arkansas Writers' Hall of Fame. Email him at [email protected] Read his @johnbrummett Twitter feed.
Sponsor Content
Comments