Election officials in Washington and Benton counties have a message for voters: They've got this.
Final results election night may not be ready as early as in the past, they said, but the counting will be done as quickly as possible and it will be accurate.
Challenges this year differ from the power outages and bad weather of the past. The biggest antagonist now is covid-19 and the resulting pandemic. Efforts to conduct safe balloting have prompted record numbers of absentee and early votes in both counties and across the state.
Arkansas election officials predict record-setting turnout.
More than 1.2 million Arkansans are expected to vote in the election, or about 68% of the state's registered voters, according to projections from Secretary of State John Thurston's office. Such a turnout would result in nearly 100,000 more ballots being cast than
in 2016, when turnout was under 65%.
In addition to the presidential race, Arkansas voters will decide a state U.S. Senate election, three congressional races, more than 50 contested legislative races, three statewide ballot measures and a host of local and judicial races.
The absentee counting process could slow the tallying despite accommodations from the governor and secretary of state. A big turnout for early voting so far and the large number of voters expected Tuesday also add to the workload.
Renee Oelschlaeger, Washington County Election Commission chairwoman, said she doesn't see any obstacles that can't be overcome.
"We've been given permission to begin canvassing the ballots earlier than we have in the past, and we're doing that. I have confidence that we'll get it done. I'm not saying it will be easy, but we'll get it done," she said.
Kim Dennison, Benton County's election coordinator, said accuracy must come before speed.
"If for some reason we don't have them all counted, this is why we have preliminary and unofficial results on election night so that we can finish the process of counting what we have, making sure all votes are counted, before certifying the results 10 days after the election," Dennison said.
ABSENTEE
In Washington County, 12,965 absentee ballots were mailed, and 10,501 ballots were returned as of Friday morning, Deputy Clerk Jamie Williams said.
Benton County mailed 16,155 absentee ballots and received 13,352 ballots back as of Friday morning, Deputy Clerk Samantha Hufford said.
In the 2016 general election in Benton County, a mere 2,845 ballots, or 1.9%, were absentee.
More voting by absentee ballot was expected in this November general election than in previous elections because of covid-19. Guidelines to prevent the disease's spread include avoiding public gatherings such as a vote center.
Of the 131,558 absentee ballots requested by Arkansans, 108,372 had already been returned to county elections offices as of Friday afternoon, a spokesman for Thurston's office said.
When an absentee ballot goes out, it comes with a return envelope, voter statement and ballot-only envelope. Voters put the ballot in the ballot-only envelope and place it and the voter statement in the return envelope.
This allows election officials to process the signatures without seeing the ballot to know how someone voted, Dennison previously said.
Gov. Asa Hutchinson gave counties an extra week before Election Day to prepare absentee ballots for counting. Absentee ballots will start to be counted Tuesday morning.
The ballot-only envelope can't be opened and processed until Election Day and results are not allowed to be released until after polls close at 7:30 p.m. The votes are counted electronically.
"The plan for the Benton County Election Commission is to begin opening the 'ballot only' envelopes at 8:30 a.m. on Election Day. What we have opened and counted will be released on election night with the early vote numbers upon the closing of all of the polls," Dennison said.
"We hope to have all 15,000 plus ballots opened and counted at that time. However, with the large increase in ballots, we really aren't sure what this looks like and the time frame needed to make this happen," she said.
"We do have a crew of 40 people coming in to open these ballots beginning at 8:30 that morning and a new ballot-counting device that will hopefully help speed up this process and help us to have them all counted before the polls close election night," Dennison said.
The Washington County Election Commission and election staff will begin counting absentee ballots at 9 a.m. on Election Day, said Jennifer Price, commission executive director.
"We'll start opening the envelopes and feeding them through the machine as soon as possible," Price said.
Price said absentee results may be delayed depending on the number of absentee ballots received on Election Day.
"Barring any major issues, we'll be done in a timely manner," Price said. "If we receive less than 500 absentees on Election Day, we should shape up to finish everything close to our normal schedule. If we get 2,000 absentees on Election Day, it's going to take us more time to process that many ballots."
Military personnel have an extra 10 days to get their absentee ballots in and provisional ballots go through a review process.
"A provisional ballot is given to someone who wishes to vote and may have been issued an absentee ballot, isn't showing up in the tablet or voter registration records as registered, a poll book shows they already have voted, doesn't want to show identification, has an out of state ID or any other reason that wouldn't allow them to cast a regular ballot," Dennsion said.
If a race is within a few votes, a provisional ballot could change the outcome, she said.
"Hopefully we'll have those done by Friday after the election -- depends on how many there are," Benton County Clerk Betsy Harrell said of provisional ballots.
Bonnie Miller, president of the Washington County League of Women Voters, said she was disappointed a judge rejected a request made by the league to give voters time to correct any problems with their absentee ballots.
The law provides voters are notified by mail after the election that there was a discrepancy and their vote wasn't counted. U.S. District Judge P.K. Holmes declined Monday to grant an injunction ordering the state to give voters time to correct any discrepancies.
Miller said in 2010, about one in 20 absentee ballots cast in Arkansas were thrown out. She said she is disappointed with Holmes' decision and indicated the league has no plans to pursue other legal challenges now, but will lobby for changes in the law at the state Legislature.
Max Deitchler, a member of the Washington County Election Commission, said the group has been careful about questions of ballot signatures in the past, trying to err on the side of the voter.
"I'm not a handwriting expert, and our poll workers are not hand-writing experts," Deitchler said. "Asking a nonexpert to decide whether signatures match is ridiculous. Arkansas law on this is outdated and illogical and needs to be changed on that specific issue."
EARLY VOTING
Early voting started Oct. 19 and ends Monday. Early voting allows residents to vote in person before Election Day at any of several locations in their county.
Early voting through the first 11 days topped a combined 139,000 votes in Benton and Washington counties. Benton County has 169,957 registered voters and Washington County has 140,844 registered voters.
Price said she plans to have early voting results released as quickly as possible after the polls close at 7:30 p.m.
Miller said the number of votes cast during the early voting was an encouraging sign for the election.
"During a global pandemic, early voting is the best way to keep the community safe," she said, noting that election officials were encouraging masks, social distancing and other measures to reduce the risk of spreading the covid-19 virus. Voters are not required to wear masks inside polling centers.
Michael McCranie, the campaign manager for Bentonville Mayor Stephanie Orman in 2018, noted several factors he thinks motivated voters to go early.
"First, voters are more passionate than ever about their candidates or their party," he said. "Second, with many in Northwest Arkansas working from home, including Walmart, Tyson, JB Hunt and local suppliers, many voters have more flexibility and fewer obstacles to voting during the workday than they have ever had.
"Additionally, many of these companies are encouraging their employees to vote as part of their partnership in the Time to Vote Coalition, a business-led, nonpartisan group aimed at increasing voter participation by offering tools and resources on voting locations, candidate information as well as benefits, like paid time off to vote."
Pedro Mercado of Bentonville voted in his first election Tuesday afternoon. He became a citizen a few years ago. Mercado said he's not political, but one of his friends, who is passionate about voting, convinced him to vote.
Jamie Gerber of Bentonville voted early on Tuesday. She wanted to avoid waiting in a long line.
ELECTION DAY
The results will be accurate whenever they are completed, officials said.
Procedures have been implemented to make the election as accurate as possible, Harrell said.
"All of our processes work together to ensure accurate numbers," she said. "The tablets prevent anyone from voting twice, the number of voters is matched to the number of votes, and none of the ballot-marking devices are connected to the Internet. Every piece of equipment is password-protected, and only staff and poll workers have access to it."
Local candidates said they're not worried about vote tampering.
Democrat Kelley Boyd, a candidate for Benton County Justice of the Peace District 10, said she believes the local election results will be noncontroversial.
"I think we will have results and totals the night of. I feel comfortable that our election commission is prepared to count ballots and add electronic tallies sufficiently to announce the winners of races that are not a handful of votes apart. Where that happens, I would prefer that they make sure the vote counts are right before announcing a winner in a race."
Republican Renona Crowden, Boyd's opponent, also said she was not concerned about Election Day problems. She voted early.
"I have faith in Betsy and her staff that they have procedures in place to ensure that all counting is done properly and that everything is beyond reproach," she said of Harrell.
Michael Kalagias, the Libertarian candidate in the 3rd Congressional District race, doesn't foresee many problems on election night.
"Elected officials aren't taking office until January, so there's plenty of time to count the votes. I expect lawsuits in some races/places will likely create lengthier delays," he said.
Arkansas Democrat-Gazette reporter John Moritz contributed to this report.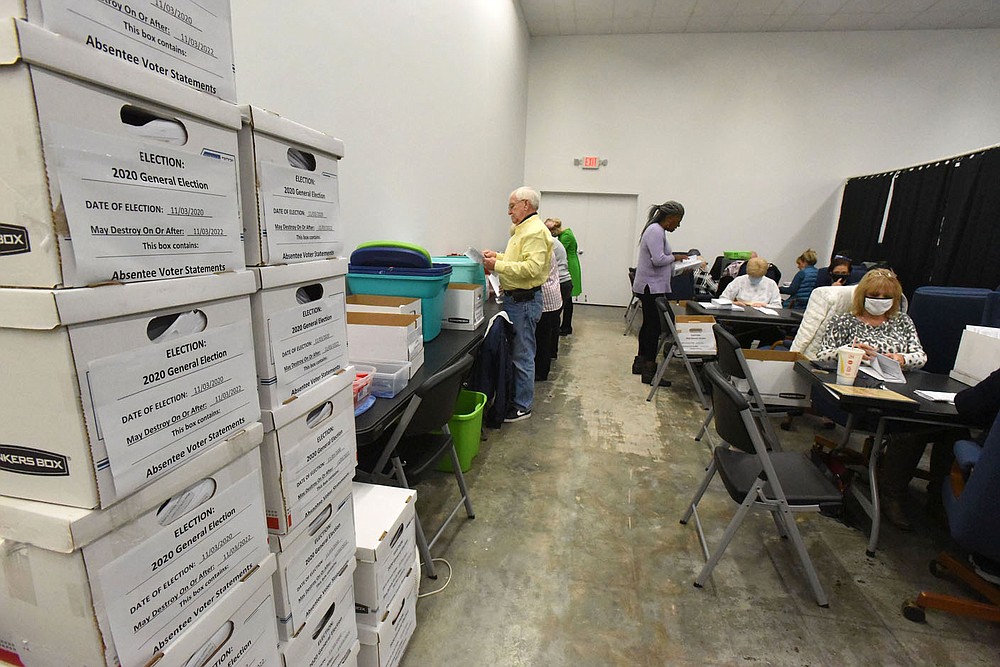 Boxes of processed absentee ballots are seen Wednesday Oct. 28 2020 near workers processing more absentee ballots at the Benton County Election Commission office in Rogers. (NWA Democrat-Gazette/Flip Putthoff)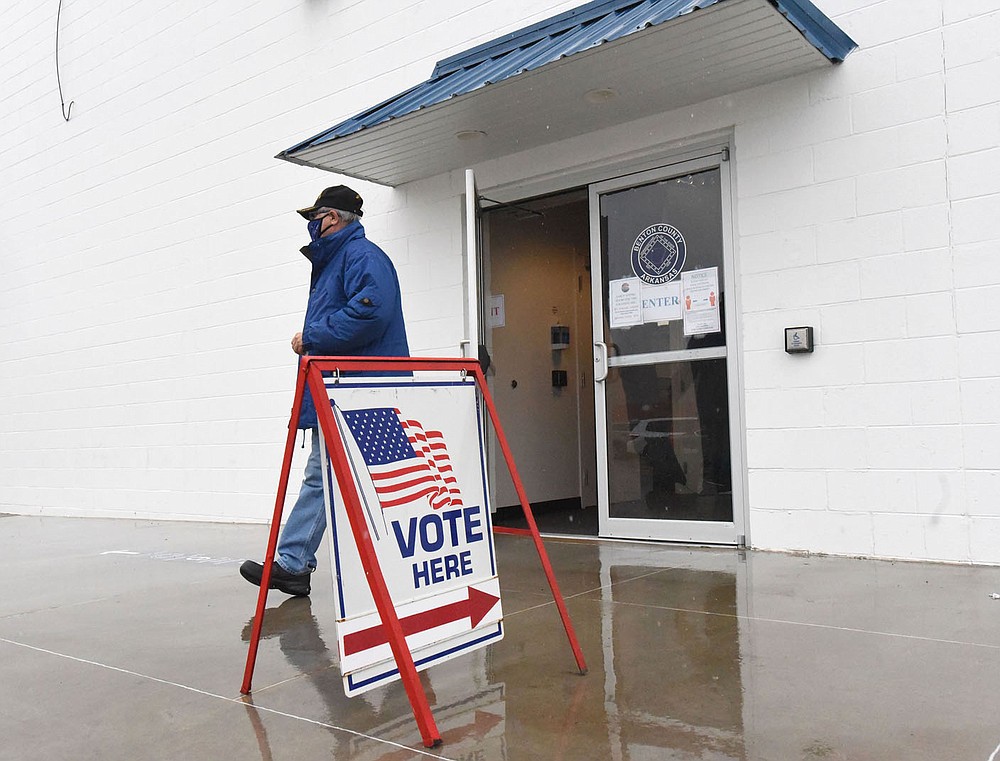 A man exits a Benton County early voting site on Wednesday Oct. 28 2020 on West Walnut Street in Rogers. (NWA Democrat-Gazette/Flip Putthoff)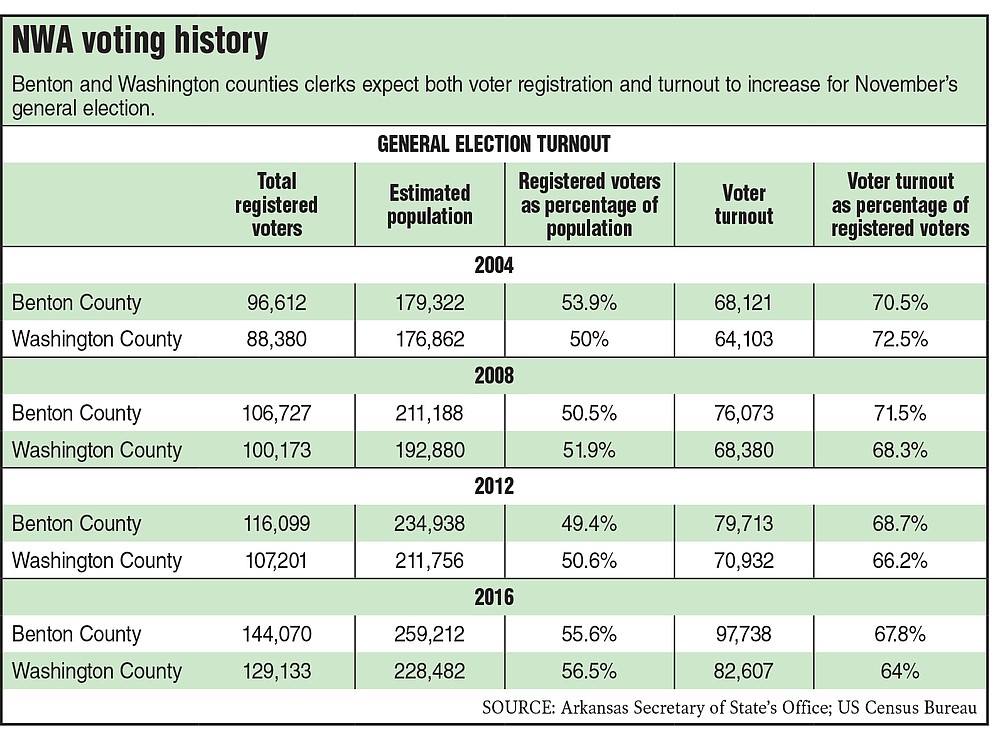 More News
Absentee deadline
The deadline to return an absentee ballot in person is Monday, Jennifer Price with the Washington County Election Commission said.
All absentee ballots that are delivered by mail, by designated bearer or by authorized agent must be received by 7:30 p.m. Tuesday to be counted, Secretary of State John Thurston said.
Voters can see if their ballot has been accepted using the VoterView feature on the Arkansas Secretary of State website.