Drew Liles was passing through Little Rock on his way to camp at the Buffalo River when he saw a picture, tucked away in the stairwell of a little store, of a young woman he had met in Colorado a few years before.
Drew, who lived in Louisiana, recognized the woman in the picture, Reecie Abbott, from when they both worked as guides for whitewater rafting tours with a company called Noah's Ark in Browns Canyon on the Arkansas River in Salida, Colo., in summer 2006.
"She was kind of out of my league. I was the new guy, and she had her group of friends," Drew says.
Reecie was in her second year with Noah's Ark then. She went back for a third summer in 2007, but Drew had started nursing school and did not return to Colorado as a guide.
It was 2010 when Drew and his friend, driving through Arkansas on their way to the Buffalo, decided to stop at Ozark Outdoor Supply, which they had heard about from other outdoorsmen. As his friend considered what sleeping bag to buy, Drew walked around the store, looking at all the pictures on the walls. He noticed one taken of the Noah's Ark boats -- and then he saw Reecie was the guide.
He asked around to find out how the store's employees knew her and how her picture might have come to be on the wall. Reecie worked there, he was shocked to learn, but she wasn't there that day.
Reecie had started nursing school by then as well. Drew's friend urged him to get in touch with her once they got back home, and though he initially resisted he finally sent her a message through Facebook asking if he could take her to lunch the next time he was in town.
"It was just a random message from him. I hadn't heard from him for years. And I was like, 'Sure, OK,'" Reecie says.
When he arrived, she suggested they go to Pinnacle Mountain State Park and toss a Frisbee and he was game for that.
The next time he visited they had dinner at Dizzy's Gypsy Bistro and danced at Ernie Biggs and sometime after that they went to Vino's to hear a band.
She went to see him in Shreveport. Drew worked seven days of 12-hour shifts and then had seven days off, so he would visit on his weeks off. They always both enjoyed outdoor activities.
"In February 2011 we decided we wanted to pursue a relationship and started dating," she says.
Drew moved to Little Rock in August 2011. In 2014, he went to Arkansas State University at Jonesboro to become a certified nurse anesthesiologist.
In July 2016, Reecie wanted to learn to fly fish and Drew promised to teach her. Drew not only ordered a fly rod for her -- he called the company, Orvis, and asked them to put the name "Reecie Abbott Liles" on the pole, intending to use it as part of his marriage proposal.
"The woman who answered the phone had a real thick northern accent and I told her the story of why I was ordering it and she started calling all of her friends over to her desk to listen," Drew says. "I said, 'Listen, I need to get this thing quick.' And she said, 'Oh, honey, we'll get this to you real fast.'"
It was quick, but not quite as quick as he needed it to be. He had to delay their trip by a day while he waited for it to arrive, so he told Reecie he had to work and would pick her up the following morning to drive to Heber Springs.
Reecie remembers turning the rod in her hands, seeing the name on it and realizing the implication.
"I just stared at it and he knelt down and he said a lot of things I can't remember and cried and he gave me his grandmother's wedding ring," Reecie says. "Then it started to rain on us. And it was perfect because it was just us in the rain."
Newly engaged, they drove back to Little Rock and had dinner at a Mexican restaurant across from Ozark Outdoor Supply.
They exchanged their vows three months later, on Oct. 22, 2016, at the Barn at Lost Creek in Pearcy.
There was a nacho bar; there were margaritas. And there was a band and dancing, and some people brought pies.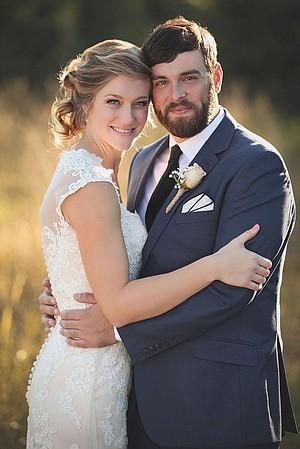 Reecie Abbott and Drew Liles were married on Oct. 22, 2016. They worked together as whitewater rafting guides in Colorado but didn't start dating until after a chance encounter several states away and four years later. "I hadn't thought about her since I left Colorado," Drew says. (Special to the Democrat-Gazette/Jon Byron)
"There was nothing really traditional about our wedding," Reecie says. "It was outdoors and everything was perfect."
Reecie and Drew still love being outside and can't wait to introduce their 5-month-old triplets -- Beau, Ada and Zoey -- to the joys it can bring.
For now, they juggle their jobs -- Drew is a nurse anesthetist and Reecie is a day surgery nurse -- and work together at home to keep their babies fed, bathed and diapered.
"He's my best friend and best adventure buddy," Reecie says. "I couldn't have asked for a better spouse and dad to our three, as well as our Lab pup, Lou girl."
If you have an interesting how-we-met story or if you know someone who does, please call (501) 425-7228 or email:
More News
The first time I saw my future spouse:
He says: "I didn't know it."
She says: "He was definitely not on my radar."
On our wedding day:
He says: "I remember the first look. Turning around and seeing her — oh my gosh, I just couldn't keep it together. And she smelled amazing. That perfume is really expensive but I don't mind buying it — Santal 33."
She says: "I remember showing up at the venue with sandwiches for everybody and then it all happened so fast. But everything was perfect."
My advice for a long happy marriage:
He says: "Be friends and be quick to say you're sorry."
She says: "Drew and I always say that we're a team. We know communication is big and if one of us is struggling with something we'll take over for each other. And we love to do things together."