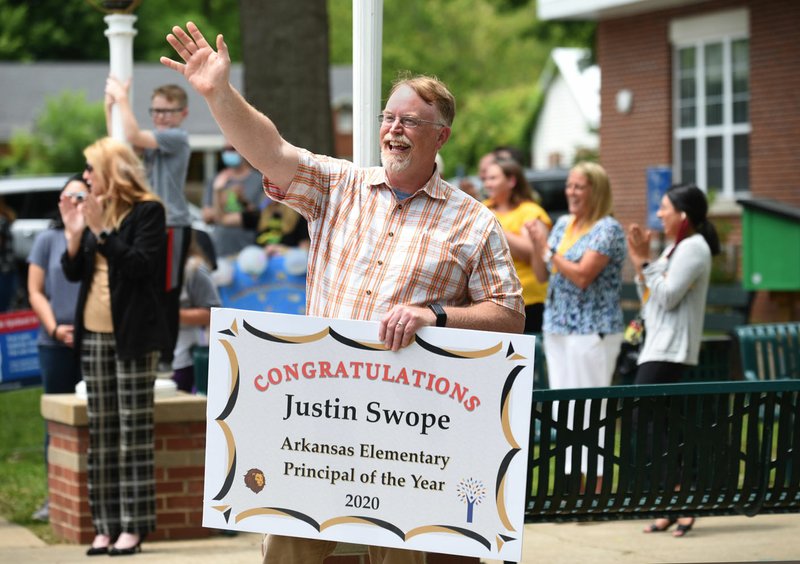 Lee Elementary School principal Justin Swope waves Thursday to passing well wishers from the parking lot of the school in Springdale. Swope was recognized as the Arkansas Elementary Principal of the Year 2020 by the Arkansas Association of Elementary School Principals. Swope has been the principal at Lee Elementary School for nine years. Go to nwaonline.com/200522Daily/ and nwadg.com/photos for a photo gallery. (NWA Democrat-Gazette/David Gottschalk)
SPRINGDALE -- Principal Justin Swope got a surprise Thursday when he pulled up to Lee Elementary School and found teachers, staff members and district administrators waiting for him outside the building.
They were there to celebrate him being named Arkansas' elementary principal of the year, an honor bestowed by the Arkansas Association of Elementary School Principals.
Cindy Covington, principal of Childers Knapp Elementary School, presented Swope a congratulatory sign. Superintendent Jim Rollins bumped elbows with him.
"I was definitely surprised," Swope said. "I was honored to have so many people come out to celebrate. It's humbling, to say the least."
Swope is in his ninth year as Lee Elementary's principal. Before that he was an assistant principal at Jones Elementary School for three years. He came to Springdale from Elkins, where he was first a teacher, then an elementary school principal.
"I'm proud of my school and proud of the hard work of our kids and staff," he said.
Swope, 43, grew up in Gravel Ridge, now a part of Sherwood. He earned his bachelor's degree from University of Central Arkansas and his master's and specialist's degrees from the University of Arkansas.
Administrators must be nominated for the award. The association then sends nominees an application that inquires about what kind of practices are in place at their school, Swope said.
About 500 students in kindergarten through fifth grade attend Lee.
[Don't see the gallery above? Click here to see the photos.]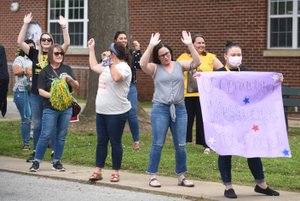 Well wishers comprised of teachers, staff and administrators cheer the arrival of Lee Elementary School principal Justin Swope on Thursday after he was recognized as the Arkansas Elementary Principal of the Year 2020. Swope has been the principal at Lee Elementary School for nine years. Go to nwaonline.com/200522Daily/ and nwadg.com/photos for a photo gallery. (NWA Democrat-Gazette/David Gottschalk)
NW News on 05/22/2020
Print Headline: Springdale principal receives state award
Sponsor Content
Comments