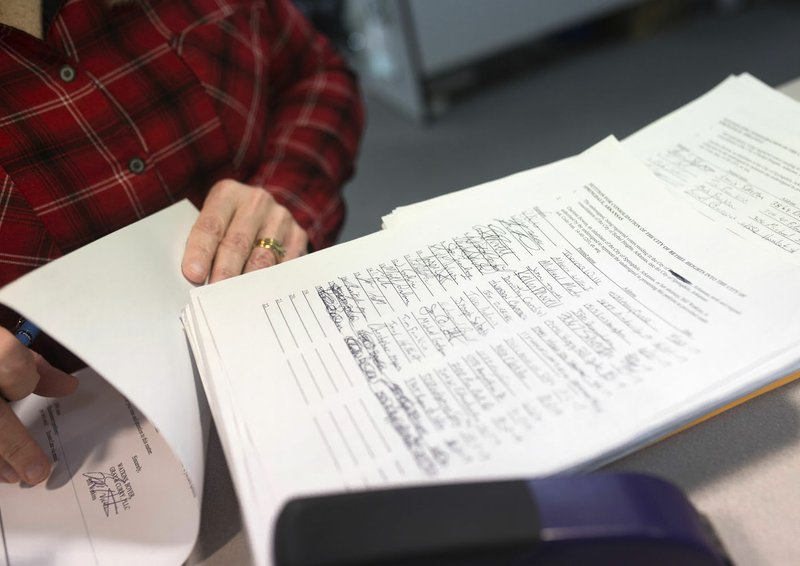 City Clerk Denise Pearce flips through a stack of petitions Friday at Springdale City Hall. A group has gathered petitions to get Bethel Heights annexed into Springdale because Bethel Heights can't solve its sewer issue. They turned in petitions to Pearce. Go to nwaonline.com/200307Daily/ for today's photo gallery. (NWA Democrat-Gazette/Charlie Kaijo)
BETHEL HEIGHTS -- Janet Nelson, city clerk of Bethel Heights, declined Friday to certify petitions seeking an election on whether the city should annex into Springdale.
Charlene Bowen and the city of Springdale filed a writ of mandamus with the Benton County Circuit Court on Friday in response. The plea asks a judge to make Bethel Heights city officials fulfill their duties under Arkansas law. Bowen, a Springdale resident, is authorized to act on behalf of the petitioners.
Ernest Cate, city attorney for Springdale, and Bill Watkins, an attorney representing the petitioners, received a letter at 3 p.m Friday saying the petitions insufficient. The letter came from Robert Rhoads, an attorney representing the city.
Nelson rejected the petitions because they didn't include verification of who collected the signatures, one signature on the petition was a voter in Lowell and because Mayor Cynthia Black had heard that some of those gathering signatures told people signing the petitions the intent was to get the city to address sewer issues, not to consolidate, according to the letter from Rhoads.
Cate said their reasons aren't among those state law allows to reject petitions.
Document
Bethel Heights Petitions
View
Document
Springdale Petition
View
Document
Petition for Writ of Mandamus
View
NW News on 05/23/2020
Print Headline: Bethel Heights rejects petitions for annextion
Sponsor Content
Comments