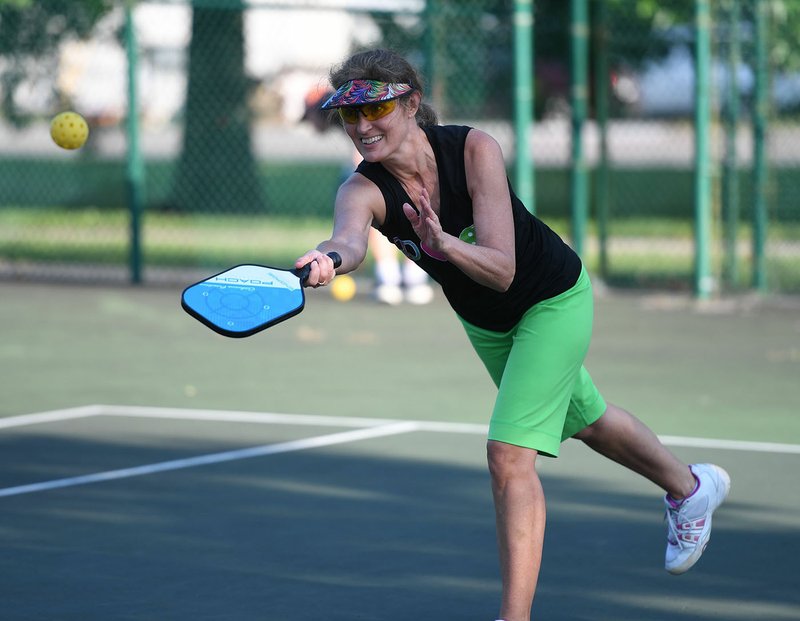 Kate Williams plays pickleball June 25, 2019, at the courts at Walker Park in Fayetteville. The city will is reopening some park amenities after closing them because of the covid-19 pandemic.
FAYETTEVILLE -- Some park amenities in the city will reopen to the public starting Friday.
The tennis courts at Wilson and Walker parks will be open for singles play only. The courts will be reserved for senior residents 7 a.m. to 8:30 a.m. daily, according to a city news release.
The batting cages at Walker and White River parks also will reopen with a maximum of two people permitted per cage.
The handball and racquetball courts, horseshoe pits and skateboard area at Walker Park will reopen with social distancing requirements in place, the release states.
The Bryce Davis Iams Dog Park also will reopen.
Signs are posted at all parks with the relevant information on safe practices.
At the Lake Fayetteville and Lake Sequoyah marinas, signs and markers to indicate 6 feet of separation are placed at docks and in the bait shops. Inside the shops, customers should wear face coverings, and only one customer will be allowed at a time. Symptomatic people won't be allowed inside. Sneeze guards are installed at public counters and hand sanitizer is available. City staff and contractors must wear face coverings when working with customers.
The city will continue its waiver of fishing permit fees for lakes, according to the release.
Park amenities such as playgrounds, courts and fields have been closed since March 24. The measure was taken to discourage groups of people from congregating and sharing surfaces, potentially spreading covid-19.
The city is beginning to slowly reopen amenities and will continue taking a cautious approach to reopening city-owned facilities and buildings, the release states.
More information can be found at fayetteville-ar.gov/covid19.
NW News on 05/22/2020
This story was originally published at 12:28 p.m.
Print Headline: Fayetteville announces reopening of some park amenities
Sponsor Content
Comments