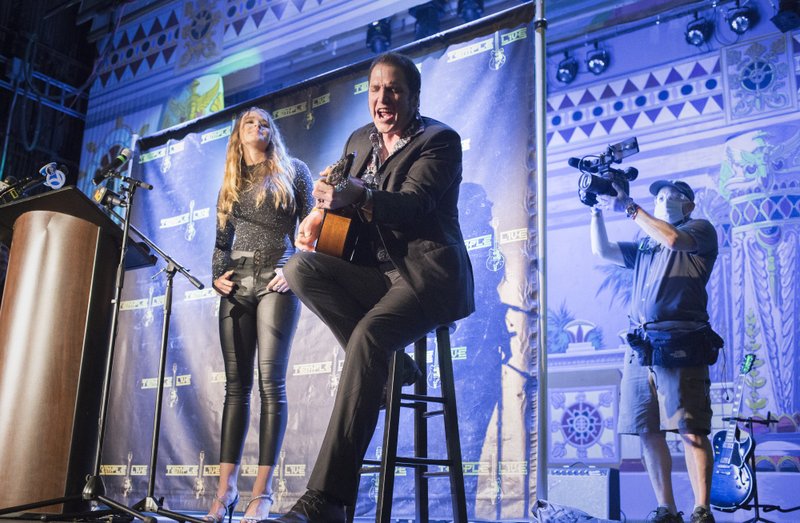 Travis McCready of the band Bishop Gunn performs, Thursday, May 14, 2020 during a press conference at the TempleLive concert venue in Fort Smith. The Arkansas Department of Health issued a cease and desist order on a planned concert, what would have been one of the first in the nation to start up again. Travis McCready of the band Bishop Gunn was scheduled to perform at the venue. Check out nwaonline.com/200515Daily/ for today's photo gallery. (NWA Democrat-Gazette/Charlie Kaijo)
This month alone, Kevin Mazur should have been in San Diego photographing opening night of The Rolling Stones' tour; in Seattle to shoot the kickoff of Justin Bieber's summer tour; in Napa Valley covering the BottleRock music and wine festival; and in his home town of New York City to capture what is, in his opinion, the biggest event in the country -- the Met Gala.
Tonight, May 18, the in-demand celebrity photographer and co-founder of WireImages finds himself in Fort Smith, Ark., to document what is likely the first indoor concert to take place since gatherings of more than 10 were banned in the U.S. to stem the spread of covid-19.
"I've shot some of the most historic concerts," Mazur asserts. "I was there for Live Aid in Philadelphia; I was at the Freddie Mercury [tribute concert] in England; I was the photographer for the 9/11 concert in New York. I do all the big, historical events. To me, this is equal to that.
"All eyes in the music industry and the entertainment industry are on this show right now. Live Nation, AEG, everybody wants to see them succeed because this is going to be the start of getting our industry back."
Following months of cancellations and postponements, livestreams and virtual performances, blues rocker and Bishop Gunn frontman Travis McCready fronts an evening much bigger than the intimate solo acoustic show he thought he was slated at TempleLive in Fort Smith.
The show has been enveloped in controversy since it was announced on April 23. The original performance date was to be Friday, May 15. Organizers assured a safe experience for audience and performers under detailed covid-19 operating protocol. But when Arkansas Gov. Asa Hutchinson announced plans for the limited reopenings of indoor venues like theaters, arenas and lecture halls, the proposed date of May 18 came three days after the McCready concert.
Venue and concert organizers' unwillingness to back down -- confident their safety precautions would be enough defense from viral spread -- instigated a back-and-forth between TempleLive and the governor's office that drew national, and even international, attention. The show, of course, was eventually required to move to the state's designated date, but even at three days later than hoped for, the concert is still one of, if not the very first, concert to take place in a large, indoor venue.
"It was as soon as it hit the media, I saw this and I just had to be part of it, to help get everything back on track," Mazur says of the show. "I love live music. It's the heart and soul of our country. Everybody wants to go to live music and go out and enjoy themselves, but you have to take precautions. So I'm looking at what they're doing here and I'm saying to myself, 'This is what they're going to be doing for all concert venues, until we get a vaccine and everybody can get back to normal.'"
"All concert venues" would include the Beacon Theatre in New York City where Mazur shot the very last concert before the shutdown.
"That was my last fix of live music, so I'm getting my first fix of live music. I need it. I live for it," says Mazur, who got his start as a photographer by sneaking his camera into rock concerts.
Among the precautions in place for tonight's performance, fewer than 250 people will be allowed in the house with a capacity of 1,100. The venue will be sanitized before and after the event. Six feet will separate seating groups of two to 13, and audience members will be required to wear masks. Mazur, who was a medical photographer at the height of the AIDS crisis, says he is impressed with the measures in place at TempleLive and is optimistic about the way forward for music.
"People need it," he says of the concert sparking a "new normal." "People have to have hope, and they're hoping to get on with their lives. So that's why it's so important. And that's why people want to get back into church. This is my church -- live music, this is my church. I need it. Music is good for the soul, especially live music. You feel it, you know?"
NAN What's Up on 05/19/2020
Print Headline: NYC photographer in Fort Smith to cover first post-covid indoor concert
Sponsor Content
Comments