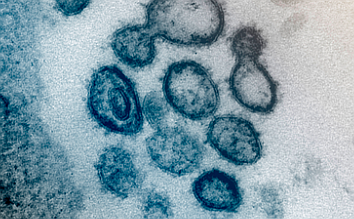 This undated electron microscope image made available by the U.S. National Institutes of Health in February 2020 shows the Novel Coronavirus SARS-CoV-2. Also known as 2019-nCoV, the virus causes covid-19. - Photo by NIAID-RML via AP
BENTONVILLE -- A student at Bentonville's West High School has been diagnosed with covid-19, according to a letter to parents from Superintendent Debbie Jones.
"We're following the guidance of the Arkansas Department of Health to contact individuals who may be affected," the letter stated.
It's the district's first confirmed positive case of the disease among either students or employees, said Leslee Wright, communications director. About 2,000 students in grades 9-12 attend West High School.
Bentonville schools have been closed since March 16. Gov. Asa Hutchinson ordered all public schools in the state to remain closed until at least April 20.
The Rogers School District announced Tuesday a Tucker Elementary School third-grader had been diagnosed with covid-19.
The number of confirmed cases in the state of Arkansas has increased to 426, Hutchinson said Sunday. Six people in the state have died from covid-19.
NW News on 03/30/2020
Print Headline: Bentonville West High School student has covid-19
Sponsor Content
Comments