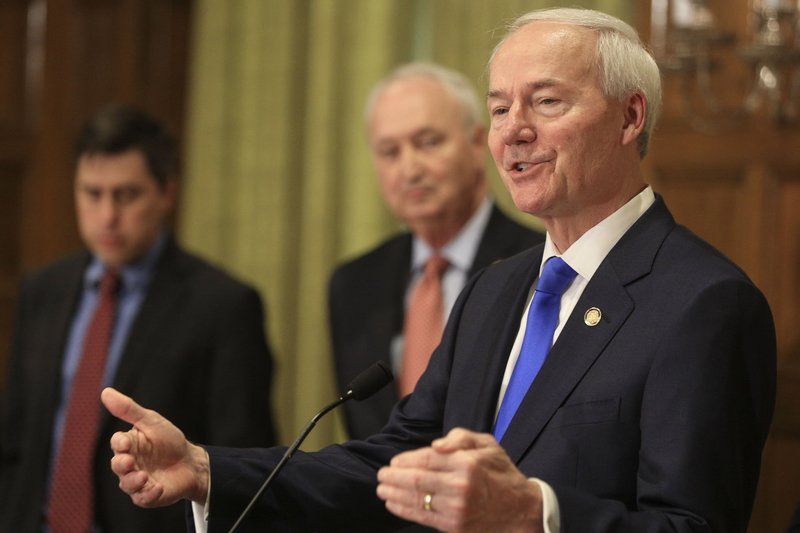 FILE - Gov. Asa Hutchinson, right, speaks along with Larry Walther, middle, Secretary of the Department of Finance and Administration and Jake Bleed, state budget director, Monday March 23, 2020 in Little Rock. - Photo by Staton Breidenthal
"All he cares about is the money."
"Who cares about the freakin' budget?"
What's the point?
Gov. Asa Hutchinson's leadership in a time of crisis deserves praise.
Gov. Asa Hutchinson was talking a lot about money on Monday during what's become a daily briefing on the effects of the covid-19 disease and the impact being felt all across the state of Arkansas.
The comments above, in various forms, came in the "chat" function that runs alongside the YouTube-based livestream of the daily covid-19 updates. In a livestream broadcast, it's where anyone can type up and message, hit "enter" and reveal to everyone watching whether its sender is a level-headed Arkansan earnestly seeking to understand the disease's impact on the state, a hysteric stirring chaos or somewhere in between. Some of the comments left us hoping those folks aren't our neighbors here in Northwest Arkansas.
People have every right to respond in whatever way they want. Many are sitting in isolation, their social media interactions substituting entirely for the more humane face-to-face contact we perhaps now realize we've underrated since Steve Jobs blessed us(?) with the iPhone. Online personas have a tendency toward a little less kindness, a little more inflamed passion and, frequently, much harsher words than we'd ever use in speaking with someone directly.
Moderation isn't usually a product of online interaction.
Why was Hutchinson talking about money? Because when it comes to state government -- to government in general -- money shows where the priorities are. Government is a mechanism. It doesn't have a heart or a soul, although we all want to believe through policies it can reflect humanity of the people, by the people and for the people. Government can be good or it can be bad, all dependent in this country on the direction the people we elect and appoint lead it. But if government leaders aren't spending any money on a policy or a problem, then words of compassion or empathy, while they may be heartfelt, aren't really accomplishing anything.
Yes, it matters a great deal when Arkansas' governor stands before reporters (and in this extraordinary situation, the thousands of Arkansans who for now are paying attention) and explains that the budget forecast has been revised downward for the fiscal year by $353.1 million.
It may be that people are so used to the federal model of spend, spend, spend that they don't fully appreciate Arkansas' balanced budget approach that keeps the state from getting into financial trouble. State agencies -- from the Department of Health to the University of Arkansas for Medical Sciences to the Department of Human Services, and on and on -- cannot spend money without legislative authority. And when the budget shrinks, that means adjustments have to be made.
The governor put it in perspective Monday when he note that, unlike the federal government, the state of Arkansas can't just simply print a few more millions to get by. Like all us trying to figure out how to make ends meet in extraordinary times, Arkansas has to do the same.
The state still anticipates spending $5.38 billion for fiscal 2020, which ends June 30. But $353 million is a big hit, caused by the covid-19 economic slowdown as well as the state's economically compassionate decision to move the tax filing/payment deadline from April 15 to July 15.
The truth is we want our governor taking such matters seriously and keeping Arkansans informed about it, because it has long-term effects on government services people rely on, whether it's the State Police or juvenile detention facilities or mental health services, etc. It doesn't mean he's ignoring people's health care needs. Rather, it means the governor is doing what we hire him to do, which is to make sure state government functions in its many, varied ways.
His administration's projections that the state will collect about $160 million less in general revenue has meaning to Arkansas cities and counties, too. They're busy trying to calculate what this pandemic will do to their budgets. Should anyone suggest they're heartless for thinking about money? No, because that's thousands of jobs delivering all sorts of important services to residents. And those services do not disappear just because a virus comes for a visit.
Gov. Hutchinson has provided tremendous, even-keeled leadership to the state during these troubling times, and that's what Arkansas needs. He's obviously a member of a political party some Arkansans do not believe is the right one to lead the state forward and others believe is the only one capable of getting the job done. At this stage, what matters is the performance of his duties as governor.
He's demonstrated a deliberate approach, refusing to overreact, using the real-world data about what's happening in Arkansas, learning by observing other states' circumstances and reactions while refusing knee-jerk, one-size-fits-all responses. He's led by taking serious, science-based advice from the medical professionals at the Health Department, UAMS and elsewhere. But he's also weighed his responses against his many responsibilities, which is exactly what we elect a governor to do.
Hutchinson catches flak from some who suggest a total Arkansas shutdown, a shelter-in-place order such as a few other states have imposed. It may come to that yet, but Gov. Hutchinson knows the way to steer a ship is to keep it moving forward, even if its speed has to be slowed dramatically.
Is he more worried about finances than about the health of his fellow Arkansans? Our best estimate is he's worried about it all, recognizing that fiscal health of state government has just as much last impact on the state's residents as physical health does.
Governing in the best of times is an act of balancing needs, wants and the resources available. The same is true in a crisis, but with every decision's importance amplified.
Not everyone can handle crisis with calm, steady leadership. But Hutchinson has shown it throughout.
Commentary on 03/25/2020
Print Headline: The balancing act
Sponsor Content
Comments