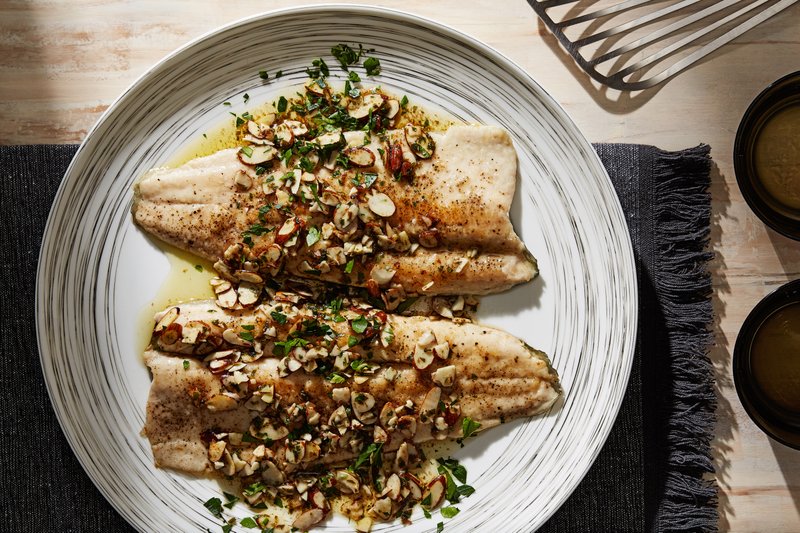 Trout Amandine (For The Washington Post/Tom McCorkle)
Trout amandine is a thing I crave. If I see it on a restaurant menu, I order it. When I'm tired and feel like I need a deliciously comforting meal (and who doesn't these days?), I make it. It's the kind of easy elegance that I wish I could replicate in every weeknight meal, but few dishes come together so quickly, with so few ingredients and such a big reward at the end.
This is hands-down my favorite way to eat fresh trout filets. Pat them dry, dust them with flour, pan-fry them in fat until golden. Then, remove the filets and make a meunière sauce, which sounds fancy, but is really nothing more than browned butter with lemon and a sprinkle of fresh parsley. Finally, I like to add sliced or slivered almonds to the sauce to turn this into amandine.
Pour the sauce over the filets and serve them with steamed asparagus or green beans, a hunk of crispy bread and a glass of dry white wine, such as sauvignon blanc. Heaven.
In his cookbook, The Deep End of Flavor: Recipes and Stories from New Orleans' Premier Seafood Chef (Gibbs Smith, 2019), Tenney Flynn says that "in French cuisine, sole is the fish that made this dish famous."
"Once you get the hang of it you can go in a thousand directions using whatever fish looks best at your market," said Flynn, who recently retired but remains active in supporting sustainable seafood and is a co-owner of GW Fins restaurant, a seafood restaurant in the French Quarter.
The cooking technique, one of dozens he carefully explains in his cookbook, is simple. Perhaps the most difficult part is flipping the fish. Flynn describes how to do it in the recipe below, but I've cheated sometimes and cut the pieces of fish in half, so they fit more easily onto a thin spatula. The result is not as pretty as those long, slender filets, but it is a perfectly fine way to build confidence.
Flynn also explains that the pan-frying and meunière sauce techniques are fundamental — delicious and classic. They offer a canvas for so many variations. He recommends preparing the fish and sauce and then thinking creatively about additions. If I'm feeling extravagant, I might add a half cup of lump crabmeat with those generous handfuls of almonds.
Among his other suggestions for two filets:
½ cup corn kernels
4 ounces crawfish tails
½ cup blood orange segments
1 tablespoon orange juice
¼ to ½ cup chopped pecans
¼ cup diced roasted red pepper
You get the idea. Experiment.
Most of us have butter and lemon on hand, so if you keep fish in your freezer, you can likely make the filets and sauce without even stopping by the grocery store. Then, experiment with citrus, seasonings or nuts that you have in the refrigerator or pantry.
Try it and see if this doesn't turn into a weeknight go-to for you, too.
Trout Amandine
2 (5- to 6-ounce) speckled trout filets or other filets from a smallish fish (can substitute catfish, drum or sole)
¼ teaspoon kosher salt
½ teaspoon ground black pepper
¼ cup all-purpose flour
1 tablespoon olive oil or canola oil
4 tablespoons salted butter, plus more if needed, divided use
Juice of ½ lemon (about 2 teaspoons)
1 tablespoon chopped fresh flat-leaf parsley, plus more for garnish
¼ to ½ cup sliced almonds
Pat the fish filets dry. Lightly season them with salt and pepper and dust with the flour.
Heat a large saute pan, nonstick or cast iron, over medium heat until hot. Add the oil, then melt 1 tablespoon of the butter. If the butter starts to brown too fast, remove the pan from the burner and wait a few seconds before adding the fish. (If it burns, dump it out, wipe out the pan, and start over.)
Place the seasoned filets skin side up — the flat side, if skinned — in the hot pan and cook undisturbed, for 3 to 4 minutes. Using a thin or fish spatula, gently lift a filet to check for color. When they are golden brown, tilt the pan toward you so the oil drains to the bottom and turn the filets away from you so you don't splash oil on yourself. Gently flip the filets with the spatula and cook until golden brown on the other side, 2 or 3 minutes longer. Transfer the filets to a warmed plate.
Add the rest of the butter to the pan. Using a whisk, scrape the crusted bits off the bottom of the pan while the butter is browning. (If the melted butter has blackened bits, dump it out, quickly wipe out the pan, and add fresh butter.)
When the butter is medium brown — just past the color of light brown sugar — add the lemon juice, parsley and the almonds, to taste, and stir to combine.
Plate the filets, pour the butter sauce over, garnish with parsley and serve.
Makes 2 servings.
Recipe adapted from The Deep End of Flavor by Tenney Flynn
Food on 03/25/2020
Print Headline: Deceptively easy, trout amandine in 30 minutes
Sponsor Content
Comments