FAYETTEVILLE -- Joseph Mason sat at the bar at Bordinos about noon Thursday.
The 28-year-old full-time server, who moved to Fayetteville from Tulsa, Okla., to attend the University of Arkansas, normally would have been scuttling from table to table, bringing everyone in the lunch crowd petite tenderloins or house salads.
Instead, he sat with a laptop filling out an unemployment application.
Gov. Asa Hutchinson ordered all bars and restaurants in the state to close sit-down service beginning Friday, as a means to curtail the spread of the coronavirus covid-19. Several establishments in the city found it best to play it safe before then. Most began offering curbside pickup. Many linked with third-party delivery apps. Some ceased operation.
Now, only takeout, curbside pickup and delivery is allowed statewide. The reduction in services has taken its toll on bar and restaurant staff. Mason said Bordinos management has helped him and other employees get all the paperwork needed to seek unemployment benefits. He said he still feels like he's part of the family, even if he isn't punching in.
"Everybody's feeling a little uneasy," he said. "But the community response has been really wonderful."
The restaurant laid off 48 workers, said Reese Roberts, general manager. It was the smartest move for everyone, she said.
"I just didn't want to string people along," Roberts said. "I didn't want to make someone miss out on five days of unemployment."
Mayor Lioneld Jordan declared a public health emergency in the city March 13. By Monday, the City Council granted him authority to regulate gatherings. Jordan limited occupancy in restaurants and bars to 50% capacity as set by the fire marshal. Chairs and stools had to be set at least 6 feet apart.
Jordan's order came Tuesday. That was St. Patrick's Day.
The holiday usually is one of the busiest days of the year for downtown establishments, but only about a handful of bars were open.
Hours after Hutchinson made his announcement Thursday, just about every bar in the city closed to the public.
Joel Siemens, a bartender at Kingfish on North School Avenue, said he isn't sure what he's going to do.
"My skill set is pretty unique. I do bartending. That's it," he said. "If all the restaurants and bars are closed, I can't really do anything. There's really nothing else I can move into."
Fortunately, Siemens' landlord is a friend. He and his two roommates might be able to get some relief from paying rent if it comes down to it, he said.
"I'm sure there are plenty of people who aren't as lucky as I am and my roommates are," he said. "Their landlords are probably expecting rent payments. It's got to be difficult. That's the biggest bill you've got to pay."
Patronage was sparse in the days leading up to Hutchinson's order Thursday, Siemens said. Bartenders rely on tips to make a living. Between the few people coming in and the regulars, Siemens wasn't making much money anyway, he said.
Tipped employees have to make at least minimum wage cumulatively between tips and hourly pay rate, according to Arkansas state law. That means they have to make at least $2.63 an hour in Arkansas. They can take a tip credit to get up to the minimum wage, which was $10 an hour as of Jan. 1. If they don't make up that $7.37 difference with tips in a work week, the employer has to cover it, according to Nolo.com, a legal resource for businesses.
The Fayetteville-Springdale-Rogers metropolitan area had more than 23,000 workers in food preparation and serving-related occupations in May 2018, according to U.S. Bureau of Labor Statistics data. Of those, 920 were bartenders. There were more than 7,000 food preparation workers, including fast food. The region had more than 4,400 waiters and waitresses. About 2,800 people cooked in restaurants. More than 2,400 workers supervised those food preppers and servers. There were 610 hosts and hostesses. Similarly, there were 590 dishwashers.
Hutchinson on Tuesday expedited unemployment benefits for workers affected by the covid-19 pandemic. Workers had to wait a week under state law to claim unemployment, which didn't count toward the time of being considered unemployed. Hutchinson directed the state Department of Commerce to waive the waiting period. He also ordered the department to waive the required 30-day period laid off employees have to spend finding a job before applying for unemployment. The unemployed also can now apply for benefits online or over the phone, rather than in person, as required previously.
Part-time workers are eligible for some unemployment benefits, according to the state.
Bri Dumont, manager at Ron's Hamburgers in Bentonville, said the restaurant has had to cut back on staff and store hours. Three or four employees usually work in the front of the house, but now it's two. Two people are working in the kitchen.
"Everyone is taking a hit," Dumont said.
A group of restaurant owners in Fayetteville has set up a relief fund for displaced restaurant and bar workers. Workers can fill out a form outlining their needs. The group has a Facebook page, Fayetteville Independent Restaurant Association, with resources. Bordinos also set up a donation page for its laid off workers on its website. A number of other businesses also are setting up direct relief funds.
The U.S. Bartenders Guild has set up an emergency fund online. Applications can be found and donations can be made at usbgfoundation.org.
On Friday, Jordan announced he would create a task force aimed to help small businesses make it through the coronavirus pandemic. One of the stated goals of the group is to find ways to help displaced workers.
Mason said he saw a silver lining. He said he went to the grocery store recently and talked to many more people than usual.
In a time when everyone is encouraged to spread apart, in many ways, they're coming together, he said.
"I think this will be beneficial to people in a lot of ways they can't foresee yet," he said.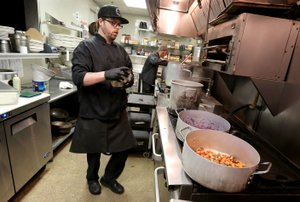 Corey McCain, executive chef at Bordinos, prepares a free family meal for laid off employees and family members to pick up Thursday at the restaurant on Dickson Street in Fayetteville. Restaurants, bars businesses in Fayetteville are making adjustments because of the spread of covid-19. Go to nwaonline.com/200322Daily/ and nwadg.com/photos for a photo gallery. (NWA Democrat-Gazette/David Gottschalk)
NW News on 03/22/2020