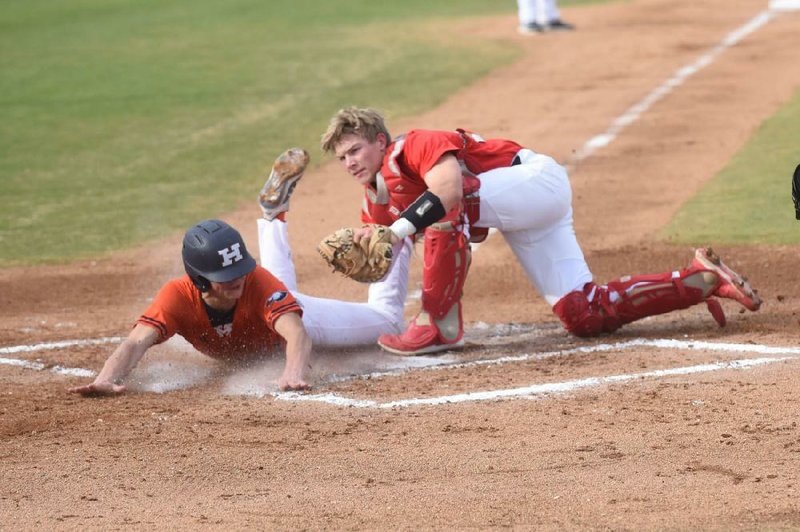 Farmington catcher Trey Hill (right) tags out Rogers Heritage's Jeb Brown at the plate Wednesday in the War Eagles' 10-7 victory at Rogers. Go to nwaonline.com/200312Daily/ to see more photos. (NWA Democrat-Gazette/Flip Putthoff)
ROGERS -- Rogers Heritage coach Brian Walker said his War Eagles are still learning how to win, but they took a step forward on Wednesday evening at Veterans Park.
Heritage put together a big inning to grab a lead and held on for a 10-7 win over Farmington -- avenging a loss to the Cardinals a little more than a week ago -- in the Best Sports Classic.
Left-hander Hunter Royal retired three straight hitters with runners at first and second to work out of trouble and close out the victory for Heritage (5-2).
"Our DNA, it's not easy," Walker said. "Winning is not easy for us. We don 't expect it once we get the lead. We're kinda like wondering.
"Changing the culture to a winning culture to 'Hey, we got this' takes time. It takes being in the battles. It takes winning. It takes winning ugly. That's a quality opponent who will have a chance to play for a state championship."
Farmington (2-3) scored four times in the bottom of the sixth en route to a 7-3 win back on March 2, but the War Eagles turned the tables this season.
Walker liked the way his team responded see the Cardinals again.
"For us to recover, Jeb (Brown) had to throw against them twice, that's hard," Walker said. "The fact that we could scratch it away shows that we're coming."
Heritage took control with a six-run bottom of the fourth for a 7-1 lead. But the War Eagles added three more in the sixth which proved to be key.
Royal's two-out, two-run single in the sixth pushed Heritage's lead to 9-5 and he later scored on a passed ball.
Farmington started the seventh inning with three consecutive hits. The Cardinals were aided by a Heritage error and a hit batsman to get within 10-7 and bring the tying run to the plate. But Royal got the final three outs to end it.
Reid Renfrow, Dan Taylor and Ben Pollock had two hits each to lead Heritage. Taylor and Royal drove in two runs each.
Colton Kilgore, Caden Elsik and Evan Shoffit had two hits each for Farmington. Shoffit and Drew Sturgeon drove in two runs each.
Farmington 100 031 2 -- 7 9 1
Heritage 100 603 x -- 10 11 2
Elsik, McCuin (2), O'Dell (4), Sills (6) and Hill Brown, Royal (7) and Osburn. W-Brown. L-McCuin. HRs-None.
Rogers High 6, Conway 0
Three Mounties pitchers combined to on a shutout and three had two hits each to lead Rogers to the win.
Matthew Watson, Ryan Baskin and Luke Carter scattered seven hits and struck out eight to keep the Wampus Cats off the board. Watson picked up the win, allowing three hits in four innings of work. He struck out five, walked one and also drove in a run.
Kade Seldomridge, Hayden Seldomridge and Will Lawing had two hits each. Hayden Seldomridge and Lawing also each drove in a run for Rogers (4-1-2).
Bentonville 17, Huntsville 0
Bentonville erupted for 13 runs in the first two innings to dominate Huntsville during Wednesday's game at the Tiger Athletic Complex.
Drew Wright had a home run and a double and drove in four runs for the Tigers (2-1), while Sawyer Price had three hits and three RBIs and Kaden Wilhoit also had two hits and four RBIs. Luke Bennett added two hits and drove in a pair.
That was more than enough offense for Will Abbott, who threw a two-hitter over five innings and struck out five without issuing a walk.
Sports on 03/12/2020
Print Headline: Heritage holds off Farmington, avenges earlier loss
Sponsor Content
Comments