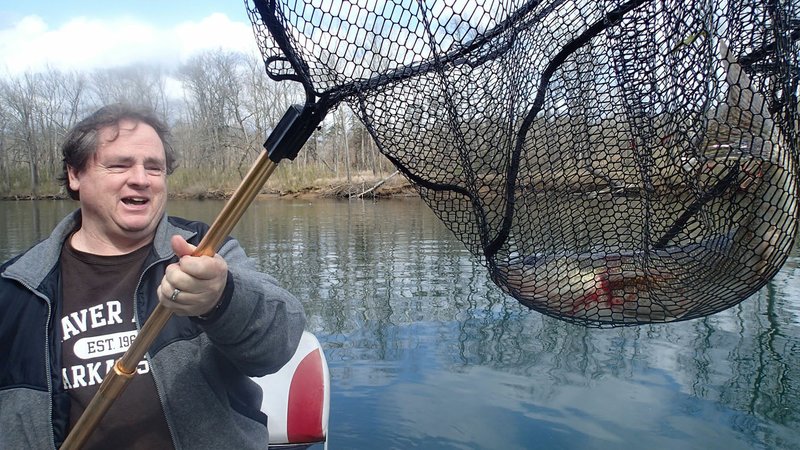 Alan Bland of Rogers shows a walleye that bit a crank bait March 2 2020 at the White River below Beaver Dam. Trolling crank baits is an excellent tactic for catching walleye as they migrate up the tributaries of reservoirs to spawn. Nightcrawlers and minnows are good live baits. (NWA Democrat-Gazette/Flip Putthoff)
Staying focused on the prize with the funky eyes is a tall order when trout and walleye swim in the same river.
That's the case in March when walleye swim up the White River from Table Rock Lake to spawn in the shadow of Beaver Lake's dam. Trout can be caught all year below the dam, but the window of March walleye fishing there is short.
Spawn is on
Here are the spawning water temperatures for some of the region's popular game fish:
•Bass, largemouth, 68-72
•Bass, smallmouth, 59-60
•Bass, spotted, 63-68
•Bass, striped, 59-65
•Bass, white, 45-48
•Bluegill, 70-75
•Catfish, blue, 70-75
•Catfish, channel, 75-80
•Crappie, black, 62-68
•Crappie, white, 60-65
•Walleye, 45-50
Source: southeasternoutdoors.com
Alan Bland of Rogers enjoys fishing for trout and walleye. Yet when he and a fishing buddy headed to the river on a cloudy Monday, March 2, they left the trout tackle at home.
They knew if they didn't catch a walleye in the first 15 minutes of fishing, they'd give up and start casting for the more dependable trout.
It was walleye or bust on this trip. No trout fishing allowed.
Walleye-tempting crank baits in bright colors were their only lures when the pair launched a boat at Houseman Access, seven miles downstream from Beaver Dam. Nightcrawlers were on board, too, for good measure.
The stretch of river between Houseman Access and the town of Beaver, four or five miles, is a hot spot for walleye fishing in March. Beaver, the town, is at the headwaters of Table Rock Lake.
One-half mile downstream from Houseman Access, the White River makes a gentle bend to the right. Fishing started here at walleye spot number one. The bend straightens out and follows a tall, beautiful bluff.
That bluff gets prettier when a walleye is on the line making a fishing rod dance. Yet this stretch of water, and others we fished all the way to Beaver town, never yielded a fish, not even a single bite.
If trout gear was in the boat, pair would be long gone and headed upriver to catch a mess of rainbow trout. Instead, we endured tough fishing until noon.
The final push to catch a walleye was to try one more spot, this one just upstream from Houseman Access. Crank baits hit the water and trolling commenced.
The anglers were ready to throw in the towel when a mighty tug stretched 6-pound-test fishing line tight. With the fish in the net, high fives and admiring gazes at a 22-inch walleye were in order. The fish bit a small chartreuse-colored crank bait trolled in the 48-degree water.
That was the day's only walleye, but seasoned anglers will testify it's that way in March.
Robert Smith of Hickory Creek trolls for walleye mostly below Beaver Dam and along the Kings River arm of Table Rock Lake. He came up empty fishing Feb. 28 at Kings River. The next day Roberts and his son caught three keeper walleye below Beaver Dam.
Walleye must be 18 inches or longer to keep. The daily limit is four. The regulation applies below Beaver Dam, in the White River above Beaver Lake and at Table Rock Lake.
"When the water temperature reaches 45 to 50 degrees, those walleye start thinking about spawning. The males will come up the river first," Roberts said.
He's well armed with crank baits, but also trolls with nightcrawlers. Roberts trolls 2 mph with crank baits and 1 mph with nightcrawlers. He rigs his 'crawlers on a nightcrawler harness weighted with a bottom bouncer.
"With crank baits, chartreuse is a good color. Some people like shad colors in clear water," he said.
The White River below Beaver Dam and Kings River arm of Table Rock are popular destinations for anglers. They're also where the Arkansas Game and Fish Commission goes to collect male and female walleye for an annual walleye-rearing project.
Thousands of walleye fingerlings and walleye fry are raised each spring at the Charlie Craig State Fish Hatchery in Centerton. Those are released into Beaver, Norfork and Bull Shoals lakes, and Lake Fort Smith, said Joe Adams, hatchery manager.
Eggs and sperm are taken from the male and female walleye they collect in mid-March by electrofishing in White and Kings rivers. Then those fish are put back into the waters from which they came, Adams said.
Walleye now reproduce naturally at Beaver Lake. Stocking gives the population an extra boost for anglers.
Sports on 03/10/2020
Print Headline: Walleye or bust
Sponsor Content
Comments