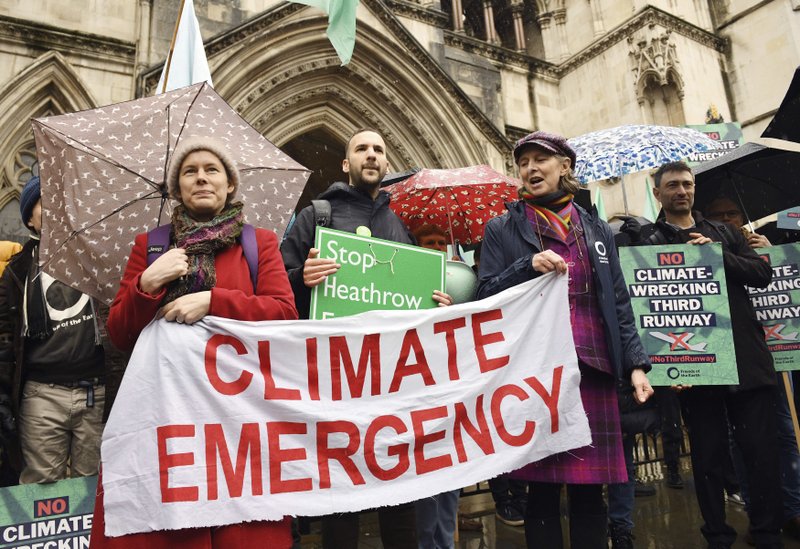 Campaigners protest outside the Royal Courts of Justice where a Court of Appeal ruling is taking place on the Heathrow expansion row, in London, Thursday, Feb. 27, 2020. Britain's Court of Appeal is preparing to publish its decision in a case that could stall the 14 billion pound ($18 billion) plan to expand Heathrow Airport amid concerns about climate change, pollution and noise. (Stefan Rousseau/PA via AP)
"In the absence of a formal structure, the government has resorted to improvisation. "
-- Laurie Garrett, Pulitizer Prize-winner science journalist
Probably one of the most frustrating things about climate change is what writer Ethan Freedman terms "climate delay," climate denial's twin. Once upon a time we were told we had a dozen years to get our climate act together. Now it is less than 10. Swedish activist Greta Thunberg was 15 when she first sat outside her country's parliament with her climate strike sign. She's now 17. Time moves fast when you're growing up, and when you're running out of it.
Researchers tell us ice at the poles is melting faster than calculations predicted by this point. Did world leaders just not get it, "it" being that we have to work daily to have a prayer of slowing climate disruption? Slowly onward we slog, doing little, stuck in climate delay, procrastinating for a miracle while rising temperatures chunk off icebergs and the clock chunks off the decade day by lost day.
As the Democratic presidential campaigns also slog along, how many primary voters have thought about judging their candidates' opinion of House Resolution No. 109, the Green New Deal? Do they care?
The Green New Deal is more vision statement than policy. It begins with a short list of predictions from the 2018 Intergovernmental Panel on Climate Change. If global temperatures increase by 2 degrees Celsius (3.6 degrees Fahrenheit) over pre-industrial levels, consequences mentioned are mass migrations; more than $500 billion in lost annual economic output in the U.S. by 2100; a doubling of wildfires in the west by 2050; 350 million more people exposed globally to deadly heat stress by 2050; loss of more than 99 percent of all coral reefs on Earth; and a risk of damage to $1 trillion of public infrastructure and coastal real estate in the U.S.
A short article at ClimateCentral.org ("The globe is already above 1°C, on its way to 1.5°C") examines what a difference even a half degree can mean. Cutting at least 50 percent of greenhouse gas emissions by 2030 might keep us below 1.5 degrees Celsius. Or not. But in the case of climate, a little can mean a lot. After all, a half-degree will make the difference of whether a pot of water boils or whether a citrus crop freezes. And ecosystems, including ours, can change or die from sharp temperature alterations.
The Green New Deal offers an outline from which to develop a coordinated system that concentrates on climate and includes every governmental agency and the public. Similarly what needs to be done about climate parallels what needs to be in place as we face the coronavirus and all future epidemics.
Laurie Garrett, a former senior fellow for global health at the Council on Foreign Relations and a Pulitzer Prize-winning science writer, is the author of "Trump Has Sabotaged America's Coronavirus Response." (Foreign Policy magazine, Jan. 31)
"In 2018, the Trump administration fired the government's entire pandemic response chain of command, including the White House management infrastructure," she wrote, "Bureaucracy matters. Without it, there's nothing to coherently manage an alphabet soup of agencies housed in departments ranging from Defense to Commerce, Homeland Security to Health and Human Services. But that's all gone now." Please read her full article to grasp the vast gutting in national health spending. It reminds me of the slashing to the employment of the Environmental Protection Agency's scientists.
Garrett also points out, "On the domestic front, the real business of assuring public health and safety is a local matter, executed by state, county and city departments that operate under a mosaic of laws and regulations." She goes on to say that massive cities "have large budgets, clear regulations, and epidemic experiences ... but much of the U.S. is less fortunate."
She said nothing changed the president's actions despite repeated warnings from health leaders. Also, "an independent, bipartisan panel formed by the Center for Strategic and International Studies concluded that lack of preparedness was so acute in the Trump administration that the 'United States must either pay now and gain protection and security or wait for the next epidemic and pay a much greater price in human and economic costs.'"
And here we are.
Just as with a viral pandemic, climate change solutions need structure and coordination, not seat-of-pants, last-minute improvisation. It would also help to not have a president who believes climate change is a hoax, or that a pandemic is for other people and would never happen here.
Am I dreaming?
Commentary on 03/03/2020
Print Headline: The climate vote
Sponsor Content
Comments