SPRINGDALE -- Huge trunks of walnut, oak and a few cherry trees lay next to the skidder covered with mud. Loggers have been pulling cut trees out of forest land in semirural northwest Springdale.
The 100 acres owned by Springdale Water Utilities still provided great shade on a late spring afternoon. Two barred owls called back and forth as if in an argument.
The municipal utility started a forest management project in early spring. The sale of the wood to worldwide markets has brought some extra money to the department, which the utility will use to continue and expand the program, said Heath Ward, utilities executive director.
The utility has sold about $55,000 to $60,000 of wood since the project started in March, Ward said.
"We're not in this to make money," he continued. "We're wanting to protect against erosion and runoff. If this is successful, it will improve the land, and it will improve the water quality."
The Arkansas Forestry Commission and the Illinois River Watershed Partnership are on board to develop the site as a recreational site and a showcase for best management practices.
"We're not going to devastate this land," said George Stowe-Rains, a ranger with the Arkansas Forestry Commission.
QUALITY LOGS
A chain saw, a ladder and a bottle of tequila were the start of this forest project, Ward said.
Water Department workers came across three inebriated men on another plot the utility owns on Wagon Wheel Road. They had cut trees on the property, but the department reclaimed the wood.
"Then we figured out we had some valuable wood once we got it sold," Ward said. "We wanted to be the ones to capitalize on it."
The utility owns about 1,000 acres in and around Springdale. The land was used to apply sludge from the city's wastewater treatment plant -- a practice stopped about 15 years ago, said Brad Stewart, a pretreatment manager for the utility. Now, it hauls the sludge to the region's landfill in Tontitown, he said.
Ward said the state-of-the-art sludge dryer recently constructed at the treatment plant is working, and staff are working to optimize its operation. The dryer will condense the sludge, allowing the utility to reduce the amount sent to the landfill from six trucks a day to one.
Members of the city's Water and Sewer Commission heard presentations from loggers and Central Arkansas Water, which serves the greater Little Rock area with drinking water. That utility operates a forest management program around its water sources, Lake Maumelle and Lake Winona.
"In my mind -- in a lot of people's minds, I think -- cutting down a tree has to be bad," Ward said. "But I recently had to remove one in my yard. It had served its purpose and no longer had any value. Plus, it was dangerous."
The logging company had to agree not to clear cut, to build a logging road in and out of the property, help with restorative work and cooperate with representatives of the Forestry Commission and the Watershed Partnership as they guide the utility's effort.
The chosen company, Bowen International Logging, has had to keep open its financial records for the project, Ward said. When buyers come each Friday to the Springdale site to choose wood, a representative of the utility is there, too, Stewart said.
Ronnie Bowen of Bowen Logging has contacts with buyers throughout the industry, Stewart continued. Bowen said he works to sell at higher prices for the utility because he gets 40% of the proceeds.
"The more they get paid, the more I get paid," Bowen said.
Bowen's crews remove the limbs of felled trees and cut the trunks into 10-foot logs. He demonstrated the measuring of a log of cherry to have a 21-inch diameter, which would provide 181 board feet of wood, he said.
Current rates are about $1.25 a board foot for white oak and $2.25 for walnut, he estimated.
This cherry tree had rotted out its center, up the length of its trunk, and wouldn't bring a high price.
Bowen said this and some other trees on the land should have been cut about 15 years ago.
The rapid growth in Northwest Arkansas has increased the value of land as developers rush to find an open spot on which to build. But the commission's not ready to sell, Ward said.
"That's not to say that somebody might make us a nice offer, and we sell the property," he said. "We're just not sure yet what's the highest and best use of the property."
PARTNERS
Stowe-Rains walked the utility's plot in early spring.
"It needed a little TLC," he said. "And, like all the forests in Northwest Arkansas, if you don't manage it, Mother Nature will."
Nature can send down insects, disease and fire to decimate an unhealthy forest, he said.
"A healthy forest is one that's not super thick and fairly open," Stowe-Rains said. "A healthy forest provides for itself and the animals and other critters that live there."
Stowe-Rains worked with Bowen to determine which trees to remove based on their age, size, soil conditions and other factors.
"Trees facing their morbidity," he described.
Stowe-Rains said the older trees no longer provide nutrients to the forest and have only a small role in the forest ecology.
While the loggers have been working, Nicole Hardiman, executive director of the watershed project, has been studying old maps of the area. She said she finds oak barrens, a mixture of open grassy prairie areas with stands of various species of oak and other hardwood trees. That's what she and other ecologists want to see again.
The utility's plot already displays some characteristics of that ecosystem, Hardiman said. Freshly cut round bales shared a clear, grassy area with the staging point for the logging operation. The utility leases that land to a farmer for a nominal fee, Ward said.
The loggers are about half way through the tree removal, Stowe-Rains said.
Next, the forester will evaluate the remaining vegetation to determine if it needs prescribed burning. The project also will include replanting hardwoods, as needed, he said.
"The Forestry Department will take the next big step to clean up the debris from logging and under story with a prescribed burn," Hardiman said. "That will make a big difference in it growing back like it should be."
Stowe-Rains said the new landscape and forest will need three or four years of new growth before it emerges.
"We want to get it to a gold standard of how to log an area," he said. "We want to bring people in to see best management practices. We might put up some interpretive panels and maybe build hiking trails, where people can say, 'OK. So this is what it looks like.'"
Hardiman will evaluate the plot for its riparian qualities. Spring Creek flows through the property.
"A healthy forest equals clean water," she said.
Healthy trees, native grasses and other vegetation can take up a lot of water coming off the hill, filter the water as it runs through deep root systems and slow down the flow of water into the creek.
Ward said a healthy forest will keep excess runoff out of the creek. Urban runoff and erosion of soils release more nitrogen and phosphorus into the waterway than the city's wastewater treatment plant, he said.
Northwest Arkansas and industry leaders worked in the past decades to greatly reduce the amount of phosphorus entering the watershed after Oklahoma groups filed several lawsuits over the water quality in the Illinois River.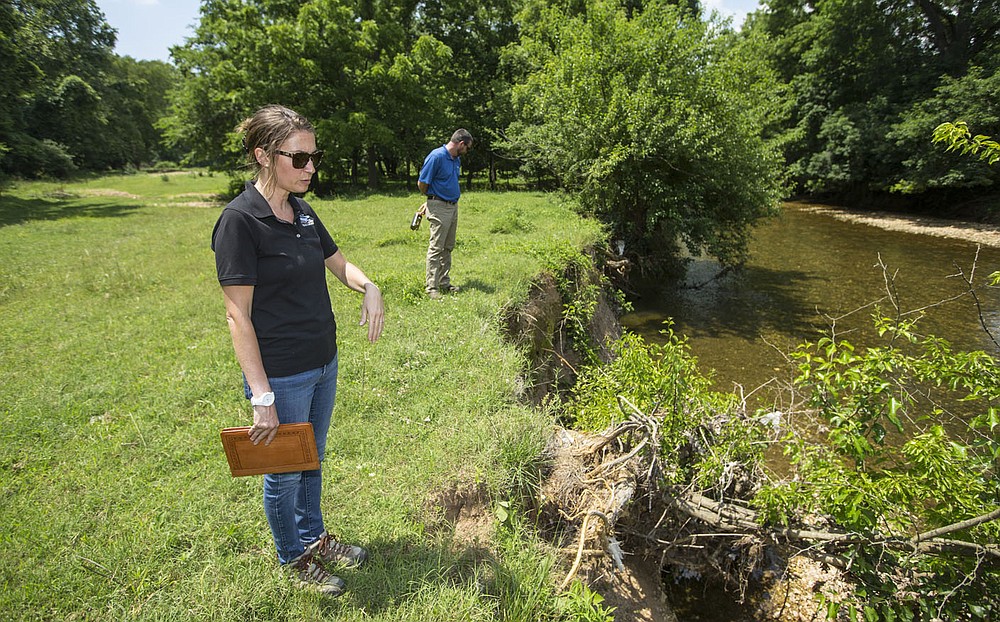 Dr. Nicole Hardiman, executive director of the Illinois River Watershed Partnership, and Bradley Stewart with Springdale Water Utilities look at an eroded stream bank Wednesday, June 17, 2020, on a forest management property owned by Springdale Water Utilities. Go to nwaonline.com/photos to see more photos. (NWA Democrat-Gazette/Ben Goff)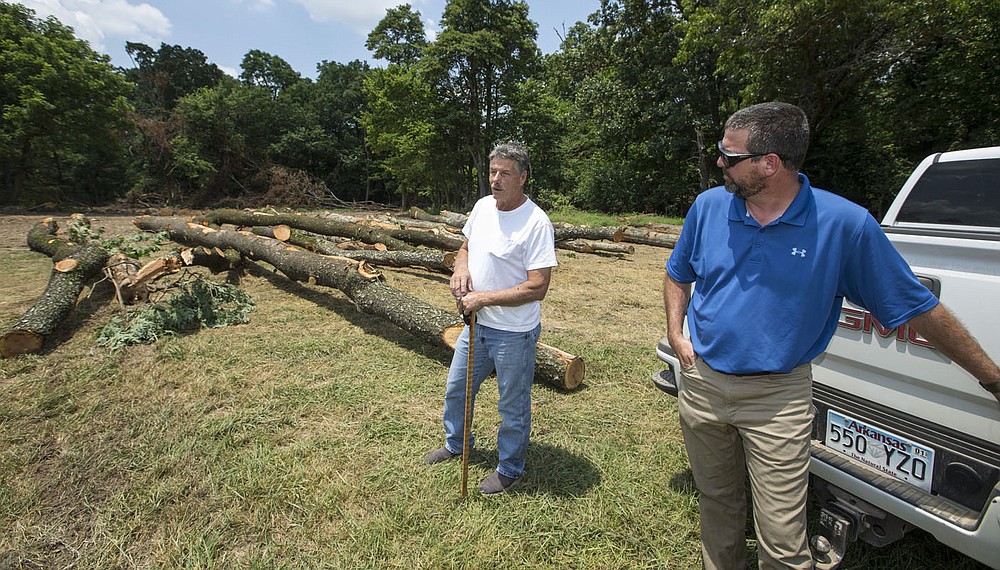 Ronnie Bowen (left), owner of a private logging company, and Bradley Stewart with Springdale Water Utilities talk Wednesday, June 17, 2020, on a forest management site owned by Springdale Water Utilities. Go to nwaonline.com/photos to see more photos. (NWA Democrat-Gazette/Ben Goff)
More News
Beaver Water District
The Beaver Water District supplies the drinking water for most residents of Northwest Arkansas. The utility takes water from Beaver Lake, treats it and sells it to local utility companies.
The district owns about 600 acres, with 40 acres managed as native grass prairie and 400 wooded acres in the infancy of a forestry management program, said James McCarty, environmental quality manager.
"We hope that our activities set an example for our customers, as well as residents of the watershed, that being an active steward of your land can have positive outcomes for wildlife, habitat and — most importantly for us — water quality," he said.
Source: Beaver Water District