FAYETTEVILLE -- Northwest Arkansas artists are supporting the Black Lives Matter movement through their work.
"We have lived our entire lives with the possibility hanging over our heads that we could be killed by the police or a white supremacist at any time because we are Black," said Sharon Killian, who has been a professional artist for 46 years. "That is our daily experience. I challenge anyone to not see that in every piece that a Black person produces. It comes with us. It's an every-minute thing."
The Black Lives Matter movement began in 2013 in response to the acquittal of George Zimmerman, a white neighborhood watch captain who shot and killed Trayvon Martin, a Black high school student, in 2012 in Sanford, Fla., according to the nonprofit's website.
"In the years since, we've committed to struggling together and to imagining and creating a world free of anti-Blackness, where every Black person has the social, economic and political power to thrive," according to the site.
The movement has been at the forefront of protests nationwide since May 25 when bystanders recorded the death of George Floyd, a 46-year-old Black man who died during an arrest in Minneapolis after Derek Chauvin, a white police officer, knelt on his neck for 8 minutes and 46 seconds.
Northwest Arkansas has a Black population of 2% in Benton County and 3.7% in Washington County, according to a July 2019 U.S. Census Bureau report. The counties' white populations are 88.7% and 86.6%, respectively.
Arkansas has a Black alone population of 15.7% and a white alone population of 79%, according to the bureau. People who responded to the survey's question on race by indicating only one race are referred to as the race alone population, excluding those who identified as two or more races, according to the bureau.
Artists are a valuable part of the conversation for creating equality and helping people understand the risks and fears that exist for Black people, Killian said.
"The universal language of art is an excellent way to inform and share information about community, culture, change, love, life, pain, humanity," she said. "Artists are the primary communicators in any culture."
You're Killing Me
Killian, 65, of Fayetteville creates using dry pastels on watercolor paper and acrylic paint on canvas, she said. Her work includes juxtaposed and floating shapes with images that devolve into unique segments of color and shapes, according to her bio.
The artist said she was less inspired than compelled to create You're Killing Me, a 7-by-4-foot piece created in dry pastel on watercolor paper and acid-free low-tack transfer tape, she said. The work was featured in Art Ventures Gallery's Frame of Mind exhibit in February at the Faulkner Performing Arts Center.
You're Killing Me features a boy who Killian describes as "beautiful with an equally sweet smile and a wave incongruously flipped on his side. He can only exist in that space as a memory or an idea."
"His skin litters the frame of blood and blackness. His waving hand becomes a plea, 'Hands up don't shoot,'" she continued. "I worked the piece until the message was clear to me. It takes time for the viewer to read it."
Killian said it's important to art and culture for artists to discover ways to express what they're experiencing with Black Lives Matter through their own eyes.
"White artists should have a lot to say about the culture that they enjoy and be able to express themselves from that point of view in this time in history," she said of artists who may be allies for the Black Lives Matter movement. "Artists of all cultures can do the same. I think this will enrich and educate."
Artist Allies
Octavio Logo, a Hispanic multidisciplinary artist from Fayetteville, painted a mural of Floyd in June on the exterior wall of the Spring Shop Studio in south Fayetteville. The colorful mural features a bust of Floyd and the words "Black Lives Matter" painted boldly in black.
White allies of the movement with The Avenue NWA in Springdale also created a Black Lives Matter mural on the outside of their building in June, said Sandy Hurd, co-owner of the fair trade store.
The 10-by-24-foot piece features "Black Lives Matter" in large, black letters spanning the bulk of the mural's height and a clenched fist rising into the air, a symbol of the movement. Hurd said colorful handprints from allies within the Springdale community pepper the mural in a show of support.
"We wanted to make a statement and take a public stand," said Ashley Bradley, store co-owner. "I feel like we are at a point where this is going to be history. It's like the civil rights movement, and we want to be on the right side of history."
Bradley said she's witnessed acts of racism firsthand against her husband, who's Black.
"It's time for things to change, and we can't make a change until people are able to acknowledge the issues that exist," she said. "Our hope is to spark the conversation in our area, to have it be something that is hard to avoid for people who have tried to avoid these issues."
Josiah Keys, 22, of Rogers is a white and Indonesian multidisciplinary artist who works with charcoal, paints, fabrics, custom shoes and anything he can reuse or recycle, he said.
"I believe art is supposed to make you feel something, not just look good," Keys said. "It is kinda hard for me to put it into words, which is probably why I make it into art. It is the easiest for me to express myself through art when words aren't enough."
Keys created two untitled pieces in response to Floyd's death using paint markers on 28-by-22-inch paper, he said. The pieces are composed of a compilation of black and red words that create the semblance of faces. Statements such as "Help me please" and "I don't want to perish" are spread through the works.
"The focus on the first piece is the fear that George Floyd was going through and what he must've felt like having no control of the situation," Keys said. "The second piece represents the anger the protesters and people have that we are seeing across the nation. We should use our emotions to construct, not destruct."
Effecting Change
The need for change toward equality is so great, Bradley said, it's hard to know where the community should go from here.
"We as a nation, first and foremost, have to acknowledge these inequities so that we can begin to implement solutions," she said.
Killian said it's important for people to examine the personal experiences they've had with racism so they can help create change for the better.
"This is a bit like laying yourself bare, and true change will not come until we face why we are in this place today," she said.
Keys said he's been taking intentional steps to effect change beyond his art.
"I've been educating myself on all the right ways to make a change by voting, understanding my rights and laws and just being a helpful citizen that is part of the community," he said. "We should also educate ourselves on our rights. Your own ignorance will be your greatest weapon used against you."
Killian continues to work through this period in history as though she has limited time, noting her thoughts often go to the well-being of her two adult children.
"All I really want to know is that these pretty, loving adults of mine are alive," she said. "The pain of feeling myself in George Floyd's position and knowing that these murders come with the same hatred, whether they happen by bullet, knee or rope, affects everything."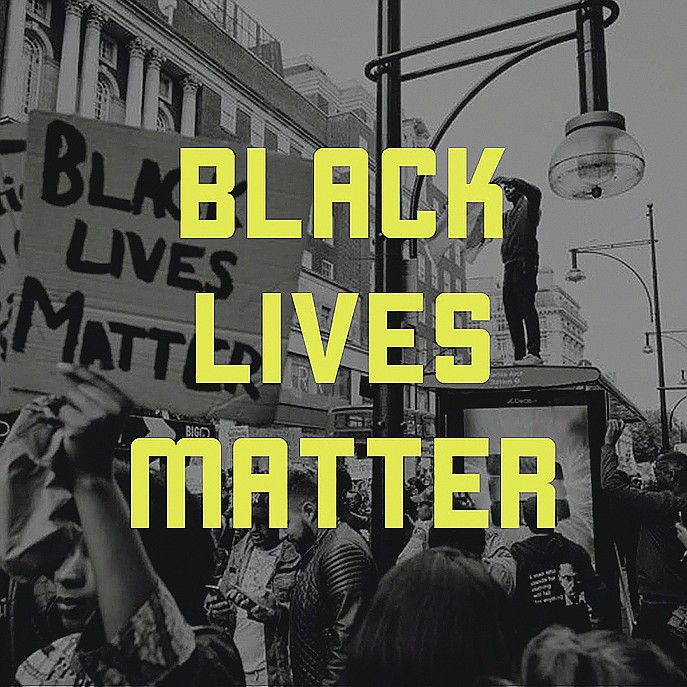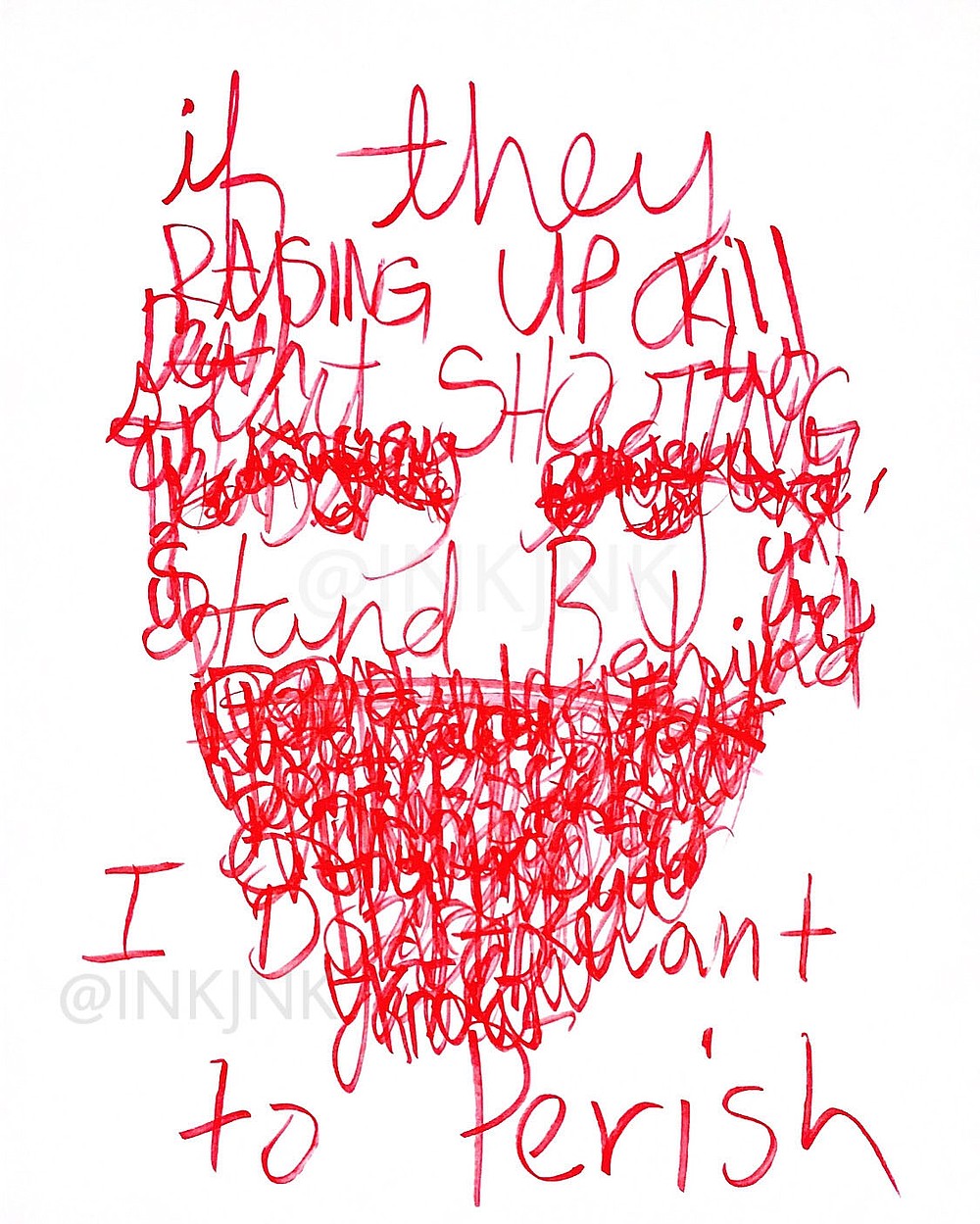 Josiah Keys, an artist from Rogers, used red paint markers on paper to represent the anger protesters and others feel at the death of George Floyd, a black man who died May 25 during an arrest by a white police officer in Minneapolis.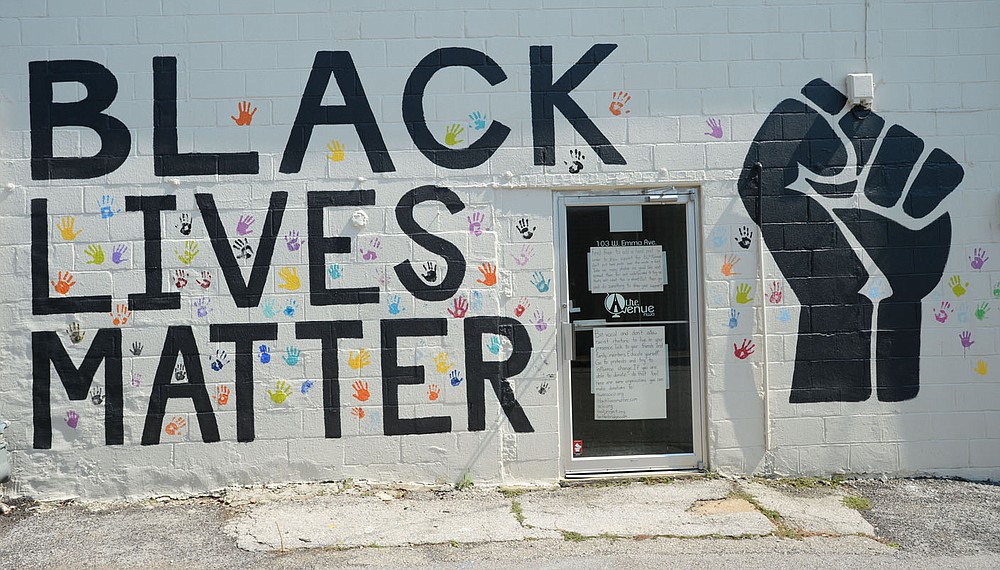 A mural is seen Wednesday, June 17, 2020, on the south wall of The Avenue NWA, a store in downtown Springdale. Visit nwaonline.com/200621Daily/ for today's photo gallery. (NWA Democrat-Gazette/Andy Shupe)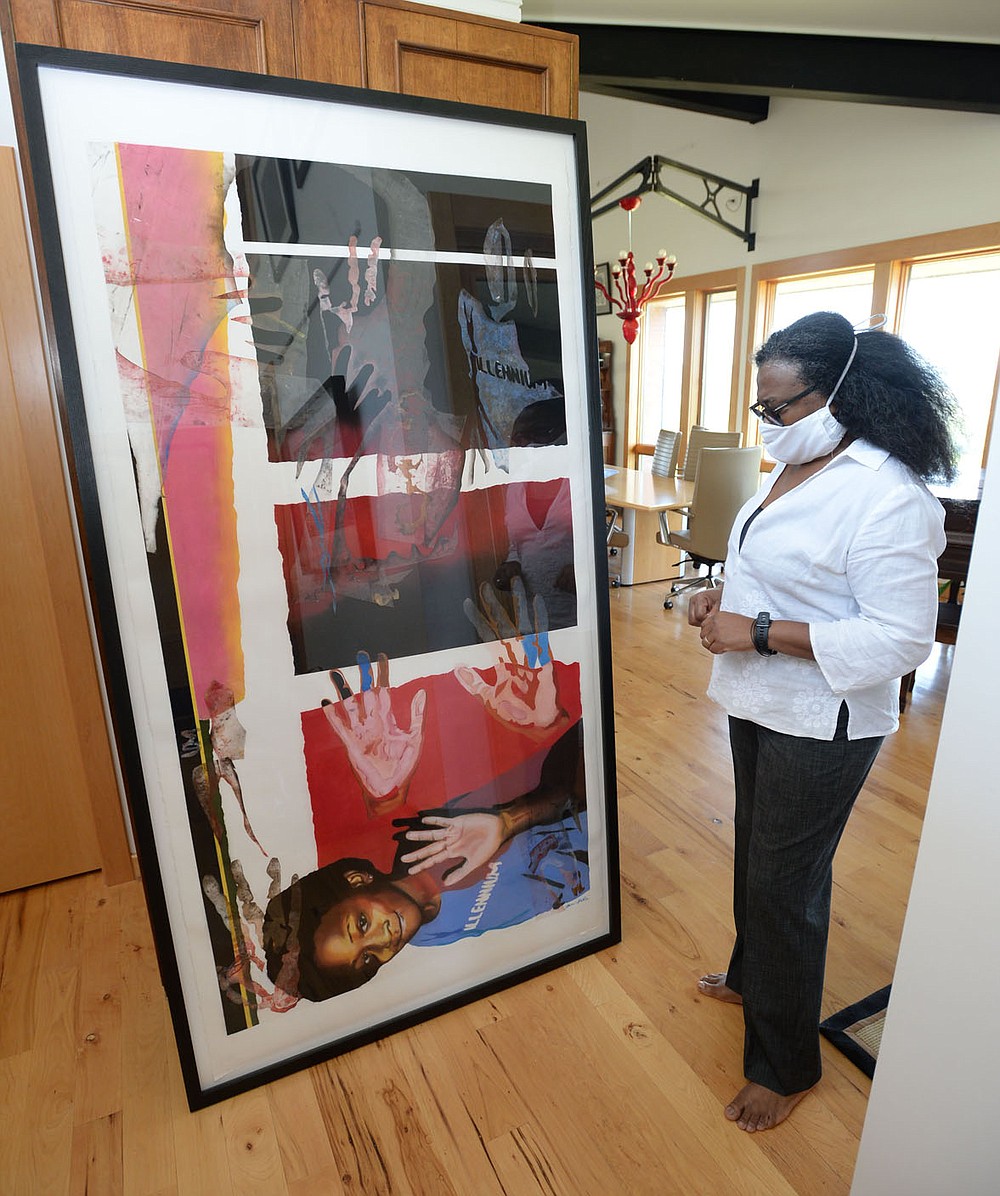 Artist Sharon Killian poses Wednesday, June 17, 2020, in her home west of Fayetteville. Visit nwaonline.com/200621Daily/ for today's photo gallery. (NWA Democrat-Gazette/Andy Shupe)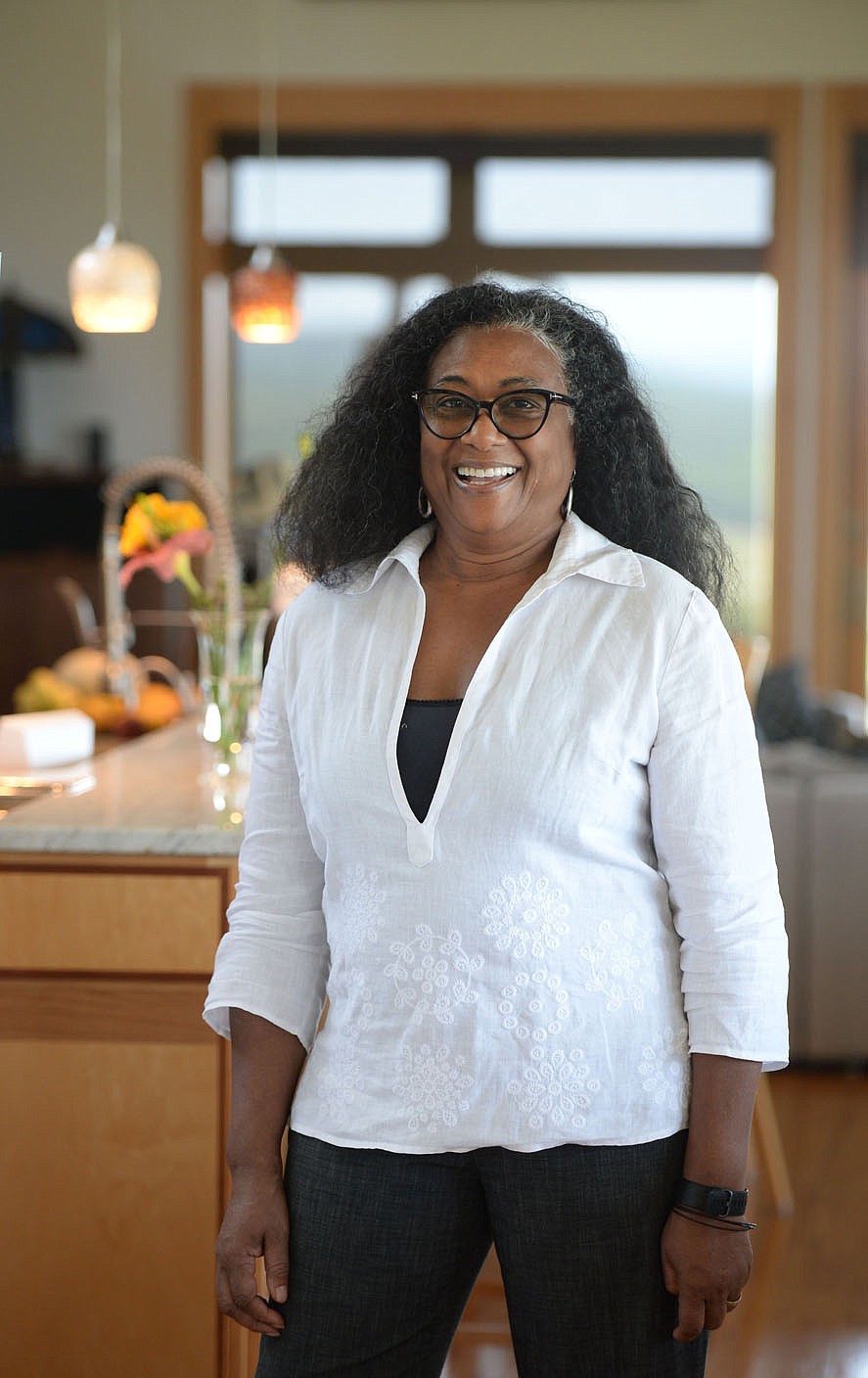 Artist Sharon Killian poses Wednesday, June 17, 2020, in her home west of Fayetteville. Visit nwaonline.com/200621Daily/ for today's photo gallery. (NWA Democrat-Gazette/Andy Shupe)
Sharon Killian's work, "Black Series No. 3" is seen Wednesday, June 17, 2020, in her home west of Fayetteville. Visit nwaonline.com/200621Daily/ for today's photo gallery. (COURTESY/Sharon Killian)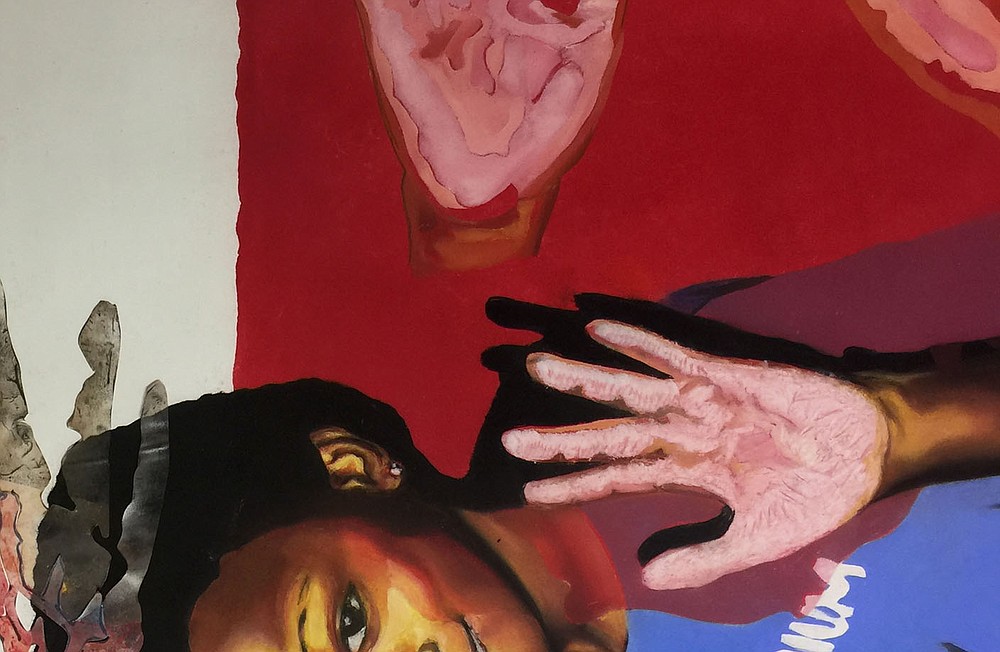 You're Killing Me by Sharon Killian, a Fayetteville artist, presents a childlike plea against police brutality.
More News
Black Lives Matter
Learn more about the Black Lives Matter movement at blacklivesmatter.com.