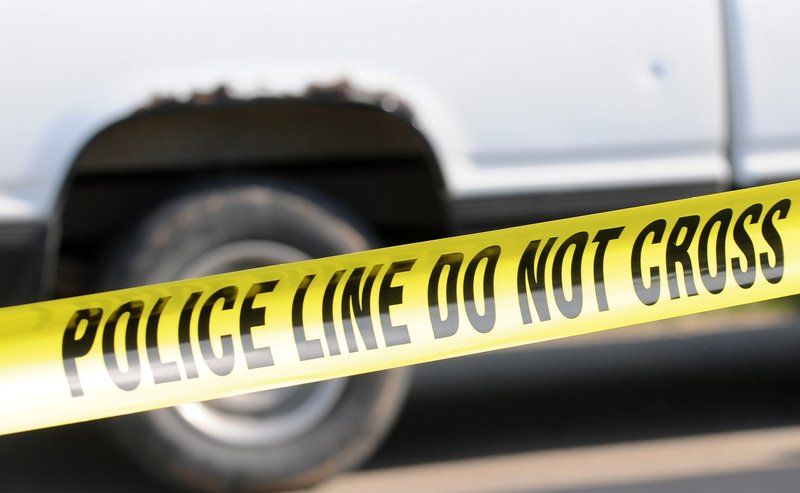 Police tape
When Springdale Police Officer Miguel Hernandez pulled his police cruiser onto Laura Street back in late May, dispatchers had warned him. A caller moments earlier reported a woman on a porch with a shotgun. She was threatening to shoot people, the caller said.
"This lady's psycho," the man told the dispatcher.
Hernandez pulled onto the street, wisely choosing to park where his vehicle was shielded by a large bush and a truck parked in the home's driveway. He walks toward the home, captured by his police car's dash camera. In the video, Hernandez reacts to something not yet visible in the video by drawing his gun from its holster. Almost immediately, the video shows movement from beyond the truck.
A woman emerges into view holding a long object. From the dash-mounted camera, it's a little hard to make out what she's holding, but she begins a motion that, if it's a shotgun, appears as though she's drawing its long barrel down toward the approaching Officer Hernandez.
He fires. She collapses. Other officers arrive and begin to treat the woman's two bullet wounds. She survived.
Prosecuting attorney Matt Durrett recently closed the investigation into that May 28 officer-involved shooting. It was clear, Durrett determined, that Hernandez had no alternative but to use deadly force when 30-year-old Sina Doctor pointed her gun directly at him. The dash-cam video, well after the intensity of the moment in which the officer had to make a split-second judgment, provided a vital, reviewable piece of evidence that established how the potentially deadly scenario played.
What nobody saw from that incident was video recorded from the body camera Officer Hernandez wore on his uniform. Why? It was never activated.
It's fortunate that the dash-cam video from Hernandez's car caught just enough of the gun-wielding resident to back up the officer's report. Had his body-worn camera been activated, it's also easy to see in far greater detail exactly what the officer had a chance to see in those critical seconds.
Let us be clear: Everything indicates Officer Hernandez's actions protected the neighbors and himself from harm, that the woman's actions left no useful alternative to meet force with force.
Why, though, in an incident in which a law enforcement officer fires his weapon and wounds a civilian, would a body camera not be recording?
A Springdale spokesman said the camera was in "sleep mode" when the shooting happened. The department's cameras are designed to turn on when an officer turns on his vehicle's lights and siren. Hernandez was just two blocks away from the Laura Street address, he didn't need lights and siren to get there quickly. He was the first on the scene.
"While [body-worn cameras] can be useful tools, their utility is realized only when they are recording," the International Association of Police Chiefs said in an April 2019 report. Indeed, when Springdale was purchasing its cameras a few years back, Chief Mike Peters noted the increased transparency and dissemination of information the cameras would support.
But only when they're recording.
From a post-incident perspective, the Laura Street incident raises legitimate policy and technological questions. Springdale taxpayers didn't invest in body cameras so that they could remain in "sleep mode" at the most critical moments, and we'd suggest anytime someone ends up shot is a pretty critical moment.
[DROP CAP] Some might say Hernandez should have activated the camera, but let's be serious: Do officers walking straight into a potentially deadly situation need to be thinking about running a video device? Their minds need to be on the emergency response, on protecting themselves and the residents they're empowered to serve. Manual activation is useful, but unreliable.
Technology keeps advancing, but it's challenging for law enforcement agencies stay on the cutting edge just from a cost perspective. Springdale got its body cameras a few years ago through a federal grant matched with local tax dollars. Outfitting an agency with cameras and the systems to offload and store the video from each shift can easily rise into six-figure numbers.
Today's cameras are more advanced than the ones from just a few years ago. Manufacturers now make special holster sensors so that their cameras activate as soon as an officer draws his gun. Most cameras employ a system in which the 30 seconds prior to activation can be captured, offering a chance to see a bit more of an incident and what led to the activation.
Police have a tough job these days, but technological advances have increased public expectations that police encounters should be documented through video. It is unreasonable -- from a privacy and video storage perspective -- to expect every second of an officer's shift to be recorded, which means department's need to give serious consideration to the mechanism and events that trigger body camera recordings. It's clear in the Laura Street shooting that a gap exists.
Body and dash-mounted cameras work together to give the public a sense that their law enforcement agencies are accountable. They also provide great additional benefits in training and evaluation of officers. Training is the foundation of law enforcement.
In 2020, when an incident happens and a law enforcement agency has to explain that an officer's body camera wasn't activated, that failure will raise questions. That may be right or wrong, but we're convinced it's factual.
[DROPCAP] We do not fault the Springdale officer for parking where he did once he got to the address where the action was happening (or for that matter, any other part of his professional response). If he'd pulled up to ensure his dash camera got a better view, he would undoubtedly have put himself in harm's way too soon, limiting his ability to evaluate the situation. Approaching from cover was wise. In the dash-cam video, one can glimpse just a second or two of the woman coming forward in an aggressive way.
The officer responded decisively. After all, it wasn't just his life on the line. It was a neighborhood street with other people in the area home. If the officer had taken a riskier approach, he or others could have been hurt.
Our notions today is about the technology, and the value of updating it. The lack of body camera video should encourage local agencies to further evaluate what events trigger body-worn cameras and ways any gaps can be filled. These kinds of incidents also deserve the attention of those who fund law enforcement agencies -- city councils, quorum courts, etc. -- so that when upgraded equipment is needed, they don't just react with sticker shock to the price. Money spent in accountability is a community investment.
Body cameras can be the friend of an officer doing everything right and a pesky, unwanted monitor of those who might cut corners. The public, other officers and administrators need to see evidence of both.
More News
What's the point?
Body-worn cameras designed to record law enforcement interactions are only useful when they actually record the critical moments.
Sponsor Content
Comments