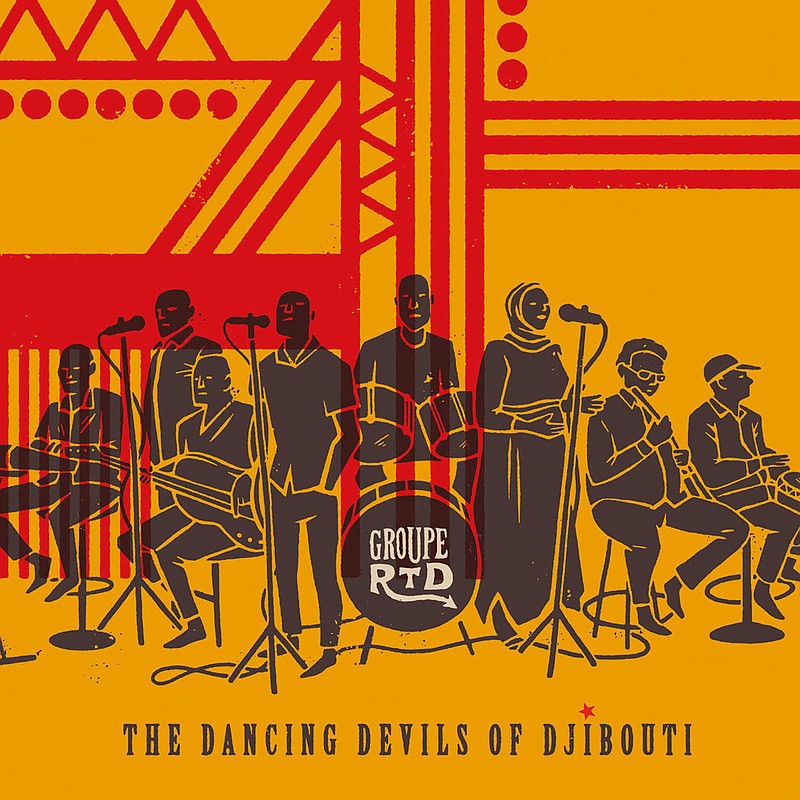 "The Dancing Devils of Djibouti" Groupe RTD Ostinato Records
"The Dancing Devils of Djibouti"
Groupe RTD
Ostinato Records
While the music of Somalia is widely celebrated, its neighbor, the Republic of Djibouti, formerly known as French Somaliland, is home to an equally deep reservoir of its own unique Somali music.
The small but culturally grand country on the mouth of the Red Sea remains one of the few places in the world where music is still entirely the domain of the state. Since independence in 1977, one-party rule brought most music under its wing, with almost every band a national enterprise, integral to the state propaganda apparatus.
No foreign entities have been permitted to work with Djibouti's rich roster of music -- until now.
Ostinato released its premier studio-recorded album, and the first ever international album to emerge from Djibouti's Groupe RTD, "The Dancing Devils of Djibouti" on June 19.
This album, if listened to at an appropriate volume, should firmly register Djibouti in the global consciousness, shifting its image from a strategic outpost of geopolitical games to cultural powerhouse. A stunning collision of Indian Bollywood, Jamaican dub and reggae, sleek horns inspired by Harlem's jazz era, and the haunting and joyous synthesizer melodies of the Red Sea by Groupe RTD, one of East Africa's best kept secrets.
A portion of Bandcamp sales will be donated in equal parts to:
• The Djiboutian Embassy in Germany to purchase masks and other essential supplies for Djibouti.
• Amref Health Africa Covid-19 Fund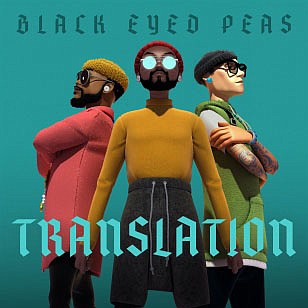 "Translation" Black Eyed Peas Epic Records
"Translation"
Black Eyed Peas
Epic Records
Popping off on a global scale like they never left, Black Eyed Peas unveiled their anxiously awaited eighth full-length album and debut for Epic Records, "Translation," on June 19.
Integrating hip-hop, pop, dance, reggaeton and trap, the album unites Black Eyed Peas with some of the hottest voices in the world. They join forces with Shakira on the sexy and seductive "Girl Like Me," while the guys go crazy alongside Tyga and Nicky Jam during "Vida Loca." Meanwhile, Becky G adds sass and spirit to "Duro Hard," and French Montana turns up East Coast-style with a fiery flow on "Mabuti." Everything culminates on "News Today." Just above acoustic guitar and a glitchy beat, they deliver provocative and powerful observations on life in 2020.
"Soft Power" Poirier Wonderwheel Recordings
"Soft Power"
Poirier
Wonderwheel Recordings
With his first album dating to 2001, Montréal-based artist Poirier is a prolific, creative and eclectic Canadian producer/musician with a 20-year journey of creating music. Constant in his albums and DJ performances is a desire to build bridges between different languages, communities and cultures. His open, uninhibited musical mind means that his works bend boundaries, resulting in compositions that mix several styles and eras.
His new album, "Soft Power," dropped on June 19 and has an irresistible warm vibe that will make anyone move and dance. It's warm, it's acoustic, it's electronic. The album's eclectic tracks transport the listener to Brazil, and West Africa, then it's across the Atlantic to Montréal and Mexico, followed by a Jamaican jam perfect for any dancehall party. In his instrumental tracks, Poirier throws an afro house party at 4 a.m., travels back in time on an island in the Mediterranean Sea circa 1987, and, finally, relaxes in the sun with "Coconut Beach."
"Jump Rope Gazers"
The Beths
Carpark Records
The Beths' highly-anticipated sophomore album, "Jump Rope Gazers" will be released July 10 and tackles themes of anxiety and self-doubt with effervescent power pop choruses and rousing backup vocals, zeroing in on the communality and catharsis that can come from sharing stressful situations with some of your best friends. Touring far from home, The Beths committed to taking care of each other while simultaneously trying to take care of friends living thousands of miles away. That care and attention shines through on "Jump Rope Gazers," where the quartet sounds more locked in than ever. "Jump Rope Gazers" stares down all the hard parts of living in communion with other people, even at a distance, while celebrating the ferocious joy that makes it all worth it.
__
With no live music to list, this spot will be filled by news and reviews of new albums, both local and national. Send information about your new releases to Jocelyn Murphy at [email protected]
Listen Here!
Sponsor Content
Comments