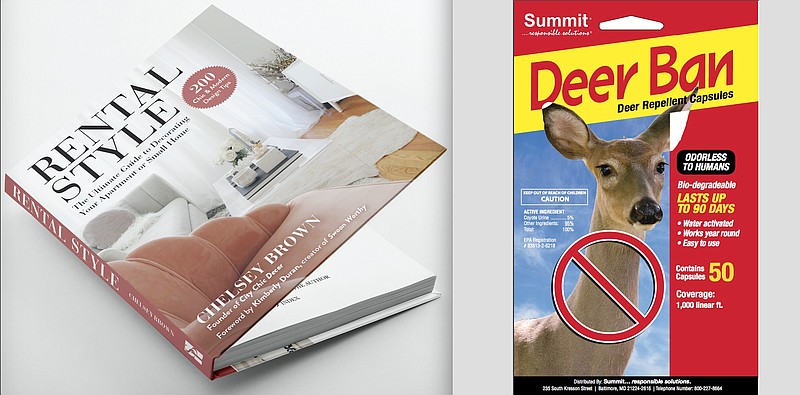 Rental Style and Deer Ban
Rental Style
What's to love: A book by interior designer Chelsea Brown of New York that focuses on small rental
spaces — not just making them functional and chic, but even tips on how to find them and rent them.
What does it do: The book has a lot of colorful photos of beautifully decorated spaces with tips on how to create the illusion of space, where to find hidden storage and how to upgrade the look of an apartment without making permanent changes. The author offers her thoughts on how to save money and where to invest when it comes to buying furniture and window coverings and bedding. One surprising tip — it's OK to use artificial flowers. The book sells for $24.99. Find out more at
citychicdecor.com/rental-style.
Deer Ban
What's to love: Protect landscaping and gardens from hungry deer with a repellent that is odorless to humans.
What does it do: The repellent comes in gel capsules so there is no handling of the natural repellent, which is made from predator urine. Deer smell it and think danger is nearby. Drop capsules where needed and add water to activate. The repellent lasts for 90 days and will not wash away in the rain. A package of 20 capsules sells for $13.99. Visit summitchemical.com for more information.
— Cary Jenkins
Sponsor Content
Comments