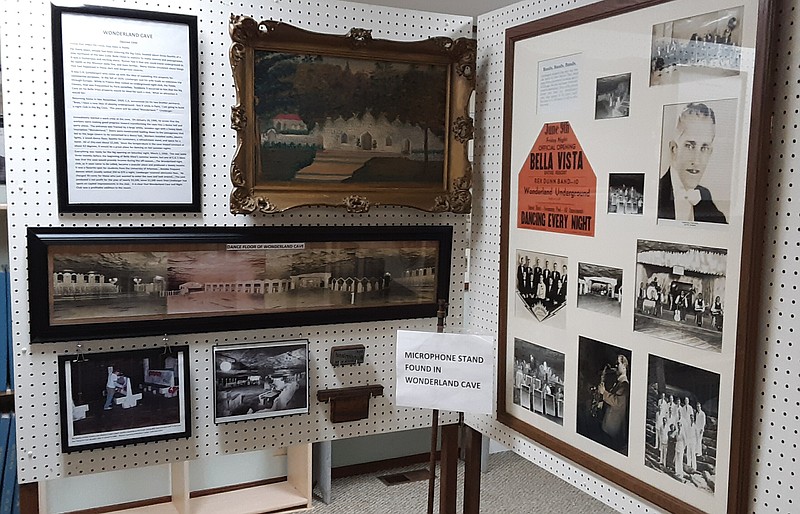 The exhibit chronicling the history of Wonderland Cave has been revamped and is awaiting the reopening of the Bella Vista Historical Museum. (Courtesy Photos/Xyta Lucas)
Category: Things You Didn't Know About Northwest Arkansas.
Exhibit A: Wonderland Cave.
According to the Encyclopedia of Arkansas, Wonderland Cave is "a natural underground cavern in Bella Vista about a mile east of U.S. 71 up Dartmoor Road, near Cooper Elementary School. Clarence Andrew (C. A.) Linebarger, general manager of the resort of Bella Vista, developed it as a tourist attraction and place for local entertainment, opening it on March 1, 1930. The cave was added to the National Register of Historic Places on Jan. 1, 1988."
Although the Bella Vista Historical Museum is currently closed due to covid-19 concerns, Xyta Lucas, co-president of the Bella Vista Historical Society, has been revamping the exhibit that features Wonderland Cave and has these photos to share.
"Wonderland Cave was a big part of Bella Vista's history from the time it opened in 1930 until it closed the last time in 1995," she says. "Thousands of people over those decades toured the cave and enjoyed parties and dances there."
Lucas wrote recently that tales of performances by legendary big band leaders Glenn Miller and Duke Ellington remain just that -- stories. There are no records that prove either did appear -- and none to prove they didn't. What is known is that the cave was a hot spot for entertainment in its heyday.
According to the Encyclopedia, "about 300 feet into the cave from the entrance is a large, naturally vaulted chamber with a concrete floor. That is where dances were held for decades, with an alcove for a 10- to 12-piece band, a 30-foot bar at the opposite end, and wooden and stone booths around the perimeter. The generally horizontal floor area provided an exotic setting for dancing to big band and jazz music at this unusual nightclub. A sign outside the cave read, 'The Largest Natural Place of Amusement in America.' The site evolved into what became known as the Wonderland Underground Nightclub."
Lucas says "future plans for the cave have not been announced by the new owners who purchased it and the approximately 30 acres above it in May 2019." She's not yet ready to announce reopening plans for the museum either.
"We want our museum to be as safe as possible for visitors, but since we are a small museum, all volunteer staffed, we don't have the resources or manpower to do what some of the larger museums are doing or planning to do in the near future. That includes having online exhibits, but everyone is welcome to check out the historical information on our website, www.bellavistamuseum.org."
-- Becca Martin-Brown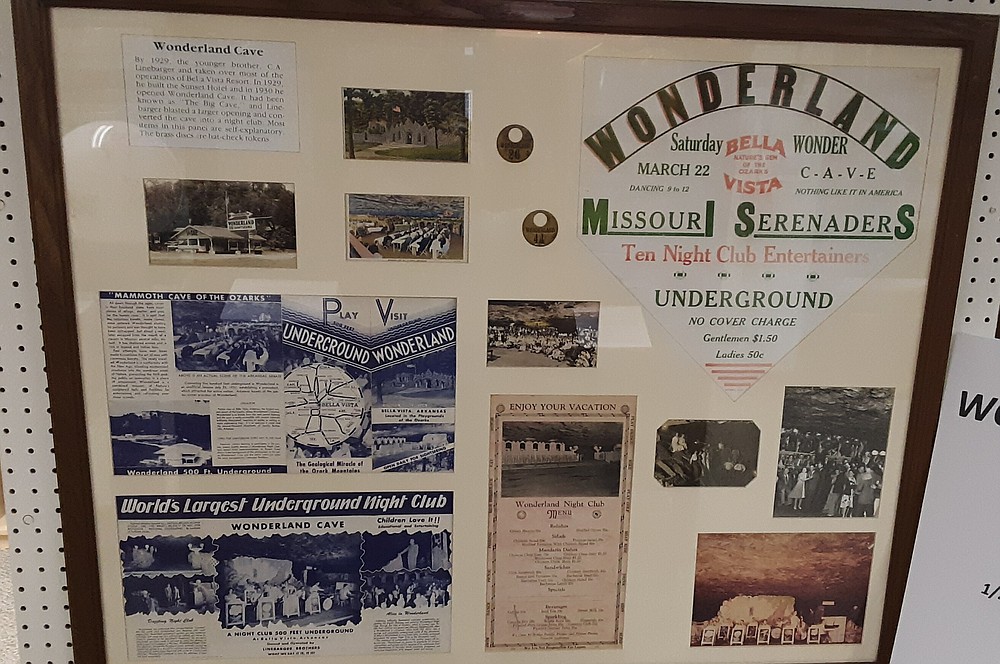 The exhibit chronicling the history of Wonderland Cave has been revamped and is awaiting the reopening of the Bella Vista Historical Museum. (Courtesy Photos/Xyta Lucas)
The exhibit chronicling the history of Wonderland Cave has been revamped and is awaiting the reopening of the Bella Vista Historical Museum. (Courtesy Photos/Xyta Lucas)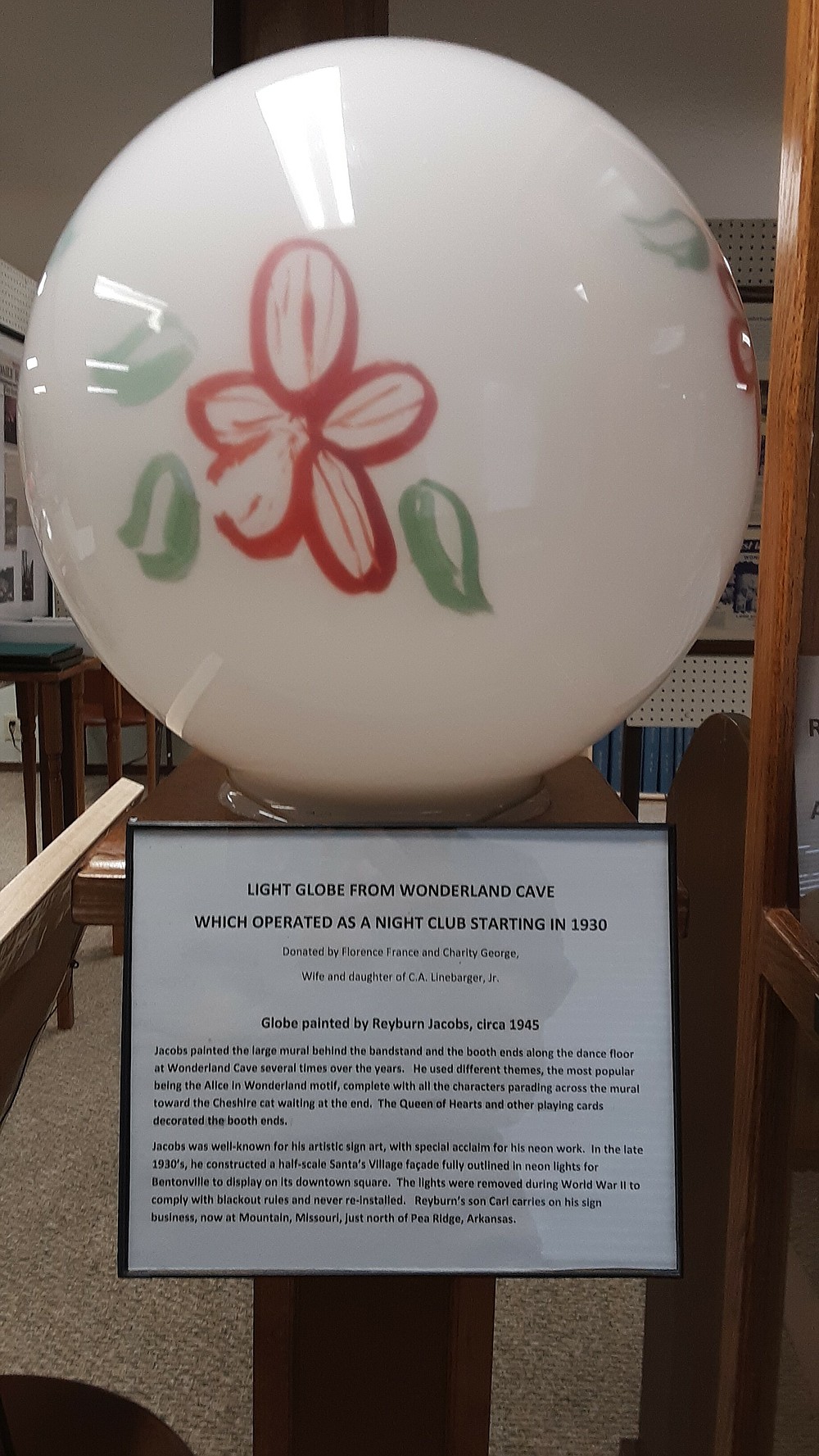 The exhibit chronicling the history of Wonderland Cave has been revamped and is awaiting the reopening of the Bella Vista Historical Museum. (Courtesy Photos/Xyta Lucas)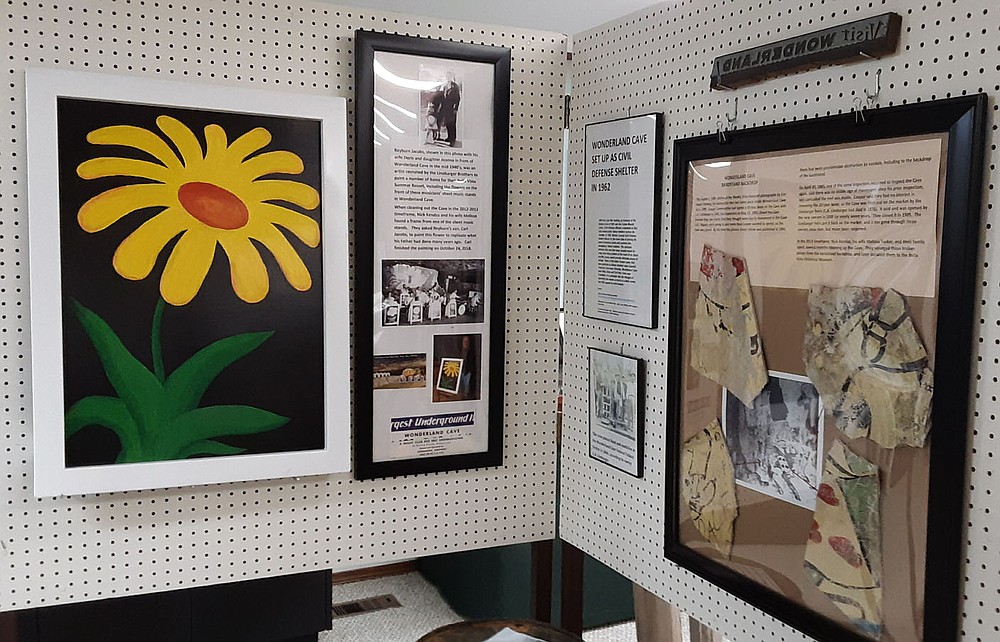 The exhibit chronicling the history of Wonderland Cave has been revamped and is awaiting the reopening of the Bella Vista Historical Museum. (Courtesy Photos/Xyta Lucas)
Sponsor Content
Comments