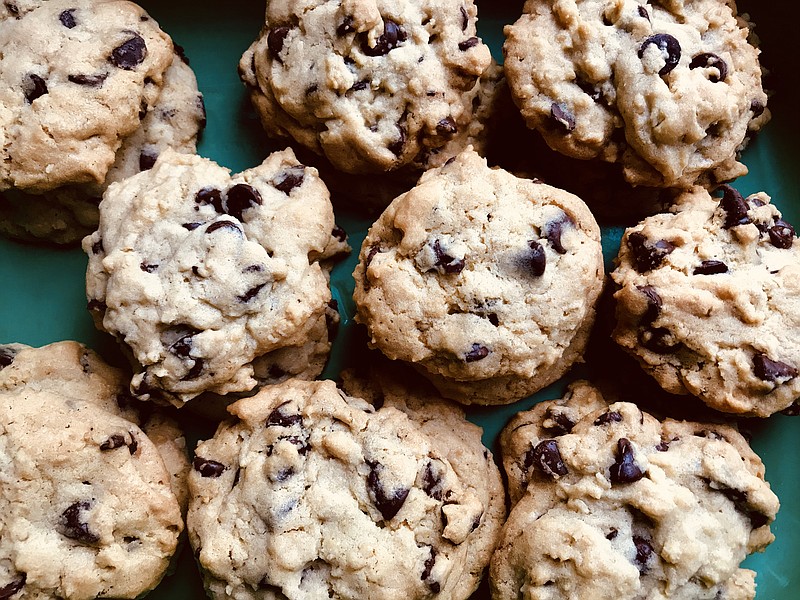 Doubletree Chocolate Chip Cookies (Arkansas Democrat-Gazette/Kelly Brant)
Recipes that appear in Idea Alley have not been tested by the Arkansas Democrat-Gazette.
Ann Applegate shares another round of recipes this week. First is this macaroni salad. It isn't a recipe, per se, but a list of ingredients.
"I'm not a fan of macaroni salad, but I had two helpings of this! I promise this is the recipe she gave me," writes Applegate.
Earlene's Macaroni Salad
Cooked pasta (your choice – fusilli, elbow, etc.)
Hard-cooked eggs, chopped
Salt and pepper
Chopped celery
Sweet pickles
Mayonnaise
Black olives
Chopped red onion
Sour cream
Small squirt of ketchup
Squirt of yellow mustard
Shredded sharp cheddar cheese
Combine all ingredients to taste and mix well.
If there are leftovers and the salad seems dry, sprinkle with cold water.
Applegate's note with this recipe reads:
"This recipe was shared on the internet. Doubletree Hotel Cookies are famous. The corporation released this recipe during the early weeks of the pandemic because a warm baked cookie makes everyone feel better. And they were right!"
Applegate adds this makes smaller cookies and chills the dough before baking.
Doubletree Chocolate Chip Cookies
1 cup butter, softened
¾ cup PLUS 1 tablespoon sugar
¾ cup packed light brown sugar
2 eggs
1 ¼ teaspoons vanilla extract
¼ teaspoon fresh lemon juice
2 ¼ cups all-purpose flour
½ cup rolled oats
1 teaspoon baking soda
1 teaspoon salt
Pinch of cinnamon
2 2/3 cups semi-sweet chocolate chips
1 1/3 cups chopped walnuts
Heat oven to 300 degrees. Line several baking sheets with parchment paper.
Cream butter and sugars in bowl of a stand mixer for about 2 minutes. Add eggs, vanilla and lemon juice; blend on low for about 20 seconds, then medium speed for about 2 minutes until light and fluffy, scraping down the sides of the bowl.
With the mixer on low, add the flour, oats, baking soda, salt and cinnamon. Blend about 45 seconds. Do not over mix.
By hand, stir in chocolate chips and walnuts.
Drop dough (up to 3 tablespoons per scoop) onto the prepared baking sheets, spaced 2 inches apart.
Unbaked cookies can be frozen on a cookie sheet and baked without thawing.
Bake at 300 for 20 to 23 minutes or until edges are golden brown and center is soft. Remove from oven; cool on baking sheet for 1 hour.
Yield varies by size of cookies.
REQUEST
• Georgia's Gyro's special sauce for Tom Smith. "It was creamy and garlicky and delicious. I preferred it to Tzatziki on my gyros and it was wonderful to dip their seasoned fries in," writes Smith.
Email recipe contributions, requests and culinary questions to:
Sponsor Content
Comments