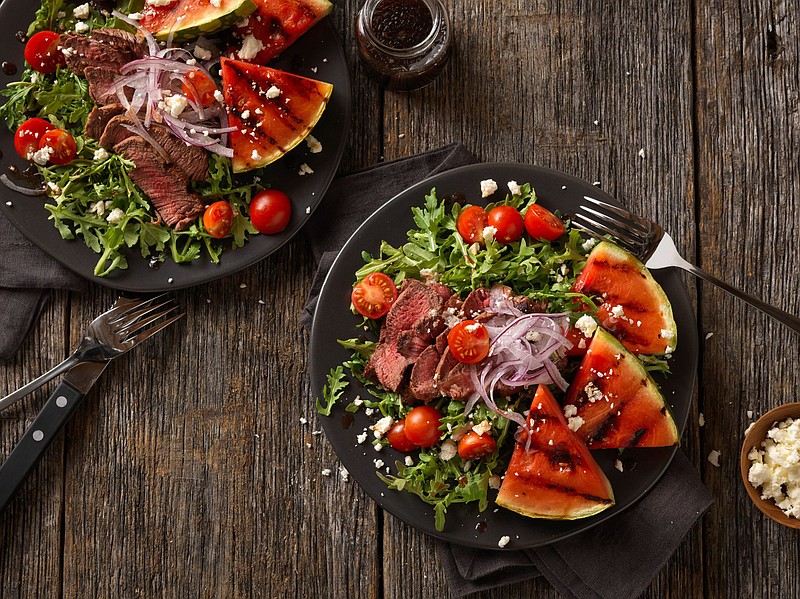 Grilled Steak and Watermelon Salad Courtesy of Cattlemen's Beef Board
A week's worth of quick, healthful meals for budget-minded families
SUNDAY: Serve your family summery and delicious Mediterranean Lamb Cutlets With Kiwi Salsa (see recipe) and couscous. Add a Boston lettuce salad and flatbread. for dessert, strawberry ice cream is always a favorite.
Plan ahead: Save enough ice cream for Tuesday.
MONDAY: Save some money tonight with Tuna Salad on Mixed Greens. In a food processor, puree 2 slices whole-grain bread, ½ cup unsalted chicken broth, ¼ cup chopped walnuts, ¼ cup plain yogurt, ¼ cup fresh lemon juice, 2 cloves garlic and a pinch ground red (cayenne) pepper. Transfer to a bowl and add 2 (6-ounce) cans drained and flaked water-packed albacore tuna, 2 medium chopped carrots, 2 ribs chopped celery and ¼ cup chopped fresh dill; mix gently. Season with coarse salt and pepper. Spoon the salad onto a bed of mixed greens. Serve with a glass of chilled tomato juice and a fresh lime wedge on the side, along with baked chips and multigrain rolls. Fresh pineapple is your dessert.
Plan ahead: Make enough tuna salad for Tuesday.
TUESDAY: There's little heating necessary tonight with leftover Tuna Salad Sandwiches on whole-grain toast with sliced tomatoes and lettuce for dinner. Serve with oven fries and sweet pickles. Scoop leftover ice cream for dessert.
WEDNESDAY: Forget about meat tonight and serve Mexican Baked Potatoes. Slash and fluff hot baked potatoes. Top each one with ¼ cup salsa, 2 tablespoons canned reduced-sodium black beans (rinsed) and 2 tablespoons shredded cheddar cheese. Place under broiler and cook 1 minute or until cheese melts. Top each potato with 1 tablespoon chopped green onions. Serve with a lettuce wedge and hard-cooked egg slices. Add whole-grain rolls. For dessert, spoon fresh sliced strawberries over chocolate pudding.
Plan ahead: Bake extra potatoes for Thursday.
THURSDAY: Keep the kitchen cool with Pepper Jack and Turkey Sandwiches. Spread whole-grain bread slices with spicy ground mustard. Layer romaine, sliced pepper jack cheese, deli smoked turkey slices and sliced tomatoes. Halve sandwiches and serve with baked potato wedges (leftover baked potatoes cut into wedges, coated with cooking spray and baked at 425 degrees for 10 minutes). Blueberries are your dessert.
FRIDAY: Make the kids happy with these unusual Sloppy Joe Pierogies: Boil 1 (16.9-ounce) package frozen potato-and-cheddar pierogies according to directions; drain well. Meanwhile, heat a large skillet on medium. Cook 1 pound ground turkey breast 5 minutes or until it's no longer pink. Add ½ cup minced carrots and ½ cup minced onions; cook and stir 4 minutes or until soft. Stir in 1 (15.5-ounce) can sloppy Joe sauce; bring to a boil. Remove from heat; fold in drained pierogies. Serve in soup bowls. Munch on celery sticks stuffed with cheese spread and add crusty bread. A slice of watermelon is a kid kind of dessert.
SATURDAY: Celebrate Independence Day with the family and enjoy Grilled Steak and Watermelon Salad (see recipe) at the same time. Add potato salad, coleslaw, deviled eggs and a baguette for a real picnic. Blueberry Ice Cream Pie (see recipe) is a show-stopping dessert everyone will love.
THE RECIPES
Mediterranean Lamb Cutlets With Kiwi Salsa
For the lamb:
1 peeled kiwi, halved
½ cup sour cream
1 clove garlic, crushed
12 lamb rib chops (cutlets), ¼ to ½ inch thick
For the salsa:
3 kiwis, peeled and chopped
1 medium fresh peach, peeled and chopped
1 small papaya, peeled, seeded and chopped
1 tablespoon fresh lime juice
2 tablespoons chopped fresh cilantro
Place 1 kiwi, sour cream and garlic in food processor or blender and puree until just blended and kiwi seeds are not broken; set aside. Place lamb in large bowl. Pour kiwi mixture over lamb; turn to coat. Cover and refrigerate 2 hours.
Meanwhile, for the salsa, combine 3 kiwis, peach, papaya, lime juice and cilantro in small bowl; set aside. To cook cutlets, brush excess marinade from cutlets and discard marinade. Grill or broil cutlets 2 to 3 minutes per side on medium or until desired doneness. Serve with salsa.
Makes 6 servings.
Nutrition information: Each serving contains approximately 240 calories, 28 g protein, 9 g fat, 11 g carbohydrate, 87 mg cholesterol, 80 mg sodium and 2 g fiber.
Carbohydrate choices: 0.5.
Grilled Steak and Watermelon Salad
1 teaspoon ground coriander
1 teaspoon cumin
4 beef tenderloin steaks, cut 1 inch thick (4 to 5 ounces each)
2 slices seedless baby watermelon, 1 inch thick (about 1 pound each)
Coarse salt and pepper to taste
8 cups baby arugula or spinach leaves
¼ cup balsamic or Italian dressing
1 cup halved cherry tomatoes
½ cup thinly sliced red onion
¼ cup Greek feta cheese, crumbled
Combine coriander and cumin; press evenly onto steaks. Place steaks in center of grid over medium ash-covered coals; arrange watermelon around steak. Grill steaks, covered, 10 to 15 minutes for medium-rare to medium. Turn occasionally. Grill watermelon 2 to 4 minutes or until grill marks form, turning once. Carve steaks into slices. Cut each watermelon slice into 6 wedges. Season beef and watermelon with salt and pepper as desired.
Combine greens and dressing in large bowl; toss to coat. Divide among 4 serving plates. Arrange beef and watermelon on salad; top evenly with tomatoes, onion and cheese.
Makes 4 servings.
Nutrition information: Each serving contains approximately 241 calories, 25 g protein, 9 g, 18 g carbohydrate, 68 mg cholesterol, 350 mg sodium and 2 g fiber.
Carbohydrate choices: 1.
Blueberry Ice Cream Pie
¾ cup blueberry pie filling
2 pints vanilla ice cream, slightly softened
1 (6-ounce) graham cracker pie crust
½ cup strawberry sauce
Light whipped cream and any fresh berries for garnish
Mix pie filling and 1 pint ice cream; spread in crust. Top with remaining ice cream; freeze until firm. Remove from freezer 5 minutes before serving. Slice, top with strawberry sauce, garnish with whipped cream and berries, and serve.
Makes 10 servings.
Nutrition information: Each serving contains approximately 274 calories, 3 g protein, 11 g fat, 42 g carbohydrate, 23 mg cholesterol, 142 mg sodium and 1 g fiber.
Carbohydrate choices: 3.
Susan Nicholson is an Atlanta-based cookbook author and registered dietitian. She can be reached by email:
Sponsor Content
Comments