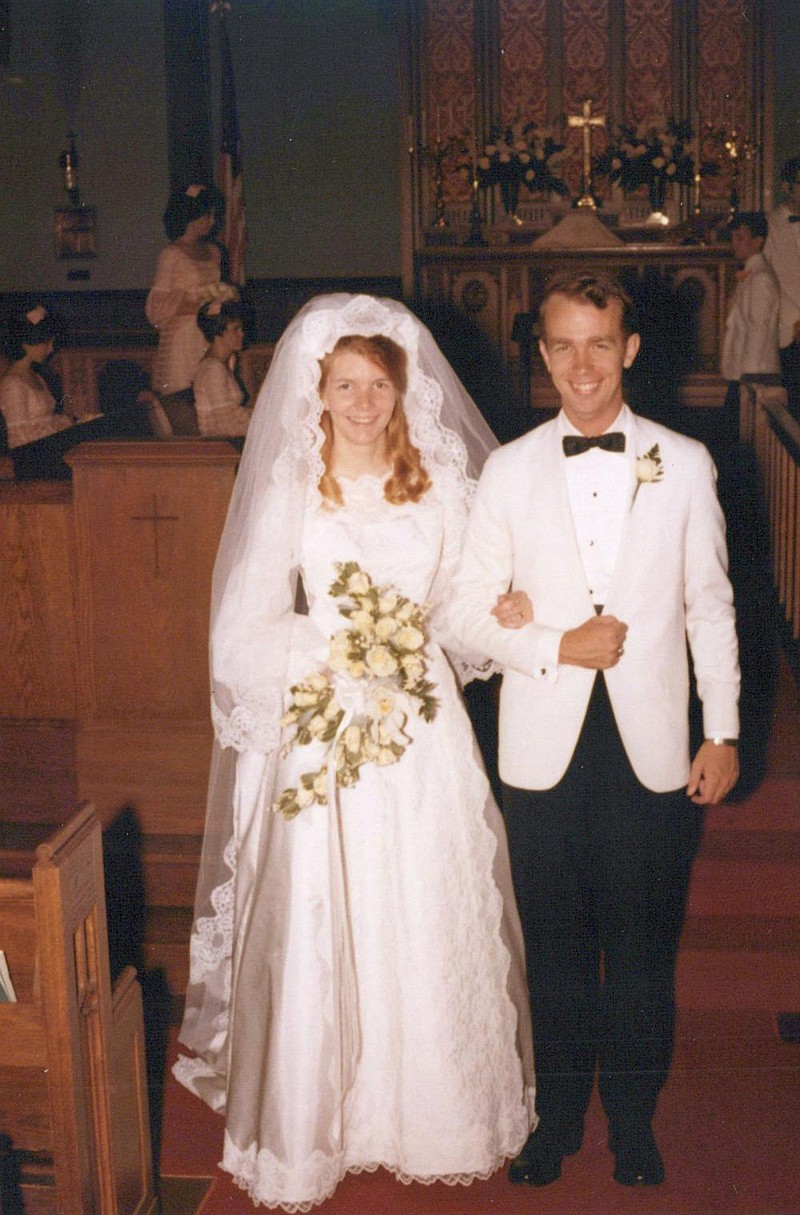 John and Cindy Tisdale were married on June 6, 1970. "If I was trying to describe an angel, that's what she looked like, in her wedding dress with her long strawberry blonde hair," John says of his bride on their wedding day. (Special to the Democrat-Gazette)
John Tisdale was smitten with Cindy Ford the first time he laid eyes on her. He had to be patient, though, because the fellow sitting next to her that day was smitten with her, too.
John was a junior at Southwestern at Memphis, now known as Rhodes College, and he was president of the Pi Kappa Alpha fraternity on campus. Cindy was a freshman, and on her first day of college, in September 1966, she joined her boyfriend at a table in the dining hall for a meeting with John about fraternity rush.
"I was meeting him for breakfast, not knowing she would be there," John says. "Once I saw her I sort of forgot about trying to rush the young man and I had difficulty not looking at her all the time during our conversation."
Within a couple of months, Cindy and her boyfriend, who had both come to Memphis from Huntsville, Ala., had broken up.
"The big downfall he had was that he thought I would do his laundry," she says. "That was not going to happen."
John was aware that Cindy and her boyfriend weren't together anymore.
"I just tried to make sure I was around so I could bump into her from time to time," he says. "I didn't want to look like I was stealing her from a young man that was going to join the fraternity. I worried a little bit about what other people would think, but it didn't deter me from continuing to try to date her."
He often strolled across campus to her dormitory before mealtimes so he could walk her to the dining hall.
"I just thought that was a really sweet thing for him to do," Cindy says.
Their first date was dinner at a Shoney's near campus with a group of friends. John didn't have a car, but his fraternity had a 1929 fire truck that they used to drive members and their girlfriends around.
"It was a lot of fun to drive down the street in a fire truck," she says.
They were an item after that, going to fraternity or sorority parties together on Friday nights and finding other fun activities throughout the week.
"The first time I kissed him was at this big formal dance done by the fraternity," says Cindy, who was a member of the Kappa Delta sorority.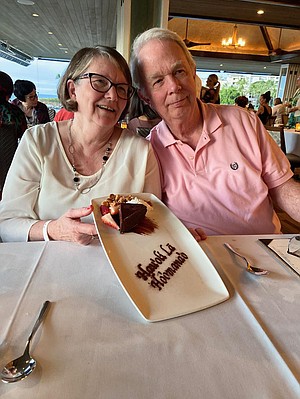 John Tisdale and Cindy Ford met in college. He was the president of a fraternity that wanted to rush her boyfriend. "The young man joined the fraternity, but he didn't get the girl," Cindy says. (Special to the Democrat-Gazette)
Things were different back then, she explains. Girls had to be back in their dorms by 8 p.m. most nights, with curfew on Friday nights being extended to 10.
"I still remember the first movie we saw together," she says. "That was The Graduate. I really did think he had taken me to an X-rated movie. [I] had just never been to movies like that before."
Cindy's father had warned her not to get serious about anyone while she was in college.
"My father was not happy when I said we had gotten 'dropped,'" she says, describing the stage of commitment marked by the exchange of a lavalier, or fraternity letters. "He thought I was there to study and that was it."
That was before Christmas, a few months after they met, she says. "I guess John was kind of a fast mover."
After John finished his undergraduate degree in 1968, he joined the Air Force and was sent to Puerto Rico.
Before he left, he drove to Huntsville where Cindy's family was living, to give her an engagement ring. He took her for a drive one evening and he proposed to her at a scenic overlook.
Her parents later moved back to Massachusetts, where they were from, and she transferred to the University of Massachusetts to be near them.
Her father allowed her to visit John in Puerto Rico for a week during the summer between her junior and senior year of college, but he said no to two weeks.
"He said, 'If it's two you won't come back,'" she says.
She graduated on a Saturday in late May 1970 and she and John were married one week later, on Saturday, June 6, 1970, at All Saints Episcopal in Attleboro, Mass.
"We made it sound very elegant, that we were going on our honeymoon in Puerto Rico," Cindy says.
They stopped in San Juan for a few days on their way back to the Air Force base, where they lived until 1972. Then they moved to St. Louis, where John went to law school at Washington University. In 1975, they moved to Little Rock and he joined Wright Lindsey & Jennings. Cindy is a former science teacher.
They have three children -- Sarah Horton of Little Rock, Dr. Robert Tisdale of Chinle, Ariz., and Anna Goodman of Bentonville. They also have six grandchildren.
Things haven't always been easy but the Tisdales know the importance of give and take.
"There's a country song that says, 'If you start heading my way and I start heading yours, we'll meet in the middle,'" John says. "That's pretty much what we've done."
"I think we just live in the middle and don't even think about it," Cindy says.
If you have an interesting how-we-met story or if you know someone who does, please call (501) 425-7228 or email:
More News
The first time I saw my future spouse:
She says: "I was interested."
He say: "I knew she was someone special."
On our wedding day:
She says: "Part of me was excited about getting married and part of me was scared because it was such a big step for me."
He says: "She was beautiful."
My advice for a long happy marriage:
She says: "Never go to bed mad."
He says: "You've got to be willing to give a little — both of you."
Sponsor Content
Comments