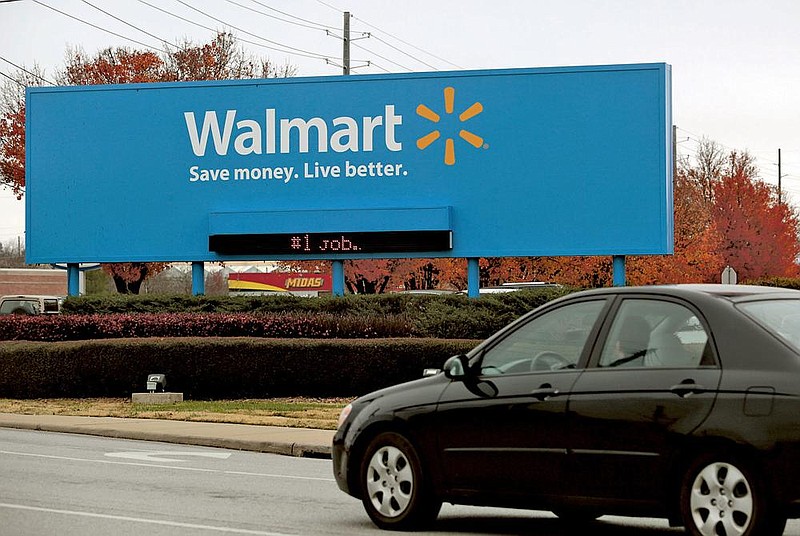 In this file photo a vehicle passes by the Walmart Home Office in Bentonville. (NWA Media/JASON IVESTER)
Walmart Inc. is opening two more low-cost health centers this month, including one in Springdale, the company said Thursday. The other is in Georgia, where the first two Walmart Health centers opened last fall.
The Springdale center, called Walmart Health Elm Springs, will open Wednesday at 4870 Elm Springs Road, Suite B.
Walmart opened a health center in Loganville, Ga., on Thursday.
Sean Slovenski, Walmart's senior vice president of health and wellness for Walmart U.S., said in a news release that the Springdale facility will be a prototype to test a different layout and services. It will be somewhat smaller than the other clinics, which are about 10,000 square feet.
Walmart Health offers primary and urgent care, other diagnostics and mental health counseling as well as dental, optical and hearing services. They also offer fitness and nutrition activities and counseling, and help patients with health insurance enrollment.
The centers are staffed by a range of medical professionals, including doctors, nurse practitioners, dentists, behavioral health providers and optometrists.
"Having access to quality, affordable health care has never been more important in the United States," Slovenski said. "We're navigating a global pandemic that has exposed the vulnerabilities of our health care system and makes it hard for many families to get the care they need when they need it. We also face record unemployment, leaving many families without access to vital health care resources."
The Bentonville-based retailer's first center, in an Atlanta suburb, served as a pilot to test the concept before expanding to other communities. Slovenski said Walmart Health will open more locations in Georgia this year.
Low, transparent pricing regardless of insurance status is a hallmark of the new health care concept, Slovenski said. Patients get an estimate of how much their visit will cost when they book their appointment.
Additionally, prices without adjustments for insurance copays are listed at walmarthealth.com. An adult's annual checkup costs $50, for instance, while a child's costs $30. Eye exams for patients older than 5 cost $55, and hearing tests for adults are free.
With health care expenditures now making up about 18% of the U.S. gross domestic product, it's not surprising that Walmart and others are exploring ways to expand their presence in that sector, said Dr. Joe Thompson, president and chief executive officer of the Arkansas Center for Health Improvement. Retailers such as CVS Health Corp., Target Corp. and Walgreens Boots Alliance Inc. are also competing for a piece of that pie as they try different models for offering primary medical care.
Walk-in medical provider MinuteClinic now has 1,100 sites inside CVS Pharmacy and Target stores in 33 states plus the District of Columbia, according to CVS' website. Patients see nurse practitioners and physician assistants for minor conditions, health screenings, vaccinations and other services.
Walgreen has about 220 Healthcare Clinics in select stores across the U.S., all of which are run by local health care systems. The drugstore chain closed about 160 company-run clinics in November, according to The Wall Street Journal, proving to some industry watchers that the in-store, walk-in model of health care delivery is complex and expensive.
The health centers aren't Walmart's first venture into providing health care services to the public. The retailer has had in-store Care Clinics in three southern states for several years.
Walmart currently has 21 Care Clinics throughout Georgia, South Carolina and Texas. These are much smaller than Walmart Health centers and offer limited services. Also, the Care Clinics are staffed by certified nurse practitioners rather than physicians.
Sponsor Content
Comments