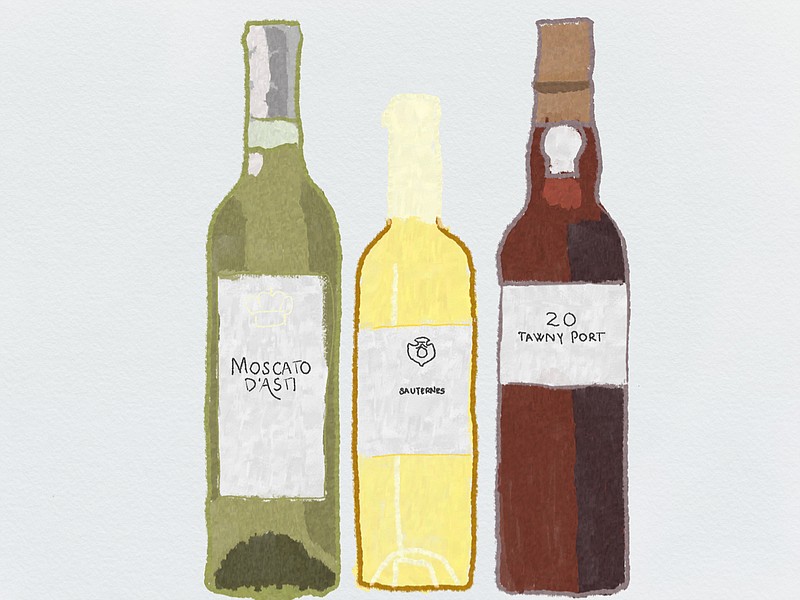 Some dads like it sweet (Illustration by Kelly Brant)
It's time to start shopping for that ideal bottle of wine for your wine-enthusiast dad on Father's Day.
A fun fact to share with Dad: the world's first demarcated wine region was not the revered Bordeaux, Champagne or Burgundy regions but a region in eastern Hungary specializing in the sweet wine Tokaji. It was officially recognized in 1737.
Most of us tend to think of refreshing white wines for moms and leave the big bold reds for dad. But what about the father out there enjoying his wine just a little sweet?
Searching the world of wine is tricky enough but even more so if looking for serious sweet styles. Historically, sweet wines were once the most coveted style of wine in the world.
But somewhere along the way, sweet wines were drubbed with an unsophisticated and inferior image. Truly appreciating sweet wines requires an understanding of the distinct differences in the styles.
TAWNY PORT
A big, bold, high alcohol sweet wine. Unlike a ruby port, tawny ports are aged in smaller barrels allowing the wine to oxidize. This gives the wine its "tawny" color. The flavors range through spice, dried fruits, nuts and caramel.
THE VALUE
NV Dow's Boardroom Tawny Port, Portugal (about $28)
THE SPLURGE
NV Cockburn's 20 Year Tawny Port, Portugal (about $48)
MOSCATO D'ASTI
Known for its low alcohol, sweet, light, bubbly style and mesmerizing range of aromatics. The flavors range from tropical fruits to peach, orange blossom and sometimes slight honeysuckle notes.
THE VALUE
2018 Conte D' Alba Moscato D'Asti, Italy (about $15)
THE SPLURGE
2018 Marco Negri Moscato D'Asti, Italy (about $20)
SAUTERNES
A sweet wine worthy to be known as drinking liquid gold. Sauternes offers intense flavors ranging from apricot, butterscotch, mango to baking spices. These wines can achieve the pinnacle of sweet wines aging ability.
THE VALUE
2017 Chateau Hallet Sauternes, France 375 mL (about $20)
THE SPLURGE
2017 Chateau Roumieu-Lacoste Sauternes, France 375 mL (about $35)
Lorri Hambuchen is a member of London's Institute of Wines and Spirits. Email:
Sponsor Content
Comments