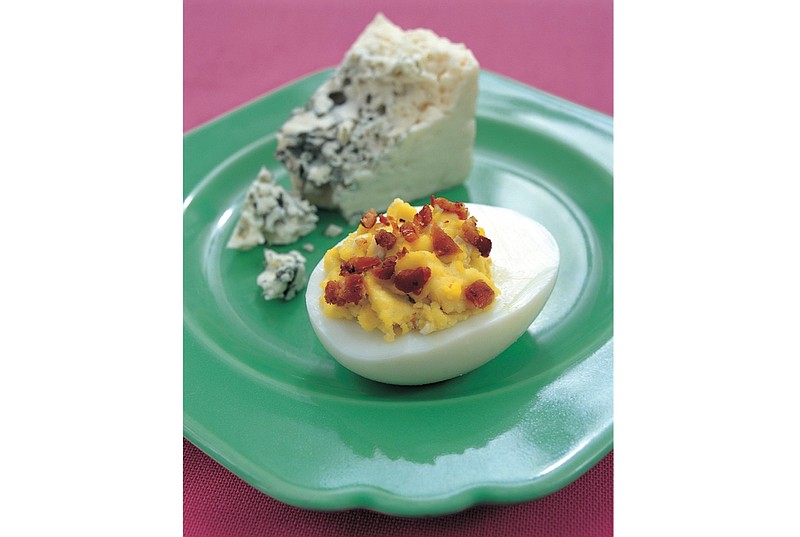 Blue Devil Deviled Eggs (Harvard Common Press/Duane Winfield)
Editor's note: Susan Nicholson is on vacation. The column was published June 17, 2015.
A week's worth of quick, healthful meals for budget-minded families
SUNDAY: Show Dad how much you love him on his special day with this updated, healthier version of Dad's "Fried" Chicken (see recipe). Serve with corn-on-the-cob, deli coleslaw and crusty Italian bread. Add Blue Devil Deviled Eggs. Hard-cook 12 eggs; cool, peel, halve and remove yolks to a medium bowl. Mash, and then blend in 3 tablespoons mayonnaise and 1 teaspoon Dijon mustard. Add 2 tablespoons crumbled blue cheese, and coarse salt and pepper to taste. Divide mixture; fill eggs and garnish with 3 tablespoons crumbled bacon. (Adapted from Deviled Eggs by Debbie Moose; Harvard Common Press, 2004.) For dessert, chocolate ice cream and chocolate chip cookies are father's day favorites.
Plan ahead: Save enough crusty Italian bread, deviled eggs and ice cream for Monday and cook enough eggs for Wednesday.
MONDAY: No matter what you call it, Panzanella (or "bread salad") (see recipe) makes a delicious summer meal. Add leftover deviled eggs alongside. For dessert, leftover ice cream is all you'll want.
TUESDAY: Open-Faced Asparagus Quesadillas are simple, but transform ordinary flavors into something extraordinary. Lightly toast 1 teaspoon cumin seeds in a large skillet over medium heat for 3 minutes, shaking pan; set seeds aside. Microwave 4 slices bacon 3 or 4 minutes on 100% power; let stand 3 minutes and crumble when cool. Melt 1 teaspoon butter in skillet over medium heat; add ¾ pound asparagus (cut into 1 ½-inch pieces) and cook 2 to 3 minutes. Add 2 cups sliced fresh mushrooms and ¾ teaspoon garlic salt; cook 2 minutes or until mushrooms begin to release their moisture. Heat oven to 425 degrees. Place 4 (6-inch) flour tortillas on a large rimmed baking pan. Divide and top them with asparagus mixture; sprinkle with 2 sliced green onions, 1 cup shredded Monterey Jack cheese, the bacon and the cumin seeds. Bake 5 minutes or until cheese is melted. Cut into wedges and serve with canned pinto beans. Add a sliced avocado salad on shredded lettuce. Fresh pineapple chunks make a good dessert.
WEDNESDAY: Herbed Couscous and Peas makes a light summertime meal. Bring 1 (14-ounce) can unsalted vegetable broth to simmer in medium pan. Remove from heat and stir in 1 cup whole-wheat couscous. Cover and let stand 5 minutes. Meanwhile, microwave 1 ½ cups frozen green peas according to package directions; drain. To couscous, add green peas, 1 (15-ounce) can chickpeas (rinsed), 2 tablespoons chopped flatleaf parsley, 2 tablespoons fresh mint, 2 tablespoons fresh basil and 1 teaspoon lemon zest; fluff with fork. Serve immediately. Add a mixed green salad with leftover hard-cooked egg wedges and flatbread. For dessert, fresh strawberries are perfect.
THURSDAY: When I'm out of ideas for dinner, I buy meatloaf at the supermarket and pretend it's my mother's recipe. I also add refrigerated cooked potatoes, along with steamed fresh broccoli, packaged green salad and whole-grain rolls. For dessert, deli brownies will take you through the home stretch.
Plan ahead: Save enough meatloaf for Friday.
FRIDAY: Leave it to the kids to invent Meatloaf Tacos. Warm the leftover meatloaf, then crumble and spoon into taco shells. Top with shredded cheddar cheese and add salsa. Serve with baked beans and carrot sticks. Kiwis make an easy dessert.
SATURDAY: Try something different for the family with hearty Beef and Barley Summer Salad (see recipe). Serve it with your gazpacho and sourdough rolls. Your dessert, Lemon Mousse Cake, will further impress. Heat oven to 350 degrees. Coat bottoms (only) of 2 (9-inch) round cake pans with cooking spray. Prepare and bake 1 (2-layer size) package lemon cake mix according to package directions. Cool completely. For the icing: In a medium bowl, gently stir ¾ cup lemon pie filling (from a 15- to 16-ounce can) into 2 (16-ounce) tubs whipped ready-to-spread vanilla frosting. Place 1 cake layer, rounded-side down, on serving plate. Spread with 1 cup lemon mixture; top with second layer (rounded-side up). Frost sides and top of cake, then slice and serve. Refrigerate leftover cake.
Tip: Can substitute lemon curd for the pie filling.
THE RECIPES
Dad's "Fried" Chicken
½ cup buttermilk
1 tablespoon Dijon mustard
2 cloves garlic, minced
1 teaspoon hot sauce
2 ½ to 3 pounds skinless chicken legs
½ cup whole-wheat flour
2 tablespoons sesame seeds
1 ½ teaspoons paprika
1 teaspoon dried thyme
1 teaspoon baking powder
Coarse salt and ground black pepper to taste
Whisk buttermilk, mustard, garlic and hot sauce in shallow baking dish until well-blended. Add chicken and turn to coat. Cover and marinate in refrigerator 30 minutes to 8 hours.
Heat oven to 425 degrees. Line a baking sheet with nonstick foil. Place wire rack coated with cooking spray on a baking sheet. Whisk flour, sesame seeds, paprika, thyme, baking powder, salt and pepper in small bowl. Place flour mixture in a resealable plastic bag. Shake excess marinade from chicken and place chicken (one or two pieces at a time) in flour mixture; shake to coat. Place chicken on prepared rack. (Discard extra marinade and flour.) Coat chicken pieces with cooking spray. Bake 40 to 50 minutes or until golden and no longer pink in center. Serve immediately.
Makes 4 servings.
Nutrition information: Each serving contains approximately 312 calories, 39 g protein, 14 g fat, 7 g carbohydrate, 196 mg cholesterol, 265 mg sodium and 1 g fiber.
Carbohydrate choices: ½.
Panzanella
4 slices leftover crusty Italian bread, ¾-inch thick, cut into bite-size pieces
1 (15- to 19-ounce) can reduced-sodium cannellini beans, rinsed
8 ounces part-skim mozzarella, cut into ¾-inch cubes
1 medium red bell pepper, cut into thin strips
1 small red onion, thinly sliced
½ cup red wine vinegar
¼ cup extra-virgin olive oil
1 teaspoon coarse salt
1 ½ teaspoons minced garlic
1 teaspoon dried basil
1 teaspoon ground mustard
½ teaspoon crushed red pepper
2 cups salad greens
Heat oven to 350 degrees. Place bread in single layer on baking sheet. Bake 15 minutes or until toasted. In a large bowl, combine beans, mozzarella, bell pepper and onion.
In a medium bowl, combine vinegar, oil, salt, garlic, basil, mustard and crushed red pepper; mix well. Pour dressing over bean mixture; toss to mix well. Add bread to bean mixture; toss to mix. Let mixture stand 30 minutes; stir occasionally. Serve over salad greens.
Makes 4 servings.
Nutrition information: Each serving contains approximately 453 calories, 23 g protein, 24 g fat, 39 g carbohydrate, 36 mg cholesterol, 1,121 mg sodium and 9 g fiber.
Carbohydrate choices: 2 ½.
Beef and Barley Summer Salad
For the marinade:
1 cup reduced-fat balsamic vinaigrette
2 tablespoons fresh orange juice
1 tablespoon freshly grated orange zest
1 tablespoon fresh lemon juice
2 teaspoons lemon zest
1 pound beef top-round steak (¾-inch thick)
For the salad:
1 cup quick-cooking barley
¼ pound fresh green beans
1 cup chopped yellow bell pepper
¼ cup thinly sliced green onions
1 tablespoon chopped fresh chives
Combine vinaigrette, orange juice, orange zest, lemon juice and lemon zest in small bowl.
Place steak and ½ cup marinade in a resealable plastic bag; turn to coat steak. Marinate in refrigerator 6 hours to overnight; turn occasionally. Cover and refrigerate remaining marinade.
Cook barley according to package directions; set aside.
Cook green beans in boiling water 3 minutes; drain. Run cold water over beans to stop cooking; drain and set aside.
To grill, heat grill on medium. Remove steak; discard marinade. Grill steak, uncovered, 8 to 9 minutes for medium-rare; turn occasionally. Do not overcook or steak will be tough. Carve steak across grain into thin slices.
To broil, place steak on rack in broiling pan 3 to 4 inches from heat. Broil 12 to 13 minutes for medium-rare.
Toss barley, green beans, steak slices, bell pepper and onions in large bowl. Arrange on plates. Drizzle with reserved marinade; sprinkle with chives.
Makes 4 servings.
Nutrition information: Each serving contains approximately 339 calories, 31 g protein, 7 g fat, 38 g carbohydrate, 70 mg cholesterol, 461 mg sodium and 5 g fiber.
Carbohydrate choices: 2 ½.
Susan Nicholson is an Atlanta-based cookbook author and registered dietitian. She can be reached by email:
Sponsor Content
Comments