SPRINGDALE -- Regional planners say Northwest Arkansas drivers should expect to see more overpasses, interchanges, corridors and connections over the next 25 years.
Staff of the Northwest Arkansas Regional Planning Commission are working on a 2045 Metropolitan Transportation Plan. The question: How will almost a million people get around the area? The Arkansas Economic Development Institute has estimated about 974,000 people will live in the region in 25 years.
The plan will provide a long-range look at the area's transportation needs including highways, streets, public transit, and bicycle and pedestrian facilities.
A 10-year, regional public transit development plan, called Connect Northwest Arkansas, will also be rolled into the 2045 plan. The public transit plan has developed bus routes for participating cities based on where people want to go and when. Once implemented, it should improve connectivity, save riders time and provide a solid foundation for development.
Alliance Transportation, the consultant on the project, and regional planners have worked with Razorback Transit and Ozark Regional Transit to proposed new routes.
The various cities, particularly the big four along the Interstate 49 corridor -- Fayetteville, Springdale, Rogers and Bentonville -- each have their own long-range transportation and development plans. Those are being incorporated into the 2045 regional planning document, which is expected to be out in draft form this fall or winter.
Some of the significant changes residents can expect are new interchanges and new and improved corridors, which are those routes that form the primary connections between cities, neighborhoods, suburbs and the region as a whole. Also planned is better traffic access management, which means controlling the location, design, spacing and operation of access points, such as driveways, parking lot entrances and intersections, to help the flow of through-traffic.
There will be an emphasis on building "complete" streets and interchanges -- roads that are designed to include sidewalks, bike lanes and public transit accommodations.
The additional overpasses across Interstate 49 are intended to make it easier to travel from one side of I-49 to the other while avoiding traffic entering and leaving the interstate.
"We have no shortage of projects to improve the connectivity of our region. I-49 is basically a wall," Tom Conklin, commission assistant director, told planners. "When you have to have everybody go through the interchange to go east and west, these overpasses are critical to our region."
The view from 30,000 feet
Fayetteville is looking at multiple overpasses over the Fulbright Expressway on the north side of town between the Northwest Arkansas Mall area and Washington Regional Medical Center, an overpass at Persimmon Street over I-49 on the west side and one at 15th Street over I-49 on the south side.
New interchanges with I-49 are expected at Martin Luther King Jr. Boulevard and Wedington Drive. Rupple Road and Howard Nickel Road should be connected as part of Mayor Lioneld Jordan's box around the city.
Tontitown officials have discussed an interchange on the future U.S. 412 Northern Bypass at Jovello Road. Centerton and Bella Vista are looking at an interchange at Pumpkin Hollow Road on the Bella Vista Bypass.
Springdale has plans for an I-49 overpass at 48th Street, an I-49 overpass connecting Harber Avenue and Emma Avenue and extending Gene George Boulevard to a new interchange on the future U.S. 412 Northern Bypass, which is designated Arkansas 612 until it is complete.
Rogers is working on an I-49 overpass at Oak Street and an overpass between Mercy Hospital and the Walmart Arkansas Music Pavilion is planned. The city recently completed an I-49 overpass at Magnolia Street. It also wants to improve Easy Street from downtown to the new Walmart Headquarters in Bentonville. J.B. Hunt Road is being extended south by the music pavilion.
Bentonville wants an I-49 interchange north of downtown at either J Street or Northeast A Street.
"Overall, we're trying to make sure we understand the network as we do the modeling," Conklin said.
Potential corridors include the proposed access road to the Northwest Arkansas National Airport in Benton County.
Johnson is looking at an I-49 frontage road north to Springdale.
Siloam Springs wants to make U.S. 412 a six-lane boulevard through the city.
Lowell is looking at extending Monroe Avenue east to Arkansas 265. Rogers is considering making Arkansas 265/First Street four lanes into downtown, extending Garrett Road, which doesn't exist yet, to a new interchange at I-49 and extending Pleasant Grove Road east to Arkansas 112.
"Imagine a ladder in your mind, a network of 265, 71B, I-49, Highway 112, and we're trying to go up and down the corridor and connect those roads," Conklin said.
Tontitown is expecting U.S. 612 to be a new corridor. George Boulevard is also planned as a corridor.
Don Tyson Parkway in Springdale will likely be extended to Arkansas 112 on the west and U.S. 412 on the east. The city is also planning a bike and pedestrian I-49 overpass at Watkins Avenue connecting Arkansas Children's Northwest with Randall Tyson Park. Watkins would also be extended west to Arkansas 112.
Plans call for I-49 to eventually be widened to eight lanes through much of the metro area by 2045.
Paying the piper
Sitting in traffic isn't only frustrating for motorists; it costs as well. A 2012 study by the Texas A&M Traffic Institute, commissioned by the Northwest Arkansas Council, found sitting in traffic was costing Northwest Arkansas residents more than $103 million a year in wasted time and gas. Since that study was done, improvements have been made to address congestion, but a lot more cars have been added to the mix because of the region's population growth.
The institute reported last year that, nationally, sitting in traffic annually cost commuters $179 billion, 3.3 billion gallons of fuel and 54 hours of their lives. The cost to the average commuter was $1,080. Those numbers were based on 2017 data.
Commuters in Northwest Arkansas lost an average of 33 hours to congestion in 2017, according to the institute.
Philip Taldo, an Arkansas highway commissioner, real estate developer and former Arkansas Economic Development Commission member, said it is vital to the region's economy that the state highway system and local transportation networks work in harmony.
"If people aren't able to get here, and we don't have a robust transportation system -- and I'm not just including highways, I'm talking about airports and bus systems and all of that -- then people just aren't going to come here and work," Taldo said. "It used to be a job for Walmart just to get people to move here to fill the jobs they had and the same way with Tyson."
Conklin said when the work will be done depends on funding.
"It all depends on how much revenue we dedicate to transportation," he told planners. "If we continue the half-cent sales tax, we'll see it sooner than later. If we don't, we'll have to pull many projects out, and these take decades to work on."
A proposal to make permanent the state's half-cent sales tax, dedicated to highway construction and maintenance, is set to be on the ballot in November.
Most of the money would go to the state Transportation Department. However, Benton and Washington counties, along with their cities, stand to lose close to $12 million a year for local projects if the measure fails, according to the Transportation Department.
"If the counties and the cities aren't able to keep up their networks, expanding their highways, widening their streets, putting in traffic signals and things like that, the problem will be compounded," Taldo said.
If the sales tax passes, the highway department has promised to spend $100 million in state funds for Arkansas 112 widening and improvements and another $30 million for an XNA connector road. Two new segments of U.S. 412, from Tontitown to Arkansas 112 and I-49 to Arkansas 265, would also be among the projects that would be funded. Cost estimates aren't available for those segments.
"It is very important for the continued development of our highway system. Period." Taldo said. "What we can do with that money in 10 years will take 30 or 40 years without it, and it will cost more."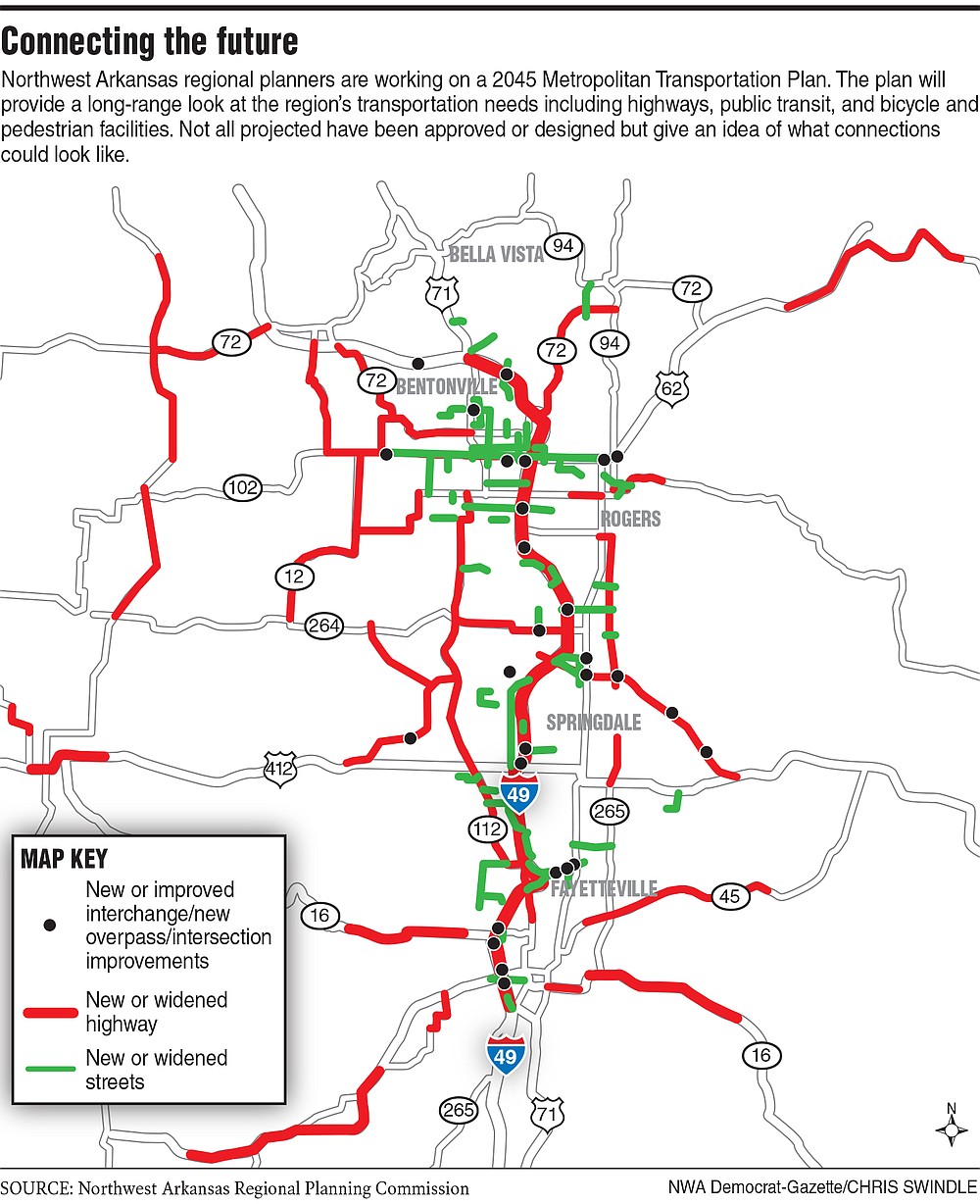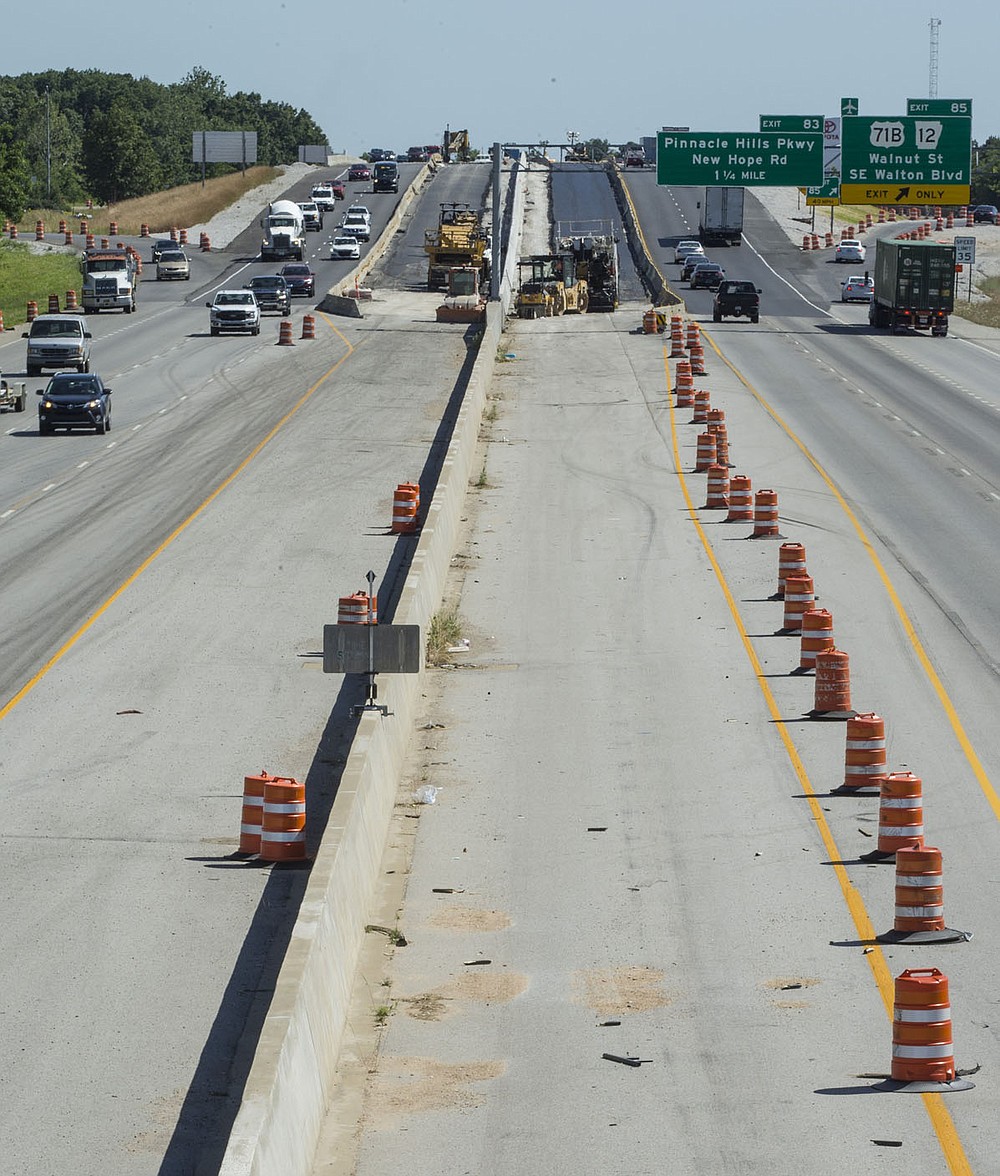 Traffic moves along Interstate 49 Thursday, June 11, 2020, on as construction continues on the new exit for West Walnut Street in Rogers. Go to nwaonline.com/200612Daily to see more photos. (NWA Democrat-Gazette/Ben Goff)
Traffic moves along Interstate 49 Thursday, June 11, 2020, on as construction continues on the new exit for West Walnut Street in Rogers. Go to nwaonline.com/200612Daily to see more photos. (NWA Democrat-Gazette/Ben Goff)
More News
Corridors
Increasingly, transportation agencies are recognizing the value of a corridor approach instead of looking at individual transportation projects on a piecemeal basis. A corridor approach takes a broad view of the interconnected factors that influence travel and enables more creative and collaborative approaches for addressing transportation problems. While, traditionally, corridor planning has often focused on improving the performance of an individual highway, increasingly, transportation planners view corridors as an interconnected network of facilities and services.
Source: Federal Highway Administration