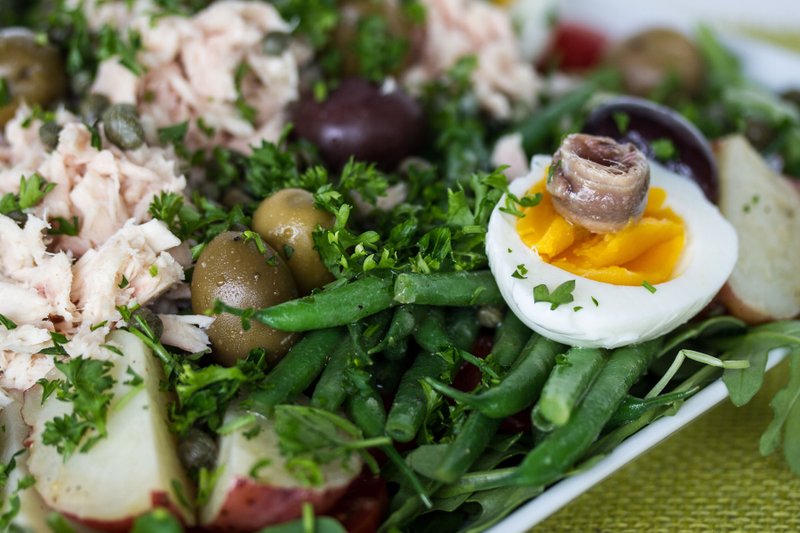 Salad Nicoise (Courtesy of Heidi's Bridge)
A week's worth of quick, healthful meals for budget-minded families
SUNDAY: Get out the slow cooker and relax with the family while Caramelized Onion Pot Roast (see recipe) is cooking. Serve the savory entree with mashed potatoes and green beans. Add a spinach salad and crusty bread. For dessert, Chocolate and Vanilla Swirl Pudding has a flavor for everyone. Mix ¼ cup sugar and 2 tablespoons cornstarch in a large bowl. Stir in 2 cups milk and ¼ cup frozen egg substitute (thawed). Microwave, uncovered, on 100% power for 5 minutes, stirring every 2 minutes, until mixture thickens and boils. Stir in 1 teaspoon butter and 1 teaspoon pure vanilla extract. Stir ¼ cup semisweet chocolate chips into 1 cup of the pudding until melted. Layer vanilla and chocolate puddings in parfait glasses or swirl in dessert dishes.
Plan ahead: Save enough pot roast and onions for Monday.
MONDAY: For a great Mamma Mia Sauce Over Spaghetti, add 1 to 2 cups chopped leftover beef and onions to a 16-ounce jar of tomato-based pasta sauce. Heat and serve over cooked spaghetti, along with mixed greens and garlic bread. Pears make a light dessert.
TUESDAY: Turkey Ranch Pie is kid-friendly. Heat oven to 400 degrees. Coat a 9-inch pie plate with cooking spray. Place 1 ½ cups chopped cooked turkey (or a 10-ounce can drained chicken breast) and 1 ½ cups frozen mixed vegetables in pie plate. Sprinkle with ½ cup shredded cheddar cheese. In a small bowl, blend ½ cup baking mix (such as Bisquick Heart Smart), 1 (1-ounce) packet ranch dressing mix, 1 cup milk and 2 lightly beaten eggs. Spoon over turkey mixture. Bake 33 to 38 minutes or until a knife inserted in center comes out clean. Cool 5 minutes and serve with celery boats with cream cheese and raisins and bread sticks. Slurp Fudgsicles for dessert.
WEDNESDAY: Serve this budget-pleasing Salad Nicoise (see recipe) tonight. Add a sliced avocado (with salt and pepper to taste) and sourdough bread. For dessert, fresh pineapple is refreshing.
THURSDAY: You'll have dinner on the table in no time with a frozen seafood entree. (Please pay attention to the sodium content, as with any frozen entree.) Add steamed fresh broccoli, a packaged green salad and whole-grain rolls to round out your meal. Peaches are a light dessert.
FRIDAY: Skip the meat for Vegetable "Jambalaya" (see recipe) tonight. Just before serving, sprinkle with red pepper sauce to jazz it up. Add a lettuce wedge and corn muffins (from a mix). For a simple dessert, plums are a good choice.
SATURDAY: Your family will welcome Honey Mustard Pork Tenderloin for dinner. Heat oven to 400 degrees. In a medium bowl, combine 2 tablespoons cider vinegar, 2 tablespoons light brown sugar, 1 tablespoon Dijon mustard and ¼ cup honey; mix well. In baking dish, coat 1 (1- to 1 ¼-pound) pork tenderloin with sauce. Bake 20 to 30 minutes, basting occasionally, until meat thermometer registers 145 degrees. Remove pork from oven, tent with foil and let stand 5 minutes. Slice and serve with packaged long-grain and wild rice, steamed fresh zucchini and dinner rolls. For dessert, Baked Bananas With Coconut Over Ice Cream is delicious: Heat oven to 375 degrees. Coat a 10-inch pie plate with cooking spray. Cut 6 medium bananas crosswise in half and then lengthwise in half. Place in pie plate. Dot bananas with 1 tablespoon cut-up butter. Drizzle with 1/3 cup fresh orange juice and 1 tablespoon fresh lemon juice. Sprinkle with ¼ cup packed light brown sugar and 2/3 cup shredded coconut. Bake uncovered 8 to 10 minutes or until coconut is golden. Spoon over vanilla ice cream for a double-yum dessert.
Tip: Honey will slide out of the measuring cup more easily if you first coat it with cooking spray.
THE RECIPES
Caramelized Onion Pot Roast
1 tablespoon canola oil
1 (3- to 3 ½-pound) boneless chuck (pot) roast, well trimmed
½ teaspoon coarse salt
½ teaspoon pepper
4 medium onions, sliced
1 ½ cups lower-sodium beef broth
¾ cup regular or nonalcoholic beer
2 tablespoons packed light brown sugar
3 tablespoons Dijon mustard
2 tablespoons cider vinegar
Heat oil in a large skillet on medium-high. Cook roast, turning once, 10 minutes or until browned on all sides. Sprinkle with salt and pepper. Place onions in a 4-quart or larger slow cooker. Place roast on onions. Mix broth, beer, sugar, Dijon mustard and cider vinegar; pour over roast and onions. Cover and cook on low 6 to 8 hours or until roast is tender. Remove roast and onions from cooker using slotted spoon. Cut roast into slices. Skim fat from juices in cooker. Serve roast with juice.
Makes 10 servings.
Nutrition information: Each serving contains approximately 261 calories, 29 g protein, 11 g fat, 9 g carbohydrate, 78 mg cholesterol, 307 mg sodium and 1 g fiber.
Carbohydrate choices: 0.5.
Salad Nicoise
6 small red potatoes or 12 fingerling potatoes, cooked, cooled and cut into ½-inch slices
1 pound green beans, trimmed, cooked, chilled and cut into 2-inch pieces
1 head Boston lettuce, separated into leaves or 5 cups loosely packed mixed greens
2 large tomatoes, cut into 8 wedges
5 hard-cooked, halved
2 (6-ounce) cans oil-packed albacore tuna, drained
4 anchovy fillets, rinsed and patted dry
½ cup pitted Nicoise or Kalamata olives
¼ cup minced fresh parsley
4 green onions, thinly sliced
2 tablespoons capers, drained
Coarse salt and pepper to taste
½ cup vinaigrette dressing
Place potatoes in a large bowl along with the green beans; gently mix. Arrange the lettuce on a platter. Place the potatoes and green beans on top of the greens along with the tomatoes, eggs, tuna and anchovies. Scatter over the top: olives, parsley, green onions, capers, salt and pepper. Drizzle with vinaigrette and serve. (Adapted from Joy of Cooking by Irma S. Rombauer, Marion Rombauer Becker, Ethan Becker, John Becker and Megan Scott)
Nutrition information: Each serving contains approximately 272 calories, 24 g protein, 12 g fat, 21 g carbohydrate, 182 mg cholesterol, 619 mg sodium and 5 g fiber.
Carbohydrate choices: 1.5.
Vegetable "Jambalaya"
1 tablespoon canola oil
1 large onion, coarsely chopped
1 medium green bell pepper, coarsely chopped
2 cloves garlic, minced
1 cup uncooked rice
1 (14-ounce) can unsalted vegetable broth
1 cup frozen corn
2 tablespoons less-sodium Worcestershire sauce
1/8 teaspoon cayenne pepper
1 (15-ounce) can rinsed reduced-sodium black-eyed peas
1 (14 ½-ounce) can no-salt-added stewed tomatoes, undrained
Heat oil in a large nonstick skillet over medium-high. Cook onion, bell pepper and garlic 6 minutes or until vegetables are softened; stir occasionally. Stir in rice. Cook 5 minutes, stirring occasionally, until rice is light golden. Stir in broth. Bring to a boil; reduce heat. Cover and simmer 15 minutes. Stir in corn, Worcestershire sauce, cayenne pepper, black-eyed peas and tomatoes. Cover and simmer 10 minutes or until vegetables and rice are tender. Serve warm.
Makes 7 cups.
Nutrition information: Each cup contains approximately 223 calories, 7 g protein, 2 g fat, 44 g carbohydrate, no cholesterol, 78 mg sodium and 5 g fiber.
Carbohydrate choices: 3
Susan Nicholson is an Atlanta-based cookbook author and registered dietitian. She can be reached by email:
Food on 06/03/2020
Print Headline: 7day menu planner
Sponsor Content
Comments