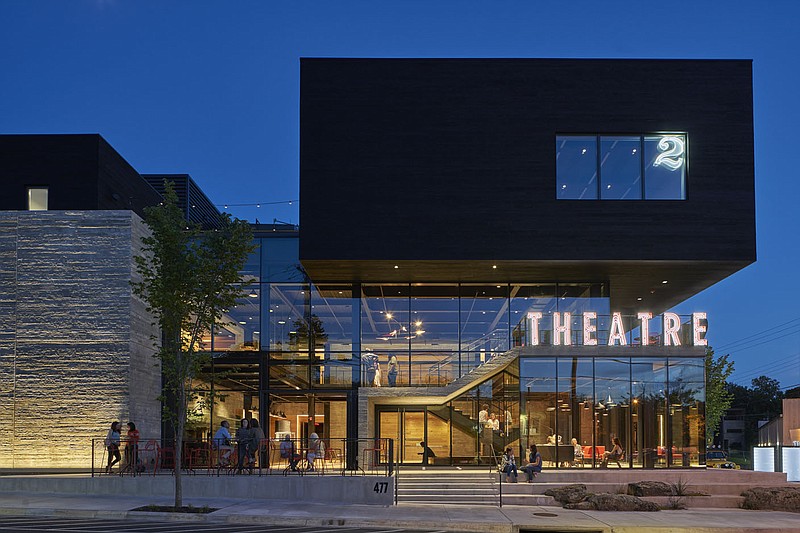 TheatreSquared's Arkansas New Play Fest will go on, despite the global pandemic. By tuning in to the streamed performances, audience members will be the first to see a host of new works. (Courtesy Photo)
Northwest Arkansas' TheatreSquared is finding new ways to stay connected with the community during the age of social distancing: The theater company will stream a live performance on Aug. 8 that will feature guitarist and Grammy Award-winner Larry Mitchell, U.S. Poet Laureate Joy Harjo and blues and folk musician Katie Martin.
"TheatreSquared is a nonprofit," says T2 Executive Director Martin Miller. "It's our job to give you a night to remember while building inclusion and human connection among members of our community. The pandemic may have stolen our favorite tools, but we're adding new ones to get the job done."
"As artists, we can offer our craft and let these sounds contribute to the collective consciousness of healing," notes Mitchell.
The concert — the first live event offered by the organization since the March shutdown — will be performed in T2's West Theatre and attended by a small group of audience members, all following appropriate social distancing precautions to prevent spread of the covid-19 virus. For the first time, T2 will be using its new multi-camera, high-definition broadcast system — "designed to echo the intimacy of a TheatreSquared performance" — so additional audience members across the globe can access the livestream for free, with a suggested donation to help support the theater.
"The concert is 'pay what you can,' and we invite anyone experiencing the financial difficulty of this crisis to stream it entirely free," says Miller. "For those who are able, we are grateful for a contribution toward the performance and to help us move our company and our region forward."
All three of the evening's performers are well established, internationally known artists, but Miller says a local connection brought them to the Northwest Arkansas region.
"Larry, Joy and Katie are longtime artistic collaborators," explains Miller. "Our friend and audience member, Sara Parnell, connected us."
Mitchell, a Grammy Award-winning producer, engineer and performer, has toured with an eclectic slate of artists including Tracy Chapman, Billy Squier, Ric Ocasek and Miguel Bose. Harjo, who is currently the chancellor of the Academy of American Poets, is a writer of the Muskogee (Creek) Nation and was the United States' Poet Laureate in 2019. She's written nine books of poetry, several plays and children's books and a memoir; and was awarded the Ruth Lily Prize for Lifetime Achievement from the Poetry Foundation and the Academy of American Poets Wallace Stevens Award, two NEA fellowships and a Guggenheim Fellowship. Martin has released multiple albums and has been performing her musical blend of blues, folk and soul across the Southeast since 2006.
"In conversation with Larry, he spoke about wanting to offer up their voices, hearts and words to help bring the community together," says Miller. "That felt like just the right note to strike as we take our first small steps towards a return to in-person performances."
FAQ
In Concert:
Larry Mitchell, Joy Harjo & Katie Martin in Concert at T2
WHEN — 7 p.m. Aug. 8 WHERE — The concert will stream live from T2's West Theatre COST — Free, with a suggested donation to support the theater INFO — 777- 7477 or visit theatre2.org
Sponsor Content
Comments