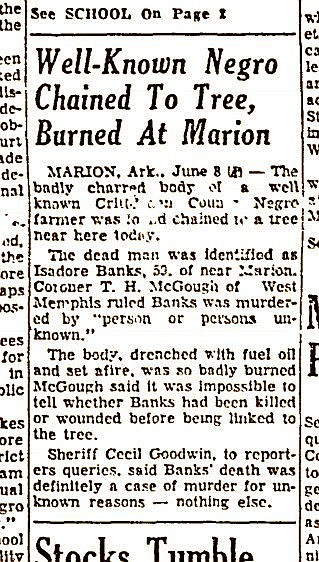 A newspaper clipping from the Arkansas Democrat on June 9, 1954, shows The Associated Press article about the lynching of Isadore Banks. (Arkansas Democrat-Gazette)
Fourteen months and 23 days before 14-year-old Emmet Louis Till was lynched in Money, Miss., accused of somehow offending a white woman, a prominent Black farmer and entrepreneur met a similar fate 135 miles away in Marion, a small Delta town on the eastern edge of Arkansas.
Till might have lived to celebrate his 79th birthday on July 25 had he not traveled from Chicago to Mississippi to see his uncle. Some say Isadore Banks, the 59-year-old Arkansan, had also been accused of messing with the wrong woman. Others say he was just too successful for a Black man in the Jim Crow South, a threat to the white establishment.
The story of Isadore Banks almost slipped through the cracks of history, hushed by the fear of retaliation, with constant reminders often strung up in trees or from utility poles that white supremacy was still the rule of law. It has been told occasionally through the years, but never quite like this.
Banks' story is the subject of an excellent new podcast titled "Unfinished: Deep South," painstakingly researched and deftly reported by Brooklyn-based Taylor Hom, a documentary filmmaker and writer, and her partner, print journalist Neil Shea, who set out to finally answer the 66-year-old question: Who lynched Isadore Banks?
Hom introduces the podcast in the first episode, published June 28: "In 1954, in a tiny Arkansas town on the Mississippi River, the hero for many was a man named Isadore Banks. He was well over 6 feet tall, weighed nearly 300 pounds. He was strong, quick and handsome. Isadore had served in World War I. He owned hundreds of acres of farmland, and he'd become really, really rich ...
"This is the story of Isadore Banks. It's a story about land, love and a very old kind of hatred. And it's about how one African-American man's legacy vanished when he was killed in a most American way."
Although Banks' killing certainly appeared to be a lynching, then Crittenden County Sheriff and Tax Assessor Cecil Goodwin refused to designate it as one, denying after a short investigation that the crime was racially motivated.
Then what was it? Hom and Shea spent 2 ½ years trying to find out.
-- Jerry McLeod
Arkansas Democrat-Gazette
More News
Go Online!
'Unfinished: Deep South'
Listen to the podcast trailer here:
arkansasonline.com/728Isadore/
Learn more about the podcast at
Isadorebanks.com
Sponsor Content
Comments