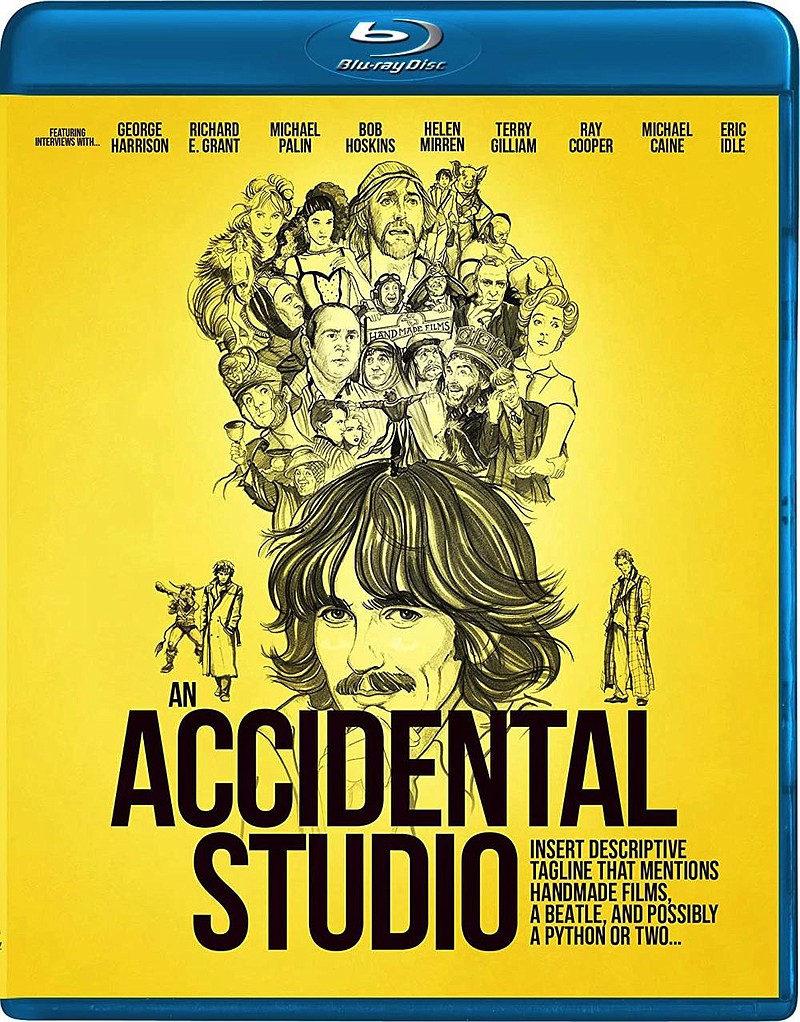 An Accidental Studio
"An Accidental Studio"
directed by Bill Jones, Kim Leggatt, and Ben Timlett
(TV-PG, 1 hour, 34 minutes)
A riveting if somewhat stitched-together documentary, laden with archived footage, that charts the early years of HandMade Films, known for making and releasing offbeat films (among them "Life of Brian," "Time Bandits," "Mona Lisa," "The Long Good Friday") that no other studio would touch, as seen from the viewpoint of the filmmakers as well as the man who started it all: former Beatle George Harrison.
The emphasis is on how the studio, through the power and fame of Harrison, endeavored to hang on to its integrity while giving filmmakers the opportunity to make the most of their visions.
Some of the time it succeeded, creating some of Britain's most interesting films.
With Ray Cooper, Michael Palin, Terry Gilliam, John Cleese, Terry Jones.
"End of Sentence" (not rated, 1 hour, 36 minutes) This gentle yet emotion-laden drama from Icelandic filmmaker Elfar Adalsteins suffers from some lurches in pacing as it follows widowed Frank Fogle (John Hawkes) as he reluctantly embarks on a journey to honor his wife's last wish of spreading her ashes in a remote lake in her native Ireland in the unwilling company of his his estranged ex-con son Sean (Logan Lerman).
With Sarah Bolger, Andrea Irvine.
"L'innocente" (R, 1 hour, 52 minutes) Released in 1976, the last film made by Italian director Luchino Visconti is based on the novel "The Intruder" by Gabriele d'Annunzio, is set in the late 19th century and stars Giancarlo Giannini as a wealthy, jaded and married Roman aristocrat who neglects his wife (Laura Antonelli), in favor of his possessive, bossy mistress, a widowed countess played by Jennifer O'Neill. But then the wife begins a torrid affair with a young novelist (allegedly based on d'Annunzio himself).
While "L'Innocente" feels a little civilized and genteel compared to Visconti's best work (see Burt Lancaster in "The Leopard"), his sense of style is as strong as ever, even though he reportedly directed the film from a wheelchair.
By turns lavish, sexy and occasionally wonderfully silly, this is a beautifully made melodrama that can be read as a withering self-critique of male vanity and aristocratic angst.
Shot on location the Villa Mirafiori in Rome, the Villa Butori in Lucca and the Villa Bellosguardo nearby.
"Gundala" (not rated, 2 hours, 3 minutes) Set in Jakarta, a city rife with corruption, this action-crammed adventure, loaded with fight choreography, concerns Sancaka, a security guard at a printing factory who was once an abandoned street urchin with an irrational fear of lightning, who gains superpowers after being struck by the very thing he fears most and battles a cruelly sadistic crime boss named Pengkor and his squad of orphan assassins.
With Abimana Aryasatya, Tara Basro, Ario Bayu; co-written and directed by Joko Anwar.
"Well Groomed" (not rated, 1 hour, 28 minutes) For fans of dog shows who think that Westminster is the best they can do, consider "Well Groomed," a funny, goofy, bizarre documentary about the wacky world of competitive creative dog grooming. This isn't like any canine competition you've ever seen before. Follow four champion groomers and their gorgeous, vibrant dogs through a year in the life on the technicolor competition circuit, exploring their unique creative process. Directed by Rebecca Stern.
"You Don't Nomi" (not rated, 1 hour, 32 minutes) Filmgoers may remember Paul Verhoeven's notorious 1995 film "Showgirls," considered by many critics to be one of the more notable flops in movie history. Since then it has redeemed itself and somehow acquired a cult following.
This analytical documentary explores why. With Adam Nayman, April Kidwell, and archive interviews with the cast and crew of "Showgirls"; directed by Jeffrey McHale.
"Fisherman's Friends" (PG-13, 1 hour, 52 minutes) An uncomplicated kind-natured comedy in which a London music producer is tricked by his boss into signing a loosely organized band of pop-singing fishermen from a remote Cornish village, which leads him to consider what success really means.
With Daniel Mays, Noel Clarke, Tuppence Middleton; directed by Chris Foggin.
Sponsor Content
Comments