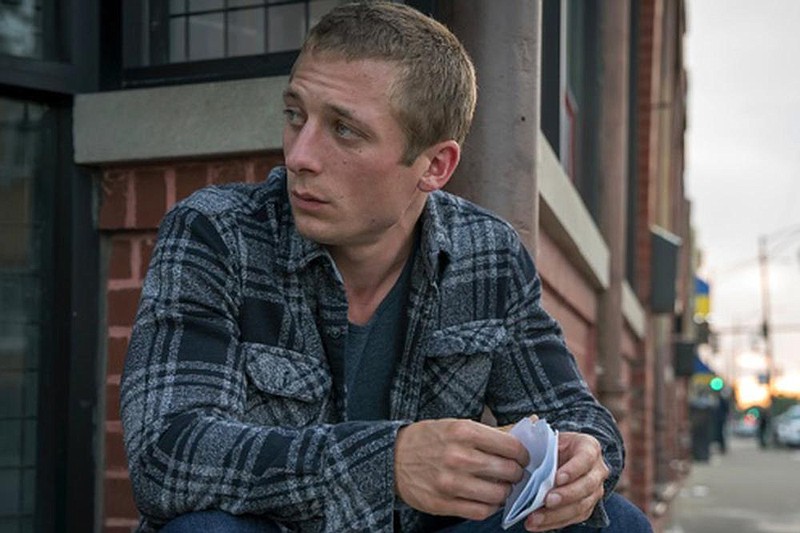 Jeremy Allen White played the brilliant but feckless Philip "Lip" Gallagher in Showtime's "Shameless" for 10 seasons.
In the new thriller "Rental," Jeremy Allen White plays Josh, the sort of decision maker that Bruce Campbell played in the "Evil Dead" series. If there is a door that should be left locked, Josh will try to get it open. The actor says there are reasons for Josh's soon-to-be-regrettable actions.
"Chaos seems to follow him, or he follows the chaos. I don't know which one it is necessarily, but I think he's a bit of a tragic figure. Tragedy seems to follow," White says by phone.
"His girlfriend is way out of his league, and I think he's aware of it and he's quite insecure about it. Between him and Charlie (Dan Stevens, "Downton Abbey," "Eurovision Song Contest: The Fire Saga Story"), I think he's always wanted a kind of praise and acceptance from his older brother. As I'm sure you know, a lot of younger siblings want that from their older siblings, and I don't think he ever got it."
He adds, "It's a difficult space to exist in, you know."
TWO WORLDS
Making the human relationships work is essential for a movie with minimal special effects. To an outsider, it would seem somewhat challenging because White hails from Brooklyn, and Stevens is English. Both are supposed to be residents of the San Francisco Bay area.
"Maybe we should have spent more time on that," White admits. "You know I feel like while I grew up in Brooklyn, my accent only comes out very rarely. I find like I'd work too much on an accent for Josh that's very different from my own. I think it's just to me [that] it sounds kind of standard. For Dan, I think it was pretty easy for him -- I think he sounded great. He's classically trained, and I think you know he's capable of many an accent."
"The Rental" concerns an oceanside Airbnb property that seems ideal for a short vacation. Unfortunately, sibling and romantic rivalries, a dose of Molly (MDMA) and a sleazy, racist caretaker (Toby Huss) endanger the fun.
The creepy proprietor might not even be necessary for trouble because Josh's girlfriend Mia (Sheila Vand, "A Girl Walks Home Alone at Night") just happens to be Charlie's business partner, and Charlie's girlfriend Michelle (Alison Brie, "Mad Men," "Glow") is also along for the trip.
There are some conflicts that great scenery can't fix.
Asked how his own experiences with rental houses have gone, White laughs, "I've been asked this question a lot, and I wish I had a better story. For this trip, the production through Airbnb got this little beach house in Bandon, Ore., for me and my family to stay in. It was kind of a weird separation. I was in this beach cottage with my wife and my then-6-month-old daughter. And then I was doing nights in this big scary house where there were masked men and blood and backstabbing. There couldn't have been two more different experiences in Airbnbs happening. My experience with my family could have been an Airbnb commercial. It was funny bouncing back and forth between those worlds.
"It's a beautiful house, but you might want to turn away if Toby Huss shows up to show you in."
If White has a commercial for his own services, it's probably the 122 episodes he has appeared in for the Showtime series "Shameless," where he plays the ineffectual genius Lip Gallagher.
When questioned about what it was like to play a new role after having played the same part for so long, he jokes that it's only a hundred and then elaborates, "It's been the experience of a lifetime I think getting to play the character for 10-plus years. Not many actors get the opportunity. It's kind of an amazing thing because you kind of get to grow and change and learn with the characters. You're learning yourself, and there's an open endedness to it. ...
"I don't know where Lip Gallagher's period is. I don't know when it ends for him. So, there's like a freedom in that, but then when you approach a movie script, there's something really nice about the lack of freedom. You've got the beginning, and you've got the end. This is the world that you're playing in. There is something kind of ... nice about knowing exactly where your character is headed. I think maybe sometimes you can make stronger choices because you know everything."
THE JOY OF UNCERTAINTY
One fan was fellow actor Dave Franco, who makes his directing debut with "The Rental." While Franco may have been working with friends and family on the modestly budgeted film (Brie is his wife), White landed the job through a cold inquiry.
"I was surprised," he says. "I've never met Dave Franco, so it was a funny email to get, but he wrote a really very kind note. And then, we got together ... several times. I saw who was involved, and I was just a fan of everybody who was involved. I read the script (by Franco and Joe Swanberg) and I really enjoyed [it]. And then Dave and I got together and kind of just talked about movies over a couple of lunches and really liked one another."
In the movies and TV shows Swanberg has directed ("Drinking Buddies," "Happy Christmas," "Easy"), the actors often improvise much of the material. For "The Rental," however, White says that what shows up on screen was planned.
"I've never done improvisation work on that level before, and it's very frightening to me. So, I was relieved to hear that we were pretty much sticking to what was on the page," he recalls.
When "The Rental" opened last week, it earned a 73% approval rating on Rotten Tomatoes, and it holds the distinction of being the second film to lead the box office while also topping the VOD charts on the same weekend. The first was "Trolls World Tour." Covid-19 has altered the entertainment market permanently.
If his current experience has been happy, he is also featured in the reviled comedy "Movie 43" and the more successful Amazon Prime series "Homecoming." White says that sometimes happy sets like the one in "Movie 43" can result in unhappy viewing and vice versa.
"I saw the finished project, and obviously the Farrelly brothers are very talented guys," he says. "Whatever happens, we missed the plot on that one. I'm happy that people seem to be liking 'Rental' for sure. I mean there is no true rhyme or reason, you know. In everything I've done, I never know exactly what to expect, no matter [if] my experience is good or bad. You just don't know what the final product is going to look like."
Sponsor Content
Comments