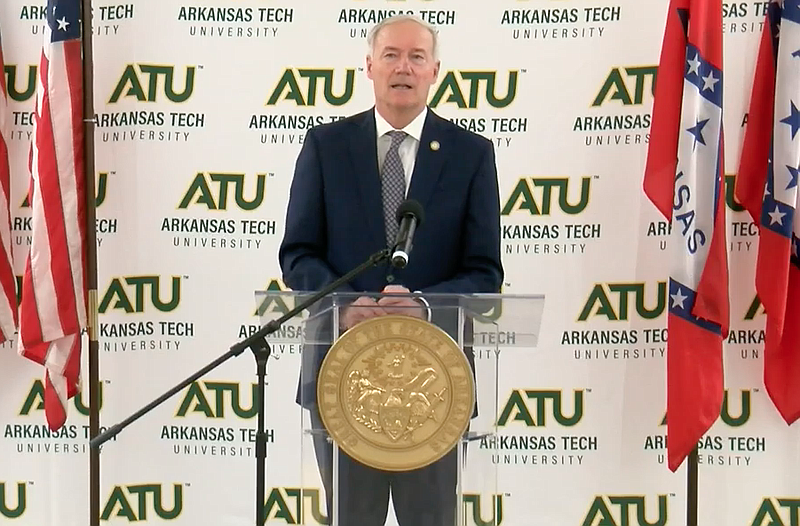 Gov. Asa Hutchinson speaks to reporters in Russellville on Wednesday in this still taken from video provided by the governor's office.
Arkansas recorded 787 new cases of covid-19 Wednesday, Gov. Asa Hutchinson said, including 170 cases in correctional facilities, the largest jump among inmates in several weeks.
Six more Arkansans also died of the virus, bringing the toll to 434.
The majority of the new correctional cases, 145, were in Chicot County, state epidemiologist Jennifer Dillaha said. Neither she nor Hutchinson named the facility where the outbreak occurred, but the Delta Regional Unit state prison is located in the county.
The number of patients hospitalized statewide increased by seven to 508, Dillaha said. The number on a ventilator increased by two to 108.
The total number of covid-19 cases since the pandemic began hit 40,968. Of those, Dillaha said 6,596 are active, including 80 in nursing homes, 342 in correctional facilities and 6,174 in the general population.
Hutchinson said counties aside from Chicot with the highest numbers of new cases included Pulaski County with 82, Sebastian with 43, Benton with 33, Little River with 30, Craighead with 24, Mississippi with 22 and Washington with 22.
According to the governor, 4,519 tests were performed in the previous 24 hours, a figure below what he said he would like to see. The number of tests performed at commercial labs continued to be lower than desired, Hutchinson said, an ongoing issue as rising cases nationwide have strained the labs' resources.
Hutchinson said he was told by White House officials on Tuesday that testing at commercial labs should ramp up in August, and he said he hopes Arkansas shares in any improvements.
EARLIER:
Gov. Asa Hutchinson and state health officials will provide an update on Arkansas' covid-19 response from Russellville at 1:30 p.m.
The total number of coronavirus cases reported in Arkansas remained at 40,181 Wednesday morning, according to a state website. The death toll remained at 428.
Check back to watch the live video.
[Video not showing up above? Click here to view » https://www.youtube.com/watch?v=Id2a23ihu4U]
Sponsor Content
Comments