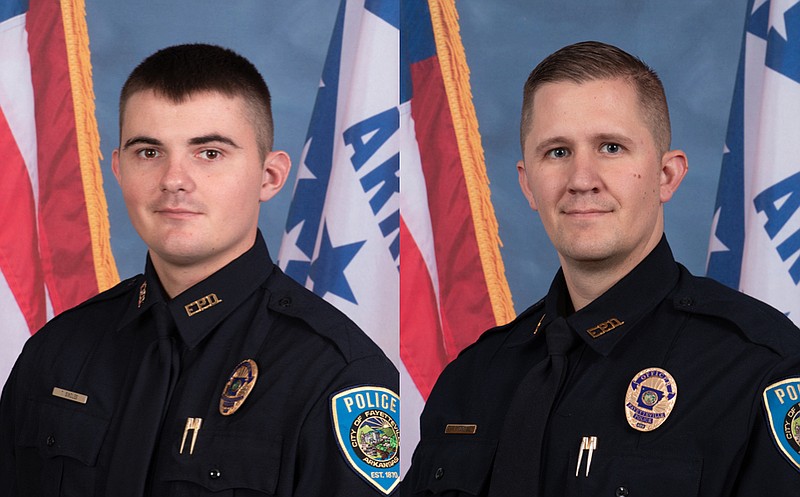 FAYETTEVILLE -- Police identified the two officers involved in an incident Monday night in which one officer shot a man in the leg.
The officer who fired his weapon was Kyle Jeney, according to a news release from the Police Department. Jeney has been with the department for 3 1/2 years. The second officer was identified as Wyatt Rublee, who has been with the department for 1 1/2 years.
Jeney has been placed on paid administrative leave while the shooting is under investigation by the Washington County Sheriff's Office.
[Don't see the video above? Click here to watch: https://www.facebook.com/watch/?v=732330164252273]
In a separate news release, the Sheriff's Office said Tuesday the investigation is continuing, but released video from one of the officer's body camera.
The officers were sent to 1337 S. Splash Drive about 7 p.m. on a report of a man who was suicidal, according to the Sheriff's Office. Joshua Myers, 31, had taken a large amount of seizure medications, according to the report.
Myers left through the back door when the officers approached the house. Myers was carrying a rifle, which he pointed at the officers, according to the release.
Jeney fired two rounds, hitting Myers once in the left thigh. Myers was handcuffed and the officers applied a tourniquet until paramedics arrived. Myers was taken to Washington Regional Medical Center.
Myers was carrying a Tippman 98 paintball rifle, according to police.
Sponsor Content
Comments