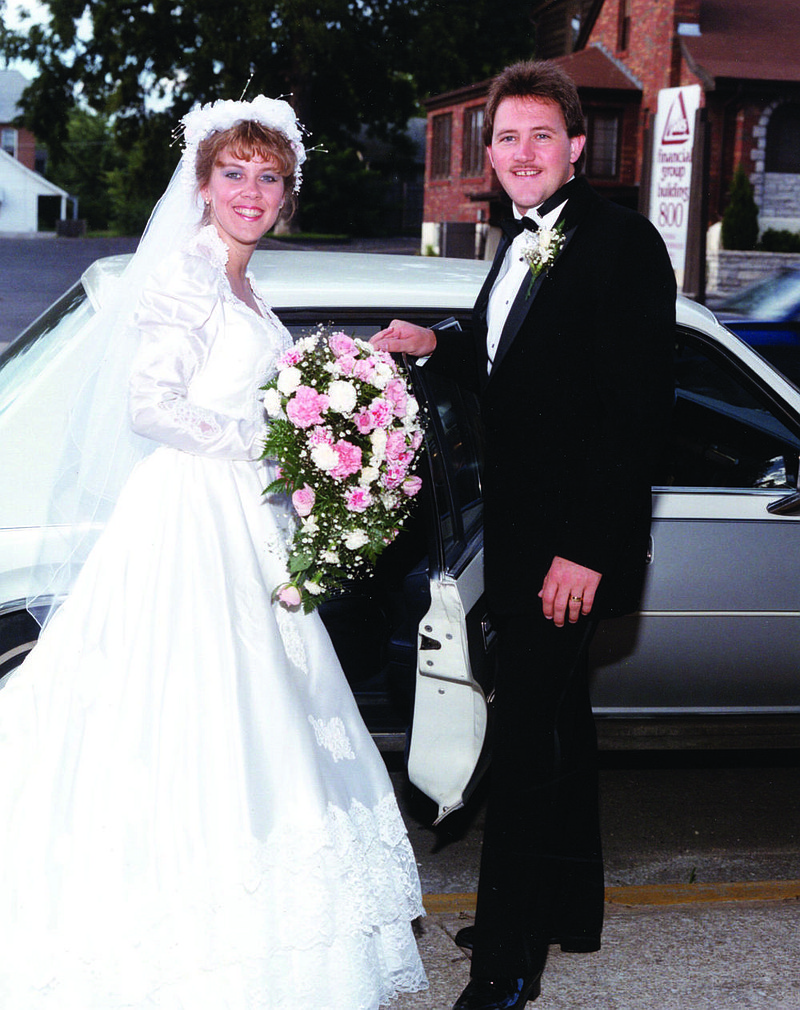 Lesley Peters and Tony Cooper were married on July 11, 1987. They met while they were studying radio/television at Arkansas State University at Jonesboro. She told him she didn't date guys with beards, and he shaved it off. "She was the catalyst that got that done," he says. (Special to the Democrat-Gazette)
Lesley Peters didn't like Tony Cooper ... until she did. When he shaved his beard for her, she knew the feeling was mutual.
Lesley and Tony, both radio/television majors at Arkansas State University at Jonesboro, had their first class together in 1983.
"He actually had me pass a note one time in class to a girl he was dating because I sat in the row between them," Lesley says.
She wasn't his biggest fan.
"He called all the girls, 'Babe,' probably because he couldn't remember their names," she says. "I thought he was a big jerk."
Their class required them to write, produce and direct their own TV shows, with people in the class serving as their crew. They also did a televised newscast two or three times each week.
"He was really good at lighting and running the camera, so I had him do my lighting for my television show," Lesley says. "I was the technical director for the newscast. And we started, I guess, flirting back and forth and everything and talking."
Lesley didn't particularly care for the fact that he was "trying to date his way through a whole sorority system." She didn't like his beard, either, and when he flirtatiously asked her about who she dated, she more or less told him so.
"I said, 'Well, I don't date guys with beards,'" she says. "That was a Friday, and then the next Monday, he came back to class and didn't have his beard."
Tony says he had considered shaving it off before that but her comment was the catalyst for his actually doing it.
After the newscast that Monday, they walked to the cafeteria for dinner.
"They were serving white beans and ham hocks. It was not a thing that they did well," she says. "I looked at him and I said, 'I can't eat this.' And he said, 'I can't either. You want to go to Rax?'"
"She ate her fries and half of my fries," Tony says.
"Well, he wouldn't eat anything," Lesley insists.
That wasn't an official date, though, she says.
When he dropped her off afterward, she joked it was "time for the second shift"; she was going into the dorm to change so she would be ready in time for a date with another guy later that night.
But she and Tony got to know each other a little more over the next weeks, learning they were both the oldest of three, both Methodist and had similar backgrounds, goals and values.
Lesley, sitting with her friend in the cafeteria, pointed Tony out and declared she was going to marry him.
"She's like, 'Oh, you guys are dating?' and I said, 'No, but I'm going to marry him,'" Lesley says.
Their first date was in December 1985, on her 21st birthday.
Tony proposed three months later, in March 1986.
"We were in my dorm room watching, I think, "Miami Vice" on this tiny little 10-inch black and white TV set on two milk crates. I got up to change the channel and as my back was to him he said, 'Marry me,'" she says. "I said, 'Well if you ask me the right way next time, I might say yes."
Tony graduated from ASU in May 1986 and moved to Little Rock to start his new job. The fact that they would marry was, by then, unspoken but understood. They went together to a jewelry store with a drawing of the engagement ring Lesley wanted. They chose a princess setting, a nod to Tony's pet name for Lesley.
"A long time before we even got engaged, she made a comment about rings and hand sizes and shapes, and some rings don't fit some women's hands, and you've got to have the right shape," Tony says. "I knew this just went beyond what I could do on my own, so she was going to have to be involved."
He gave the ring to her in September 1986 after an early dinner at a steak restaurant in Paragould.
They were married on July 11, 1987, at Lesley's home church in St. Charles, Mo., shortly after she graduated from college.
Their reception included a sit-down dinner -- with the customary-for-the-area mostaccioli, chicken and roast beef -- followed by dancing, which Tony says was probably a foreign concept to his parents. They were more familiar with simpler receptions that featured mints, nuts, cake and punch, he says.
Lesley's mother had planned the wedding while Lesley finished her senior year of college. She had ordered lace from Italy to make Lesley's veil, and Lesley kept the pearls that were left from the project. A few years ago she sewed those onto her niece's wedding veil.
After helping to plan her niece's wedding, Lesley started a wedding and event planning business, Bliss Events, as an extension to her graphic design business, Cooper Design. Tony is a pharmaceutical sales specialist with AstraZeneca.
They have two sons, Cory Cooper of Dallas and Brett Cooper of Little Rock.
Lesley still remembers her excitement on their wedding day.
"I couldn't wait to get down the aisle and marry him," she says.
If you have an interesting how-we-met story or if you know someone who does, please call (501) 425-7228 or email:
More News
The first time I saw my future spouse:
She says: "I thought he was a jerk."
He says: "I thought she was super cute."
On our wedding day:
She says: "I was just so tired of waiting — I couldn't wait to get married."
He says: "I remember we walked into the reception room together and stopped to talk to someone and I looked up and she was halfway down the buffet line."
My advice for a long happy marriage:
She says: "Always put each other first and always make decisions together, especially about your children."
He says: "Communicate."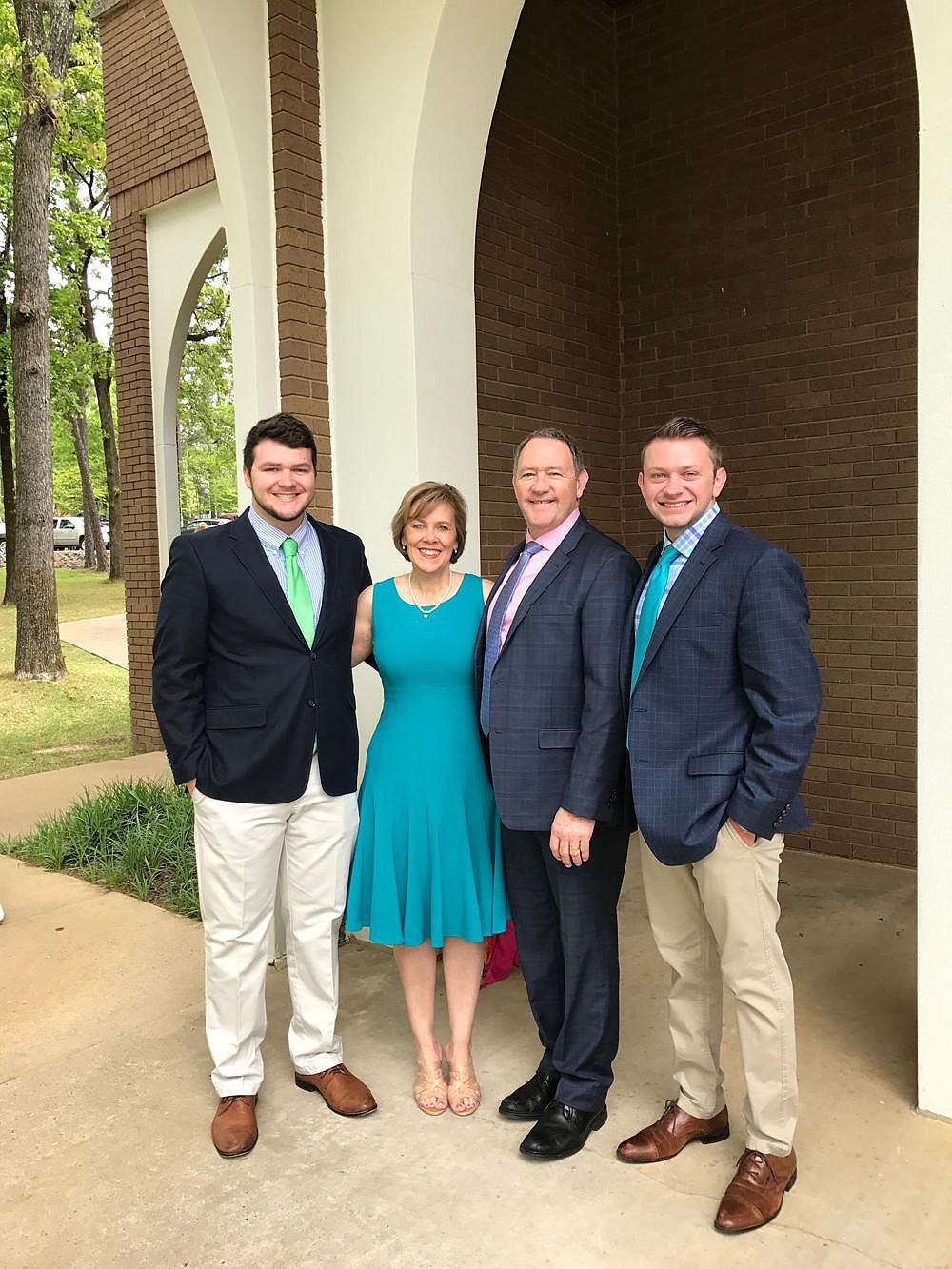 Lesley and Tony Cooper, pictured with their sons Brett (left) and Cory (right), didn't fall in love at first sight. One of their earliest encounters involved him asking her to pass a note to one of his girlfriends in class. But she reckoned before their first date that she might marry him one day — and she did, about two years later. "I couldn't wait to get down the aisle and marry him," she says. (Special to the Democrat-Gazette)
Sponsor Content
Comments