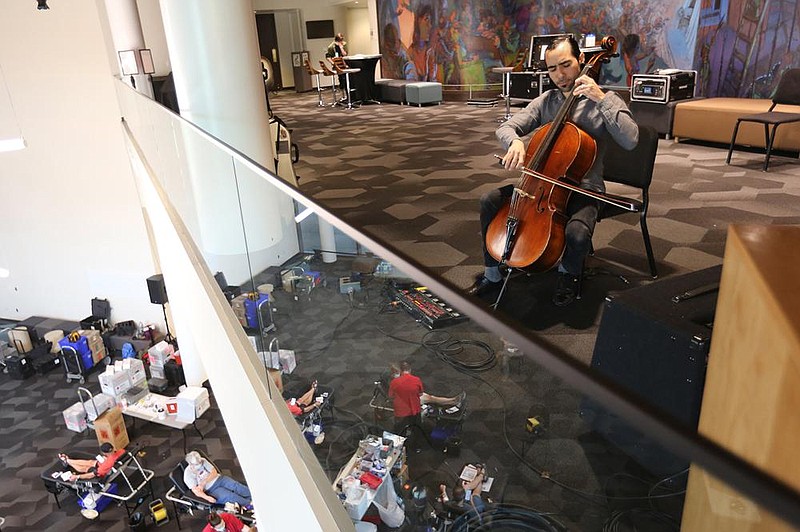 Musician Christian Serrano plays the cello Wednesday, July 29, 2020, for donors during a Red Cross Blood Drive hosted by the Walton Arts Center in Fayetteville. Music over the two day blood drive included recorded performances from VoiceJam and the Artosphere Festival Orchestra, singer/songwriter Candy Lee, Beth Stockdell, Miho Sakon, Tomoko Kashiwagi and Serrano. The American Red Cross is now testing all blood, platelet and plasma donations for covid-19 antibodies, which can provide donors insight into whether they may have been exposed to this coronavirus, regardless of whether they developed symptoms. Check out nwaonline.com/200730Daily/ and nwadg.com/photos for a photo gallery. (NWA Democrat-Gazette/David Gottschalk)
The Walton Arts Center in Fayetteville already hosts several blood drives a year. But before covid-19 shut everything down — including many donation drives leading to alarmingly low levels of reserve blood during the pandemic crisis — programmers at the WAC couldn't have known how badly their already scheduled May blood drive would be needed.
"We had a goal for the May blood drive of 25 units, and that is based on what we've done previously," shares Jennifer Wilson, WAC public relations director. "We ended up collecting 37 units and, according to the Red Cross, that helped save 111 lives. And that's in one day."
When the opportunity presented itself to help the community through another drive and "bring a little life back to the building," says Jennifer Ross, director of programming, organizers also wanted to take the chance to help put a few local musicians back to work, even if in a nontraditional space.
"I'm glad that we're able to do this in this time of intermission," Ross says of the WAC's temporary programming freeze in response to covid-19. "I'm glad that the local musicians are willing to come out and play in these alternative playing opportunities. It's a little weird to be playing separate from the audience, but so far, everyone that I've spoken with is excited about it and looking forward to the opportunity to perform."
In May, the WAC brought two musicians to perform throughout the duration of the drive from the balcony in the Walker Atrium, as those donating were spread out with appropriate distance between them on the first floor. On July 28 and 29, WAC's next drive has been expanded to two days, with four periods of live performance and screenings of the best of the Artosphere Festival Orchestra during other times.
"The way the new Walton Arts Center is set up now is beautiful, and I think it will work nicely to have that blanket of sound come down over everybody," muses harpist Beth Stockdell, performing during the drive on July 28.
Stockdell worked in therapeutic music for 10 years and, though she says she never envisioned herself performing during a blood drive event, the concept aligns closely with her goals of using music to help others. Plus, she adds, musicians are struggling in the wake of having most, if not all, of their gigs canceled, so having somewhere to perform is a happy occasion.
"So, if someone is tense, or they're panting breathing, you can start playing at that breathing tempo and then bring your tempo down and they will relax; they will match with the music," Stockdell demonstrates of music's therapeutic abilities. "It's really powerful. And it's so unconscious. People don't realize that it's happening, but it does."
"We're probably going to choose pieces that are more like on the relaxing side," pianist Tomoko Kashiwagi agrees. Kashiwagi will perform during the 10:30 a.m. slot on July 28 with fellow Symphony of Northwest Arkansas member violinist Miho Sakon.
"We're hoping it's going to be either relaxing or exciting enough to help with donating the blood quickly and painlessly," she adds with a laugh.
As colleagues through SoNA and friends besides, Sakon says she and Kashiwagi have many opportunities to collaborate together and have a rich repertoire to pull from.
"So, we know even with a little bit of distance between each other, it will work," Sakon says of the appropriate distancing that will happen between her partner and herself.
As of publication deadline, very limited reservations remained for both days. The performers for the July 29 slots are cellist Christian Serrano-Torres and singer/songwriter Candy Lee.
All donations will also be screened for covid-19 antibodies, which can provide donors insight into whether they may have been exposed to this coronavirus, regardless of whether they developed symptoms. Donors can expect to receive the results of their antibody test within seven to 10 days through the Red Cross Blood Donor App or on the donor portal at redcrossblood.org.
FAQ
Blood Drive
Supporting
American Red Cross
WHEN — 10 a.m.-3 p.m. July 28-29 WHERE — Walton Arts Center in
Fayetteville COST — Free INFO — 443-5600,
Sponsor Content
Comments