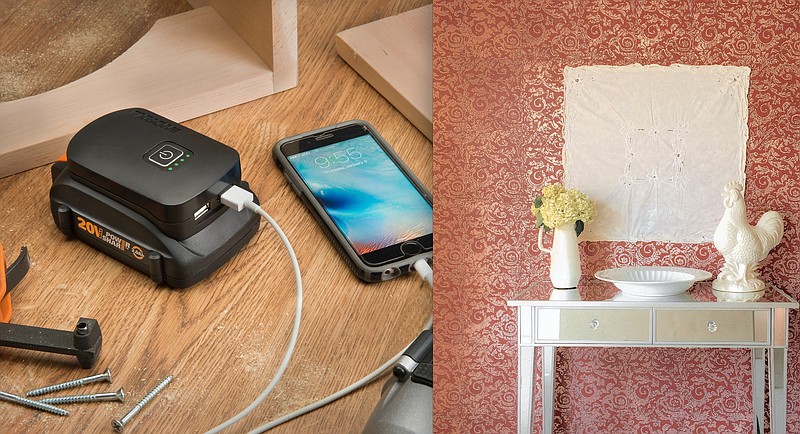 WORX 20V USB Charger Adapter and The Original Wall Stamp
The Original Wall Stamp
What's to love: A clever way for the do-it-yourselfer to spruce up walls.
What does it do: These large stamps come in seven classic designs to decorate walls but the stamps can also be used on other surfaces such as floors or furniture. They are translucent to help with placement and have a built-in level to make sure patterns are kept straight. To create patterns on a wall, roll paint onto the stamp, press on the wall and peel off the stamp. There are how-to videos on the website at originalwallstamp.com. Prices vary by pattern.
WORX 20V USB Charger Adapter
What's to love: For fans of the WORX cordless tools, this adapter will turn WORX 20-volt batteries into chargers for small electronics including cellphones and laptops.
What does it do: The adapter is made of high-impact resin and uses a tongue-
and-groove connection to connect with a WORX battery. It is compatible with the 20-volt 1.5, 2.0 and 4.0 Ah batteries and has two USB ports. The adapter (sold without the battery) sells for $19.99. More information is available at WORX.com.
— Cary Jenkins
Sponsor Content
Comments