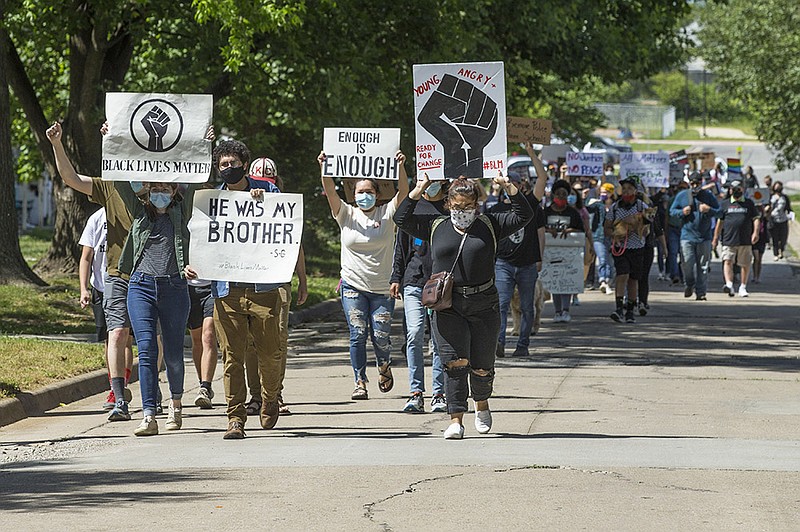 Protesters march Wednesday, June 10, 2020, on North 3rd Street during a Black Lives Matter protest in Rogers. The march began at the Rogers Activity Center and ended at Rogers city hall. (NWA Democrat-Gazette/Ben Goff)
SPRINGDALE – Regional business and community leaders pledged Monday to address systematic racism in the area.
The Northwest Arkansas Council and EngageNWA jointly announced the pledge initiative at its semiannual membership meeting. The meeting was held online because of the ongoing covid-19 pandemic.
Organizations in Northwest Arkansas are encouraged to adopt the pledge and publicly display the language inside their businesses and online to foster a welcoming environment for customers, employees and partners. Organizations can sign on to support the pledge by visiting nwacouncil.org/pledge.
The council also announced goals for a regional arts advocacy group it established last year to aid the local arts economy.
EngageNWA is a nonprofit group encouraging acceptance of the region's increasingly diverse population.
"In the aftermath of the senseless killings of George Floyd and so many other Black lives throughout the country by law enforcement, the council led discussions on how to work together to foster a more welcoming region," said Nelson Peacock, president and CEO of the Northwest Arkansas Council.
"This pledge represents a commitment from Northwest Arkansas business, education, nonprofit and community leaders to take specific actions that will further those efforts."
Floyd, 46, died May 25 in Minneapolis. His last moments were caught on video. Minneapolis police officer Derek Chauvin held Floyd to the ground by kneeling on his neck for almost nine minutes despite entreaties by bystanders and Floyd's saying "I can't breathe."
Chauvin was later charged with second-degree murder. Fellow Minneapolis officers Thomas Lane, J. Alexander Kueng, and Tou Thao, are now charged with aiding and abetting second-degree murder and aiding and abetting second-degree manslaughter.
Floyd's death led to Black Lives Matter protests throughout the United States.
"We support locally what we are committed to globally – doing our part to achieve greater equity and justice for everyone," said Doug McMillon, president and CEO at Walmart. "We appreciate how the Northwest Arkansas community is working toward growing closer and more united, that together we are confronting the corrosive power of racism in a way we have never done before, and that we are setting an even higher bar for ourselves to be more inclusive – not just accepting our region's differences, but celebrating them, every day."
Sponsor Content
Comments