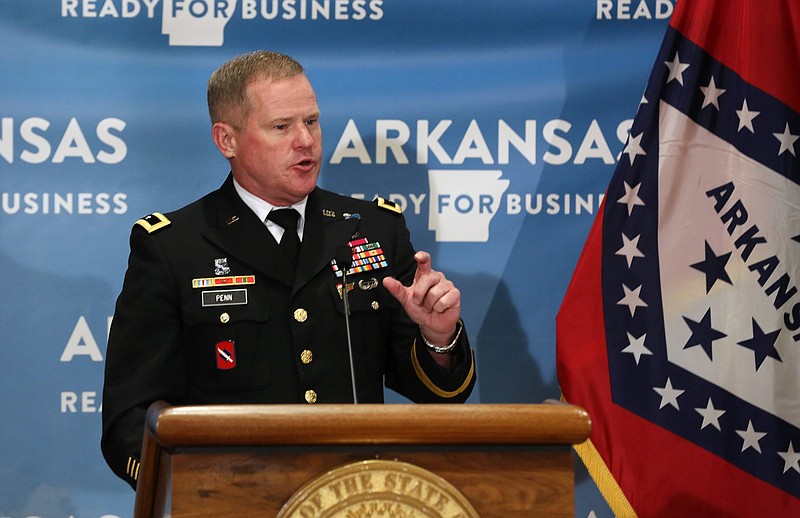 Maj. Gen. Kendall Penn, Adjutant General of the Arkansas National Guard explains why the upcoming National Guard training has been cancelled during the daily covid-19 briefing on Wednesday, July 1, 2020, at the state Capitol in Little Rock. See more photos at www.arkansasonline.com/72briefing/ (Arkansas Democrat-Gazette/Thomas Metthe)
An inability to provide coronavirus testing for each of the 4,000 or so guardsmen who were to report for training at Fort Chaffee on July 4 prompted Gov. Asa Hutchinson to cancel the exercises.
The Exportable Combat Training Capability was not taking place because "the federal rules did not allow testing for each guardsman," Hutchinson said at a news conference before training was set to start.
The annual training was scheduled to run through this Friday.
In June, Hutchinson told reporters that the training period for the state's soldiers and airmen would go forward based on the authorization of the National Guard Bureau in Washington.
Maj. Gen. Kendall Penn, the adjutant general of the Arkansas National Guard, said the following week, at a news conference, that the governor's decision to cancel training boiled down to a "fiscal law constraint." In other words, federal funds could not be spent to test all of the soldiers and airmen arriving at Fort Chaffee.
The guardsmen who were going to be tested were those who showed symptoms, as well as those in direct contact with people who were symptomatic. Penn said he wanted all of them tested, but that couldn't happen.
"We realized it was going to be a problem and began planning the what-next," he said. Penn added that he reached out to Hutchinson, who "concurred" with his recommendation that training be canceled.
The Exportable Combat Training Capability program, commonly referred to as XCTC, is a series of training exercises between active-duty soldiers and guardsmen. It is intended to enhance the skills and readiness of Guard units in anticipation of future deployments.
The Arkansas National Guard uses Fort Chaffee, just outside Fort Smith and Barling on Arkansas 22 in Sebastian County, as a training facility.
Arkansas is one of several states that has grappled with how or whether to hold large-scale training exercises during the coronavirus emergency.
Originally, the Arkansas Guard planned to have the soldiers contained in groups of 30 to 50 and to sanitize all of the training equipment between uses by different groups. Each member also was going to be given two cotton masks and hand sanitizer.
[CORONAVIRUS: Click here for our complete coverage » arkansasonline.com/coronavirus]
In the end, Hutchinson and Penn wanted more safety measures and couldn't get them, officials said.
Since the start of the coronavirus pandemic, guardsmen and airmen have had to follow strict safety protocols. Lt. Col. Brian Mason, a Guard spokesman, said that safety was a priority during the activation of more than 570 guardsmen for civil disturbance missions across the state in response to protests over the police treatment of Black Americans.
At the end of the mission, everyone was tested for the virus. Only one tested positive, and that soldier was asymptomatic, Mason said.
Hutchinson said that future training would continue.
"[This] doesn't mean we're going to stop training our National Guardsmen," he said. "But this exercise has been canceled."
Bob Oldham, a Guard spokesman, said that several guardsmen remain on active duty during the pandemic.
A "handful" of them have been assisting with the distribution of personal protective equipment across the state while another small group is continuing to provide grounds maintenance at the Arkansas State Veterans Cemetery in North Little Rock, he said.
Oldham also confirmed that another 20 guardsmen were assisting the state Health Department with contact tracing.
Sponsor Content
Comments