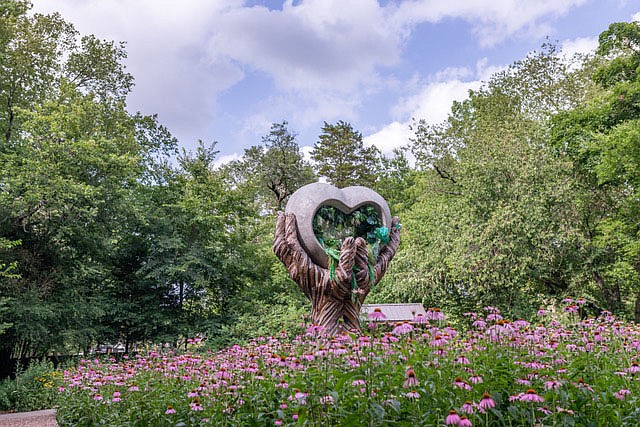 Since Compton Gardens has remained open in spite of covid-19 concerns, "guests have been able to enjoy [witnessing] the gardens progress from early spring to summer," spokeswoman Jeannie McIntire says. "With the plentiful rainfall, Compton Gardens has never been so green and lush." (Courtesy Photo)
The most visible endeavor of the Peel Compton Foundation perches in a tiny piece of the past just across the street from the home office for retail behemoth Walmart. Of course, the Italianate mansion was on the outskirts of Bentonville when it was completed in 1875 by pioneer businessman, lawyer, father of nine and the first native Arkansan elected to the United States Congress, Col. Samuel West Peel.
"This idyllic home now serves as the Peel Mansion Museum, an immaculate display of the era in which it was built," says Peel Compton spokeswoman Jeannie McIntire. "The Heritage Gardens surrounding the home were inspired by traditional Victorian gardens from the late 19th century. The Heritage Gardens -- formalized into eight unique spaces including the Herb Garden, Vegetable Garden, Cutting Garden, Children's Garden, Perennial Garden, Rose Garden, Native Plant Garden and Apple Orchard -- provide a natural setting for The Peel Mansion and create an outdoor educational space."
Education is at the heart of the Peel Compton mission, but it's also just the beginning.
"Our mission is about connecting the community through nature, education, recreation and preservation," McIntire says. "We know there is a need from the community for us. We offer stability and comfort. The Peel Mansion is almost 150 years old and survived the pandemic of the 1900s and will survive the current one as well. Walking Compton Gardens brings peace, joy and happiness. Whether it is the laughter from the youngest visitor to the daily companionship of our regulars, we are here to serve."
The mansion, which has been closed due to covid-19 concerns, will be reopening on a limited basis on July 14, McIntire says.
"We've been closed since March 13 and, while we will not be at our full schedule, we plan to be open Tuesdays, Fridays and Saturdays from 10 a.m. until 3 p.m.," she explains. "As always, our museum is free thanks to the generosity of the Arvest Foundation. Our Peel Mansion Museum Store, along with many other retailers, reopened on June 1 with certain restrictions including only four guests in the store at a time and requiring masks to be worn."
Some much needed work on the grounds was completed while the Peel Mansion was quiet, she adds.
"We were able to take advantage of being closed and have a major renewal program under way at the Peel Gardens," McIntire says. "Laura Brewer, our site manager, and her team have been planting new varieties, improving our irrigation systems and removing diseased vegetation during this time. Unfortunately, our heritage roses were impacted by a blight and needed to be removed.
"Late last year, we installed new walkways around the entire two-acre garden, and we cannot wait for guests to come back and experience the renewal of our Peel Gardens," McIntire goes on. "The Peel Gardens will reopen at the same time as the Peel Museum. While the renewal is a two-year project, we will be adding new water features, benches and artwork during this time, and we invite everyone to come and see the progress as it happens."
Compton Gardens, on the other side of Bentonville at 312 N. Main St., has remained open.
"Guests have been able to enjoy [witnessing] the gardens progress from early spring to summer," McIntire says. "With the plentiful rainfall, Compton Gardens has never been so green and lush.
However, "we have missed sharing Dr. Neil Compton's story in person as our Compton Conference Center and Exhibit Room have been closed."
Compton was, of course, a noted Bentonville physician, writer, photographer, founder of the Ozark Society and is credited with turning the Buffalo River into a national park. The gardens have more recently become a gateway to Crystal Bridges Museum of American Art, founded by Walmart heiress Alice Walton.
"Our offices are located at Compton Gardens, and those of us that remained working at Compton Gardens saw many familiar faces walking daily in the gardens," McIntire says.
While educational programming will continue at both locations, McIntire expects it to look different based on pandemic concerns.
"With the expected continuation of covid-19 for the near term, we have leveraged technology and will offer our School Days program virtually," she explains. "With a generous donation from Avery, we are working very hard right now creating the content and filming 15 separate mini 'workshops' about early Bentonville history, Col. Samuel Peel and his family, and life during the 1870s.
"We are very excited about this new School Days program, and we will be able to share it with a much broader audience than we have previously," she adds. "We believe this program will become an integral part of teachers' educational offerings."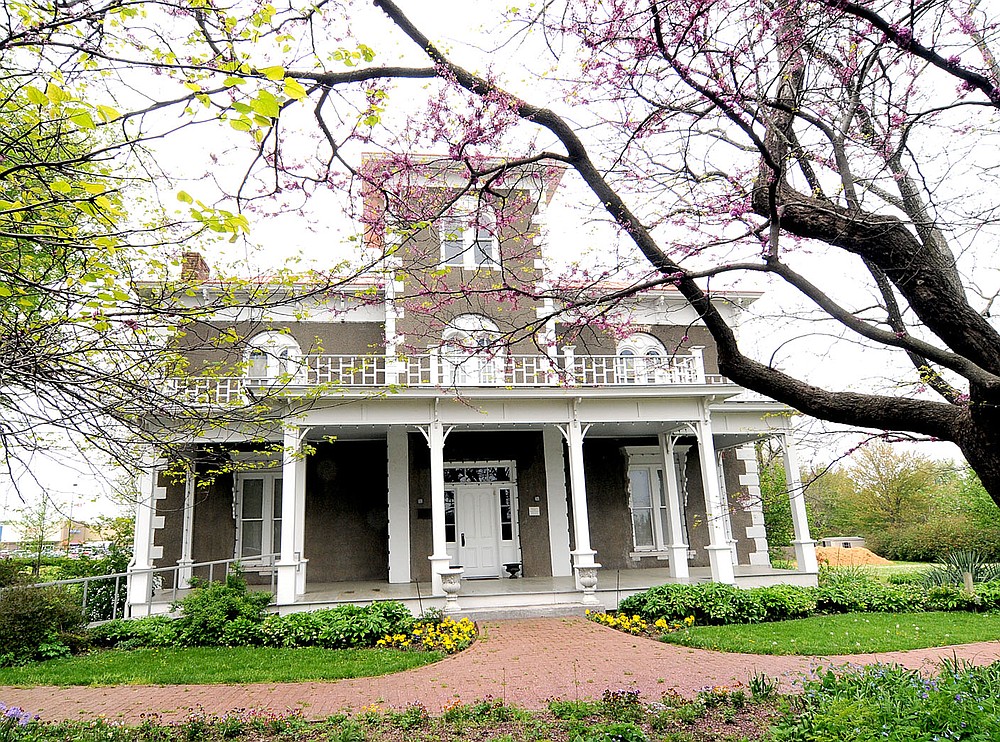 This Italianate mansion in Bentonville was completed in 1875 by pioneer businessman, lawyer, father of nine and the first native Arkansan elected to the United States Congress, Col. Samuel West Peel. It's now the Peel Mansion Museum. (File Photo)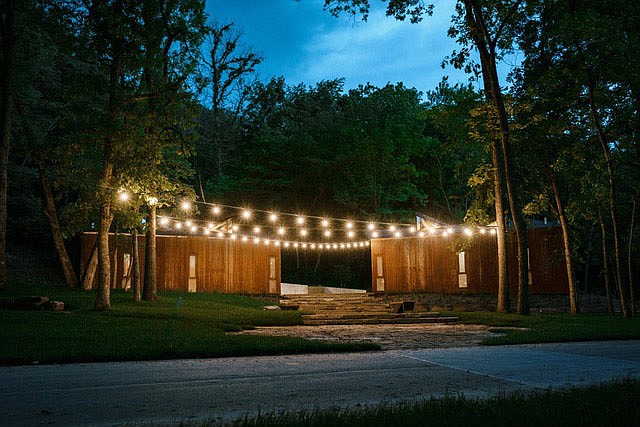 New amenities at Coler Mountain Bike Preserve include Airship at the Homestead, two renovated open-air barns for small group events, yoga platforms, multi-use pavilions, overnight tent and van camping. (Courtesy Photo)
New amenities at Coler Mountain Bike Preserve include Airship at the Homestead, two renovated open-air barns for small group events, yoga platforms, multi-use pavilions, overnight tent and van camping. (Courtesy Photo)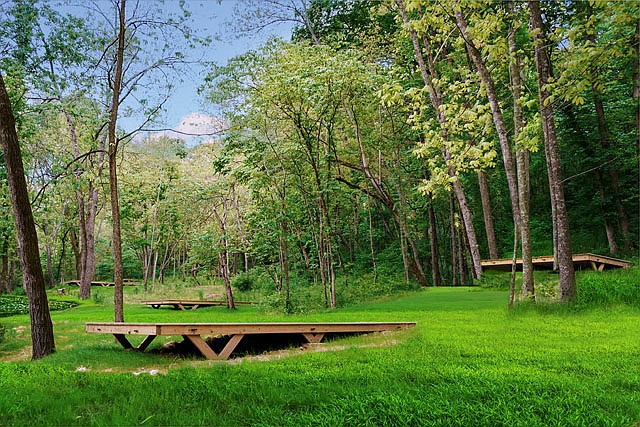 New amenities at Coler Mountain Bike Preserve include Airship at the Homestead, two renovated open-air barns for small group events, yoga platforms, multi-use pavilions, overnight tent and van camping. (Courtesy Photo)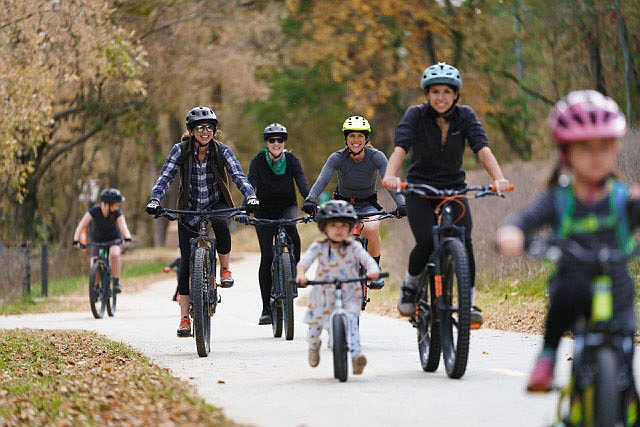 Families enjoy the ride at Coler Mountain Bike Preserve. (Courtesy Photo)
More News
FAQ
Peel Mansion
WHEN — Reserved, self-guided tours 10 a.m.-3 p.m. Tuesdays, Fridays and Saturdays beginning July 14
WHERE — 400 S. Walton Blvd. in Bentonville
COST — Free
INFO — peelcompton.org or 254-3870
Sponsor Content
Comments