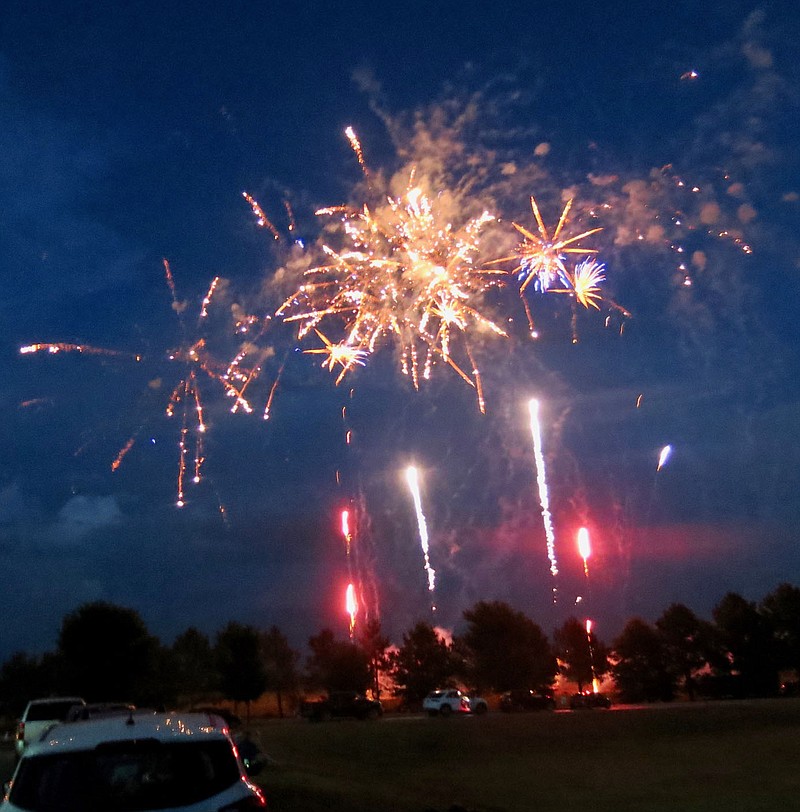 Westside Eagle Observer/SUSAN HOLLAND Multiple projectiles shoot skyward, providing a dazzling display of light and color to open the Gravette fireworks show Friday evening, July 3. Many area residents and visitors gathered to watch the show at Gravette High School.
GRAVETTE -- Residents and visitors from throughout the area enjoyed a fireworks show July 3.
The event was moved from Pop Allum Park, where it has been held the last several years, to the field just east of Gravette High School. Many folks gathered early to try to secure an ideal vantage point.
Cars filled the parking lots at Gravette High School and across the highway at Hendren Plastics. Families chose parking spots and, when the lots were full, vehicles lined up along the streets leading to the school. Several sat atop their car hoods or on the tailgates of pickups.
Others brought out folding chairs, and some families with children spread blankets and pillows on the grassy area in front of the high school. Some brought coolers with drinks and snacks for the kids, and a general sense of celebration filled the air.
Streaks of lightning flashed across the sky as Mother Nature seemed to be giving a preview of coming attractions but the impending rain held off until later in the night. When it got fully dark, about 9:15, the show began and the main performance proved to be well worth the wait.
Multiple projectiles were launched into the air and a steady stream of color and light dazzled onlookers for about 15 minutes. Spectators responded with "oohs," "ahhs" and "wows" and an occasional youngster was heard to say, "That was awesome!"
Even when the show was over and the last clouds of smoke had drifted away, some residents lingered in the area, visiting with family, neighbors and friends. Some, after being isolated at home for several weeks, seemed reluctant to leave the first social outing they had enjoyed for some time.
The fireworks were sponsored jointly by Gravette and the Greater Gravette Chamber of Commerce. Fred Overstreet, chamber president, said Monday morning, "At this time all the feedback I have received is overwhelmingly positive, with many saying it was the best one ever."
Since there were no food trucks, no games or related activities, the sponsors decided to upgrade the show and spend additional money on fireworks. Other area towns had canceled their usual summer celebrations, and visitors from out of town added to the number who attended. City officials and chamber members thank everyone who attended and helped make the evening a success.
Sponsor Content
Comments