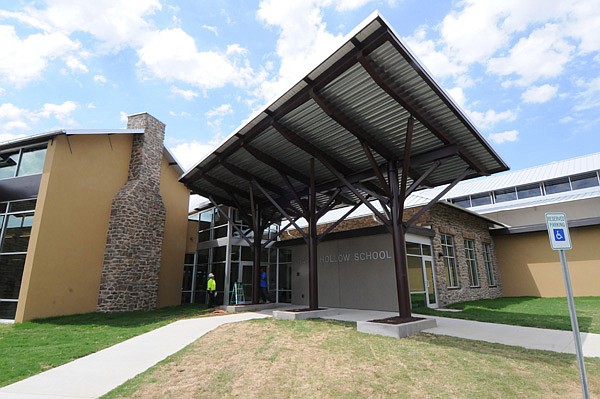 Happy Hollow Elementary School in Fayetteville will be open August 4 for the first day of school. - Photo by J.T. Wampler
Enrollment
Happy Hollow Elementary School enrolled about 500 students in kindergarten through fourth grade as of last fall.
Source: NWA Democrat-Gazette
FAYETTEVILLE — The School District plans to eliminate its continuous learning calendar so all buildings will operate on the same calendar starting this school year.
Happy Hollow Elementary School was the last in the district on the continuous learning calendar, which features an additional week off during the fall and spring semesters and a summer break that starts two weeks later than the traditional calendar.
Administrators planned to move Happy Hollow to the traditional calendar starting with the 2021-22 school year, but recently announced they intend to make the switch this year instead.
A desire for more consistency amid the uncertainty caused by the covid-19 pandemic drove that decision, said Tammy Tucker, associate superintendent for administrative services.
The administration will work with any Happy Hollow teacher or family that had scheduled trips for those vacation weeks exclusive to the continuous learning calendar, Tucker said.
The School Board still must vote on the plan, which is expected to happen this month. No board member questioned it when it was discussed at the board's June 25 meeting.
Happy Hollow has operated on the continuous learning calendar for more than 20 years. Tracey Pomeroy, a board member and former president of the Happy Hollow Parent-Teacher Organization, said many parents are excited.
"I think it's going to be met well with the public, so that's a good thing," she said.
The board in February approved moving two other buildings — Owl Creek and Asbell Elementary schools —off the continuous learning calendar for this school year.
Owl Creek and Asbell principals requested the change and cited several reasons for it when they addressed the board earlier this year.
The continuous learning calendar causes attendance problems, as some children live with grandparents outside the region during the summer months, and they leave at the same time their siblings on the traditional calendar get out of school for the summer, according to Asbell Principal Tracy Bratton.
Summer camps, traveling and custody agreements also play a role in decreased attendance late in the school year, Bratton said.
Some teachers and students appreciate the continuous learning calendar because the more frequent breaks help them avoid burnout, Bratton said. The shorter summer also may help students retain what they learned from one school year to the next, she said.
Administrators, however, haven't seen any conclusive evidence the continuous learning calendar has a positive impact on academic achievement, according to Superintendent John L Colbert.
The Bentonville and Rogers school districts both used a continuous learning calendar for at least one school, but both districts eliminated them within the past few years.
Arkansas Arts Academy, a charter school in Rogers, switched to the continuous learning calendar two years ago.
Dave Perozek can be reached at [email protected] or on Twitter @NWADaveP.
Print Headline: Fayetteville School District dropping alternative calendar
Sponsor Content
Comments