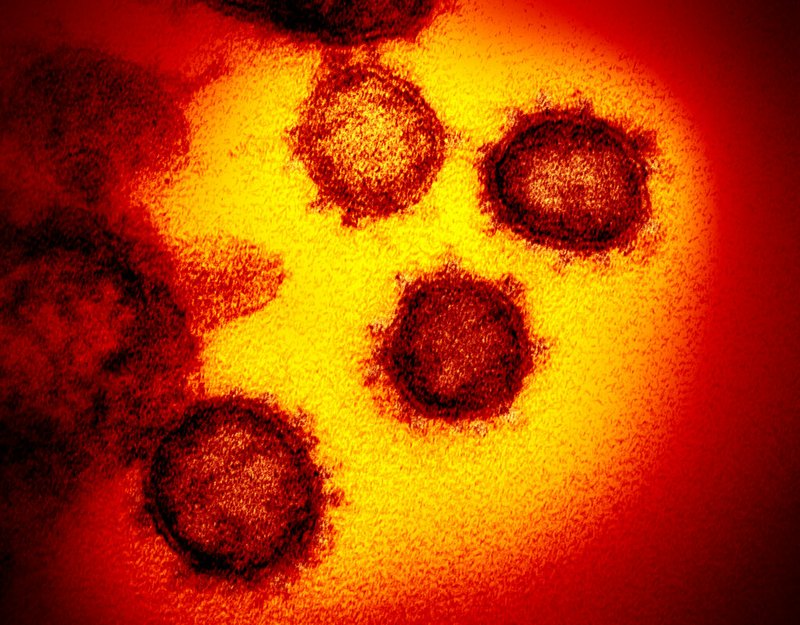 FILE - This undated electron microscope image made available by the U.S. National Institutes of Health in February 2020 shows the Novel Coronavirus SARS-CoV-2. Also known as 2019-nCoV, the virus causes COVID-19. - Photo by NIAID-RML via AP
A specialized cleaning company fills the Rogers offices of the Crafton, Tull and Associates civil engineering firm with an anti-viral chemical fog each weekend.
Only some of the firm's employees go to those offices. The rest work from home. Those in the office wear one of the five washable cloth masks -- one for each day of the workweek -- the company provides each of them.
The money to hire the cleaning service and provide the masks comes from a state grant. Such grants keep businesses open, and employees and customers safe, said Jim Tull, the firm's chief financial officer.
"So far we've not had a single employee out of 250 get sick," he said, including employees from the firm's offices in other areas.
Forty businesses in Benton and Washington counties received the maximum $100,000 from the Arkansas Ready for Business grants. Executives from a sampling of those firms said the lion's share of the money went directly into cleaning supplies and services such as personal protective equipment for employees.
Those executives compared the state Department of Commerce's administration of the program favorably with similar programs in other states where they do business -- especially other states where no such grants exist.
"We're a division of Hallmark, so we have a lot of other divisions in other states to compare to," said Brenda Turner, vice president of communications and administration at DaySpring Cards. The greeting card company is based in Siloam Springs.
Hallmark Cards is based in Kansas City, Mo., and has revenue of about $4 billion a year, according to the parent company's website.
MIX OF FUNDS
The Ready for Business grant program in Arkansas is a mix of federal and state pandemic assistance totaling $128 million in grants given as of June 26. As of that date, 11,391 Arkansas businesses had received some money from the program. Those businesses have about 177,000 full-time and 45,000 part-time employees, Commerce Department figures show.
In Benton County, 878 businesses received almost $9.8 million for an average grant amount of $11,126. Grant amounts ranged from $500 to the maximum $100,000, based on a calculation involving the type of business and number of employees.
Similar figures for Washington County were 1,054 businesses receiving $13.3 million with an average grant amount of $12,656.
Every Arkansas grant dollar spent is subject to a state audit, managers of the businesses and state officials said. Any well-run business keeps detailed financial records anyway, business managers said. Therefore, the anti-coronavirus expenses are relatively easy to keep separate in bookkeeping, they said.
"We got our process for uploading receipt and invoices ready this week," said Clint O'Neal, executive vice president for global business at the Department of Commerce and a manager of the program. Applicants had to provide their state tax identification numbers and be current or get current on their state taxes to get a grant. Some applications are still pending, he said.
A major help in getting the program launched was previous experience with the governor's quick action loan fund. Set up in March, the fund was an emergency measure to help small businesses at the pandemic's outset. The larger Ready for Business program drew lessons from the loan fund that made administration of the larger program easier, O'Neal said.
The Ready for Business grant program rolled out April 29, with a second application cycle starting May 5, according to O'Neal. There were different approaches taken with each application cycle, depending on the level of funding the department could expect. The original allocation for the program was $15 million.
"With that in mind we were planning to review applications in the order that they were received," O'Neal said. "Going into the second application cycle, the Arkansas Legislature approved an additional $40 million, and after the second application cycle, the Arkansas Legislature approved a total of $147 million – enough to fund all of the eligible applicants.
The review of the applications never came down to a panel selecting grant recipients, but rather a team of people at the Arkansas Economic Development Commission reviewing applications for eligibility, he said.
"Fortunately, we didn't have to make any adjustments to accommodate the targets that were set for small, minority- and women-owned businesses. The applications that we received from companies that fit those descriptions exceeded the targets that were put in place," O'Neal said.
The grant program got its taxpayer money through the federal Coronavirus Aid, Relief, and Economic Security Act -- the package of federal taxpayer funds signed into law March 27 to address the covid-19 pandemic.
In addition to cleaning supplies and services, the state approved specific equipment and software changes so DaySpring could operate using more video conferences, Turner said. Greater videoconferencing required retrofitting conference rooms and changing office layout more than specialized video equipment, she said.
One important task was to make a variety of computer systems smoothly talk to one another, she said.
Crafton Tull is considered an essential business by the state, working on public works projects that must go on, Tull said. The company tries to let people work from home as much as possible, but some engineering work must be done in groups. So the company contracted with Wizard Cleaners for high-end, intense cleaning services.
The cleaning required to fend off the virus goes far beyond regular janitorial service, he said, and is expensive.
The $100,000 grant will cover expenses through the rest of the year, Tull said. Any money left will be returned to the state, he said.
More News
Links to "Ready for Business" grant details:
Program summary with link to spreadsheet of grant recipients:
https://www.arkansasedc.com/covid19resources/business-resources/ready-for-business-grant-program
U.S. Treasury Department guidence for use of grant money it administers:
https://home.treasury.gov/system/files/136/Coronavirus-Relief-Fund-Guidance-for-State-Territorial-Local-and-Tribal-Governments.pdf
Source: Arkansas Department of Commerce
Doug Thompson can be reached by email at [email protected] or on Twitter @NWADoug
Sponsor Content
Comments