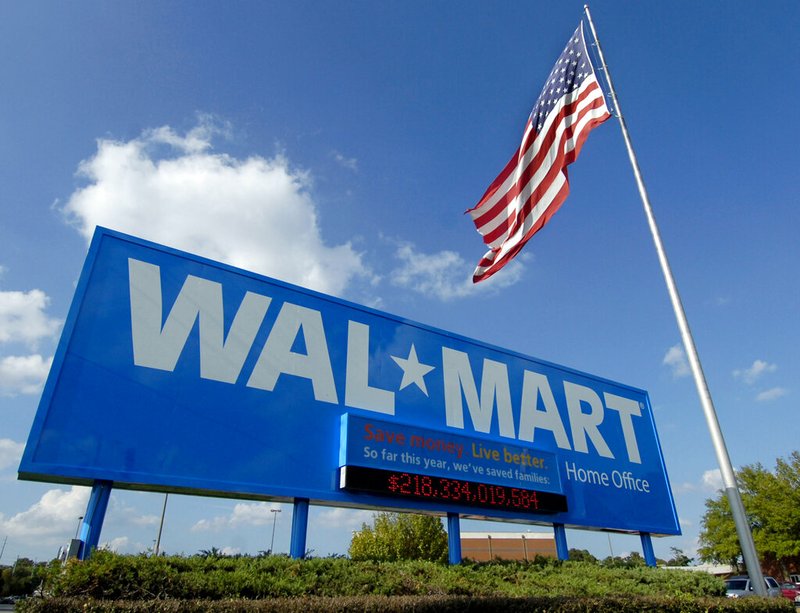 In this Oct. 5, 2007, file photo, an American flag flies in front of the Walmart Stores Inc. headquarters in Bentonville, Ark. (AP Photo/April L. Brown, File)
Walmart Inc. is working with entertainment company Tribeca Enterprises to temporarily turn 160 Walmart store parking lots across the country into contact-free drive-in movie theaters later this summer.
A Walmart spokeswoman said Thursday that one of these theaters will be in Northwest Arkansas. The full list of locations and other details are still being worked out, she said.
The Bentonville-based retailer said in a news release that with the covid-19 pandemic limiting entertainment options, it will show "iconic" family-friendly movies from August through October.
Walmart will sell concessions. Moviegoers can also order snacks online for curbside pickup on their way into the viewing area.
This expanded version of Tribeca's new drive-in series, being held this month in six major cities, "is a tribute to movies and the shared experience of watching them, even if from our cars," actor and company co-founder Robert De Niro said in a news release from Tribeca. "In anticipation of theaters re-opening imminently, we look back at what we love about the big-screen experience."
Walmart is also hosting a free virtual summer camp for families starting Wednesday. Camp "counselors" Drew Barrymore, Neil Patrick Harris, LeBron James, Idina Menzel and Todd Oldham will lead interactive sessions on arts and crafts, fitness and other activities.
Camp by Walmart can be accessed through the Walmart app under the Services tab.
Sponsor Content
Comments