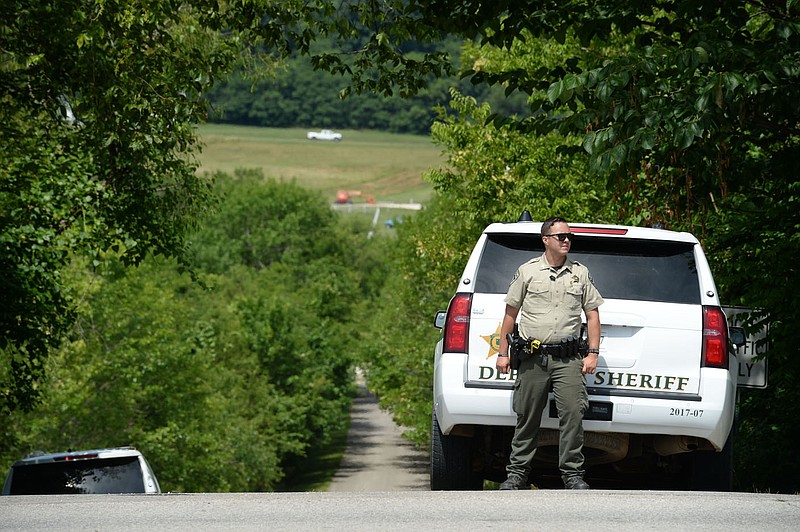 A Washington County Sheriff's Office deputy stands Friday at Sunrise Mountain Road and School Avenue in Fayetteville. According to the Fayetteville Police Department, a shooting and hostage situation was reported at an address on Sunrise Mountain Road. Go to nwaonline.com/200704Daily/ for today's photo gallery. (NWA Democrat-Gazette/Andy Shupe)
FAYETTEVILLE -- A man surrendered peacefully to city police officers Friday after taking a woman hostage.
Patrol officers with the department responded to a report of a shooting about 6:30 a.m. at a home at 1434 W. Sunrise Mountain Road, said Sgt. Anthony Murphy, department spokesman.
"They came in contact with the suspect in the front of the residence," Murphy said. A man with a gun had taken a woman hostage, he said.
"They gave him orders to show his hands, and at that point he went inside the residence with the hostage and remained in there for about two hours," he said.
The department's Emergency Response Team and the Crisis Negotiation Team arrived shortly after, Murphy said, and negotiated with the man.
The man released the woman about 8 a.m. and she didn't have any apparent injuries, he said.
"We continued negotiation with the suspect and he eventually gave himself up peacefully," Murphy said.
Police haven't identified the man or the woman involved in the incident, he said.
The man faces charges in connection with the incident, Murphy said.
"I don't know what the charges will be, but there will be charges," he said.
The home is owned by Walker Properties, according to Washington County property records.
Sponsor Content
Comments