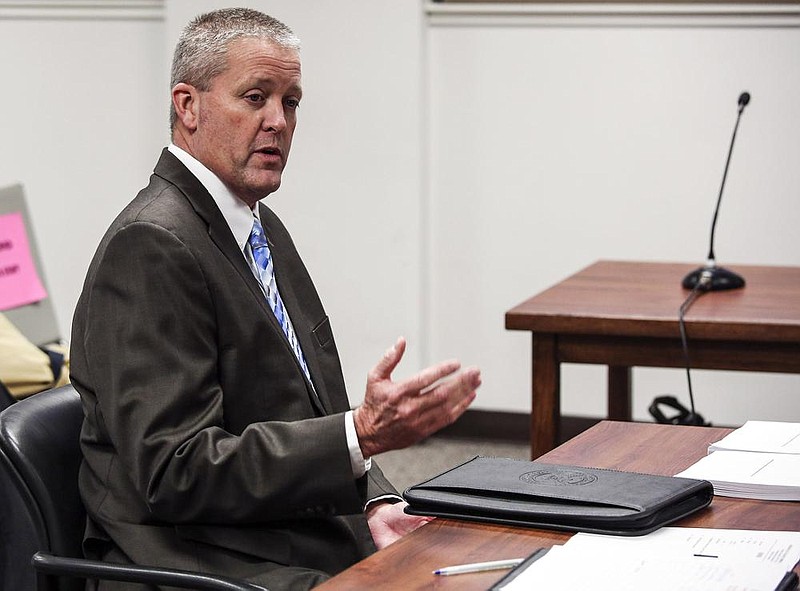 In this file photo Ben Cross, Pope County Judge, speaks during a meeting of the Arkansas Racing Commission Thursday, Feb 21, 2018 in Little Rock. (Democrat-Gazette file photo)
A Pulaski County circuit judge on Thursday denied Gulfside Casino Resort's motion for contempt alleging that the state Racing Commission failed to follow its own rules and should have issued the company a license for a Pope County casino within 30 days of a previous ruling by that judge.
But Pulaski County Circuit Judge Tim Fox also ruled Thursday that Gulfside's competitor, Legends Resort and Casino LLC, a limited liability company set up by Cherokee Nation Businesses, does not qualify as an applicant for the Pope County license. Legends sought to intervene in the Gulfside lawsuit against the Racing Commission; Fox denied the request.
In that previous ruling, Fox validated endorsement letters for Gulfside from former local officials who were no longer in office when the company applied last year for the license. Applicants are required to have the endorsements under the 2018 constitutional amendment that legalized casino gambling in the state, including placing a new casino in Pope County.
"We appreciate the court for considering all pending motions to bring this litigation to a close," Lucas Rowan, Gulfside attorney, said after the hearing. "As the majority of commissioners recently recognized, Gulfside is the clear choice for Russellville, Pope County and Arkansas."
[RELATED: See complete Democrat-Gazette coverage of casinos in Arkansas at arkansasonline.com/casinos]
Separate from the court case, the commission last week scored applications from Gulfside and Legends, and the resulting contentious decision put Gulfside ahead. The Cherokees have appealed.
In denying Gulfside's contempt request, Fox said his previous ruling on endorsements was based on the law, but the commission's 30-day requirement to issue a license to a qualified applicant is in the commission's rules and therefore out of his jurisdiction.
Gulfside had argued that the Racing Commission was required by its own rules to issue a casino license within 30 days from Fox's March 24 ruling in which the judge ruled unconstitutional both a commission rule and a state law that required letters of endorsements come from local officials in office at the time the license application is submitted.
Gulfside, based in Mississippi, and the Cherokees, based in Oklahoma, were the last two Pope County license applicants standing after all five original applicants -- including them -- were rejected by the commission in the first application period last year.
The commission ruled that none met the its rule for local endorsements. Gulfside filed suit.
Gulfside was the only one of the original applicants to include endorsement letters. They came from local officials who left office in December 2018.
Amendment 100 does not stipulate when the endorsements have to be dated or submitted.
The Cherokees resubmitted their application after being endorsed by the Pope County Quorum Court in August and subsequently by Ben Cross, county judge of Pope County.
After Fox kicked Gulfside's application back to the Racing Commission in March to consider on its merits, the commission has since scored both applications, and initially awarded the license to Gulfside.
That was disputed, however, after commissioner Butch Rice was found by the commission to be biased in favor of Gulfside. Rice has disputed that finding.
The commission then voted to ask officials of Attorney General Leslie Rutledge's office and both casino operators to try to reach an agreement on a remedy.
30-DAY CLOCK
When contacted Thursday, Scott Hardin, a spokesman for the state Department of Finance and Administration, which oversees the Racing Commission, said the 30-day clock for granting the Pope County license began June 18 -- when the commission scored the applications and initially gave Gulfside a score of 637 compared to 572 for Cherokee Nation Businesses.
Amanda Priest, a spokeswoman for the attorney general's office, said they were pleased with Fox's ruling dismissing Gulfside's motion for contempt.
"My office takes seriously any allegation that an instruction from the Court was not followed," Priest said. "The Court, however, determined that the Commission had followed the Court's orders and also found that the arguments presented on behalf of the Commission were well-founded."
Before the court hearing began Thursday, Fox had provided copies of eight pages of Constitutional Amendment 100, all 133 pages of the commission's gambling rules and 24 pages of the Administrative Procedures Act to all court parties present and to a reporter for the Arkansas Democrat-Gazette.
Including Fox and a court reporter, nine people were allowed in the courtroom for the proceedings, but only after temperature checks and a screening for covid-19 symptoms. Some of the participants elected to remove their masks, while others kept them in place throughout the nearly hourlong hearing.
Fox referenced the documents as he denied intervention status to Legends Resort and Casino LLC.
The LLC was created in August by Cherokee Nation Businesses after the Pope County Quorum Court endorsed the group for the license.
Fox said the limited liability company does not meet requirements as outlined in Amendment 100 because it is a new company with no gambling experience.
Cherokee attorney Scott Richardson argued that the new company was essentially the same as Cherokee Nation Businesses.
"You can't separate Cherokee Nation Businesses from Legends," Richardson said.
The initial application submitted during the first window was under Cherokee Nation Businesses. The subsequent applications have been under Legends.
The banter between Fox and Richardson became heated at times.
"I'm done," Fox said, as Richardson continued to argue the legitimacy of Legends as an applicant.
"Both entities are the applicant," Richardson said.
"We're done," Fox answered.
Richardson offered to supply documentation, to which Fox answered, "Done."
Richardson said after the hearing that they were "disappointed with the court's order" and "believe it was erroneous on many grounds."
"We will further consider our options in the coming days," Richardson said.
He added that the LLC was created "at the direction of the commission's counsel" to be consistent with the commission's rules.
SARACEN DEVELOPMENT
"A holding company was created exclusively for this license," Richardson said. "Saracen Development, LLC, is similarly a holding company licensed to operate a casino in Pine Bluff on behalf of its sole owner, Downstream Development."
A year ago, the commission awarded a license to build and operate a casino in Jefferson County to the Oklahoma-based Downstream Development Authority of the Quapaw Nation. In October, that license was transferred to the Saracen Development LLC, a new company that was formed by the Quapaws in December 2018.
Gulfside applied for the Arkansas license under the same partnership that it has used to operate its casino in Mississippi since 1998.
Cross said Fox's rulings were "far reaching and beyond the scope" of what was actually the focus of the hearing.
"If the court is to state CNB-Legends are not qualified applicants, then Saracen was not either, as their LLC was created just prior to licensure as well," Cross said. "So, this ruling is simply not correct, and it is my hope the Arkansas Supreme Court intervenes to provide clarity and resolution."
When the Quapaws transferred the license, Gerald Robinson, county judge of Jefferson County, and Shirley Washington, mayor of Pine Bluff, issued new letters endorsing Saracen.
Robinson said in the Oct. 10 letter that there was no distinction between Downstream Development Authority and the newly formed LLC.
"As Saracen is still Downstream at its core -- in terms of both experience and leadership -- I support any technical changes that might benefit the state of Arkansas," Robinson said.
Likewise, Washington said in the Oct. 11 endorsement that both entities are one and the same.
"The leadership and experience of Saracen and Downstream are the same, and at the core of both are the commitments of Chairman [John] Berrey and his team," Washington said. "It would only make sense that the facility in our city be technically licensed, in its own name rather than to an out of state entity."
When contacted, Carlton Saffa, Saracen Development project manager, declined to comment.
In Amendment 100, Section 4.e.12 states that "The Racing Commission shall allow licensees to transfer their casino license only to a party who has casino gaming experience."
While gambling licenses are not considered property, state procurement law -- specifically Arkansas Code Annotated 19-11-272 -- says that the combined amount of experience of a bidder's owner or senior executive staff could be substituted for a new company's lack of recordable experience in its name.
When asked how Fox's declaration that Legends was not a valid casino applicant would impact the Racing Commission's decision on the Pope County license, Priest said, "Since there are matters pending before the Racing Commission, the Attorney General's Office will work with and advise the Commission on how to best proceed, pursuant to its rules and any applicable laws. Our office will continue to provide legal counsel to the Commission to ensure a fair and transparent process."
Russellville Mayor Richard Harris said he is "continuously amazed" at the legal and ethical issues that are raised "due to a poorly written and poorly executed" amendment to the state's constitution.
"If there is a lesson to be learned from this, it is that we should value the integrity of the constitution and not be frivolous in executing amendments that have not been fully vetted," Harris said.
"To ratify an amendment in which a community is singled out for a private venue that it clearly did not ask for, is inappropriate and violates any measure of good governance."
Sponsor Content
Comments