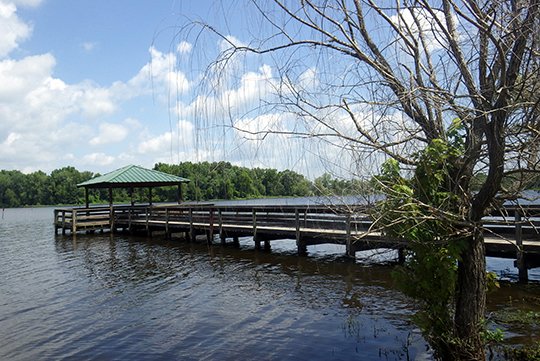 Lake Overcup is a small AGFC reservoir located just north of Morrilton. (The Sentinel-Record/Corbet Deary)
Lake Overcup advisory lifted
MORRILTON -- The Arkansas Game and Fish Commission has lifted a health advisory warning against swimming in and allowing pets and livestock to drink from Lake Overcup.
The harmful algae bloom advisory was issued in late May after tests in some portions of the lake showed high levels of cyanotoxins. Recent tests confirmed this toxin level has dissipated, and the advisory has been lifted.
Matt Schroeder, fisheries management biologist for the AGFC, said the advisory may have confused some anglers who became concerned about any health effects of eating fish from Lake Overcup.
"We saw a dramatic decrease in the number of anglers at the lake since the advisory was issued," Schroeder said. "But even when a lake has a harmful algae bloom advisory, fishing and eating properly cooked fish from the lake is safe. The toxins are more of an issue for swimmers, paddlers, and people's pets and livestock that may drink from the water directly."
Cyanobacteria, which causes the toxin during seasonal blooms in some fisheries, is a natural component in nearly all lakes and rarely causes any issues unless the right conditions are met.
AGFC names elk hunt winners
The Arkansas Game and Fish Commission has selected 23 Arkansans to participate in the 2020 annual public land elk hunt.
The hunters were randomly drawn from 5,275 applicants who applied in May through a third-party vendor. Wes Wright, elk program coordinator for the AGFC, said this is the same system used for deer, turkey, waterfowl and alligator permit drawings.
"We always like to draw these permits on stage at the Buffalo River Elk Festival in Jasper, but this year the festival was canceled due to covid-19," Wright said. "We hope to go back to the old system next year if conditions allow it."
Hunters will be allowed to choose archery, crossbow, muzzleloader, modern rifle, modern shotgun and handgun.
All public land hunts will be on the Buffalo National River, Gene Rush Wildlife Management Area and Bearcat Hollow Wildlife Management Area. Hunters are assigned to specific zones within these public lands. Public land permit holders are required to attend an orientation before the hunt and will be notified of the time and location.
OCT. 3-9 YOUTH HUNT
NAME HOMETOWN TYPE ZONE
Joshua Gray Bauxite Antlerless Zone 3
OCT. 5-9
Benjamin Vaughn Marion Either sex Zone 1
Chris Gueydan Prairie Grove Antlerless Zone 1
Jeffery Farmer St. Joe Antlerless Zone 2
Zach Semeniuk Rogers Antlerless Zone 4
OCT. 24-30 YOUTH HUNT
Eli Kennedy Oak Grove Antlerless Zone 4
OCT. 26-30
Johnny Schader Fayetteville Either sex Zone 1
Dorothy Marable Malvern Antlerless Zone 1
Billie Smith Harrison Antlerless Zone 1
Dallin Freshour Benton Either sex Zone 2
Jacob Odom Quitman Antlerless Zone 2
Jeremy Ball Floral Antlerless Zone 2
Michelle Fitzgerald Ward Antlerless Zone 2
Nickolas Badger Oden Antlerless Zone 2
Stephen Jeffers Mulberry Either sex Zone 3
Terry Crafton Jonesboro Antlerless Zone 3
Caleb Lambert Benton Antlerless Zone 3
Ronney Herrington Conway Antlerless Zone 3
John Pounders Little Rock Antlerless Zone 3
Robert Hamner Searcy Either sex Zone 4
Cody Pankey Searcy Antlerless Zone 4
Justin Moody Vilonia Antlerless Zone 4
Brent Teater Hot Springs Antlerless Zone 4
Sponsor Content
Comments